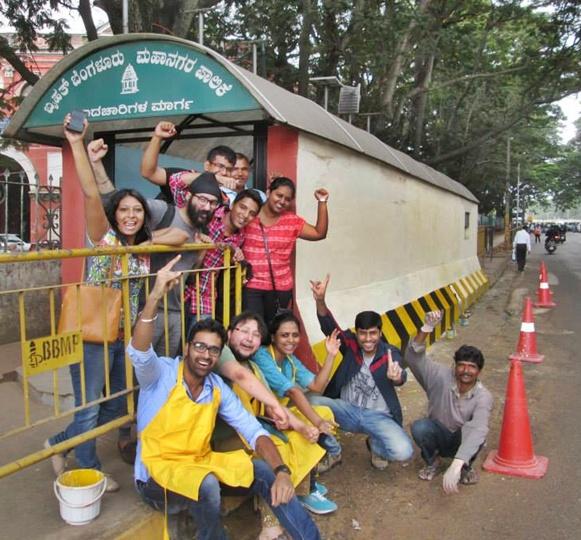 'The Ugly Indian' in Bangalore is inspiring people across India to transform the cities they live in, one mile at a time, finds Indulekha Aravind.
It is perhaps the best kind of uprising - without banners, newsroom debates or vehement netas.

Instead, what it does have is a simple but effective slogan: "Kaam Chalu, Mooh Bandh!" (roughly translated as 'Stop Talking, Start Working').

The residents of Bangalore might be familiar with the work of The Ugly Indian, an anonymous group born in 2010 with the aim of making the city cleaner.

When you pass a recently painted red wall near a surprisingly clean pavement, for instance, you know it is their handiwork. Four years after the movement kicked off, it seems to be inspiring similar "risings" in other cities and spin-offs in Bangalore itself.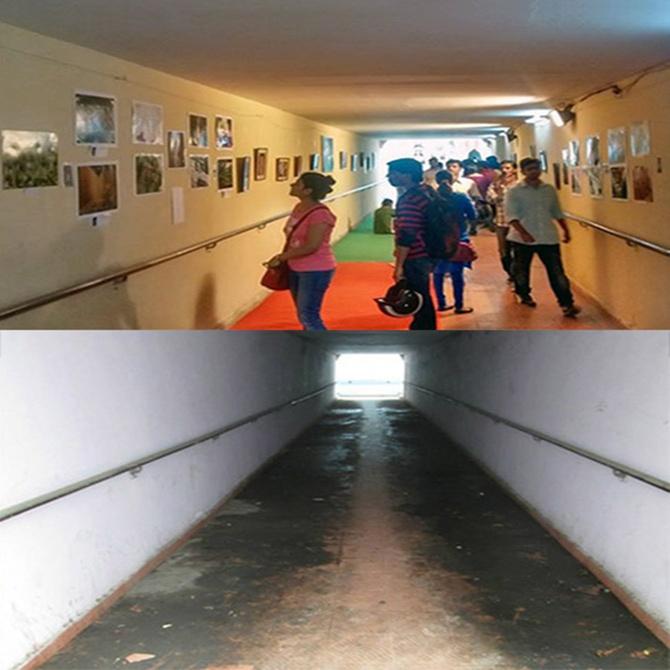 Image: A subway cleaned and decorated with paintings. Photograph, courtesy: The Ugly Indian
On August 15 this year, a group of 200-odd volunteers turned up at MG Road in Bangalore to create a 'model mile' by cleaning up the pavement, planting saplings and painting road dividers.

The volunteers were employees of various companies in Bangalore who had come forward to take part in Adopt A Mile, an initiative launched by five friends working in tech companies.

"We were wondering what we could do to change things in the cities. So, we decided to take a stand in their transformation at an individual level by bringing about change one mile at a time. We talked to the companies where we work as well as CEOs of other firms to get their employees involved in adopting a mile," says A Ramachandran, one of the founders and an executive in an IT company.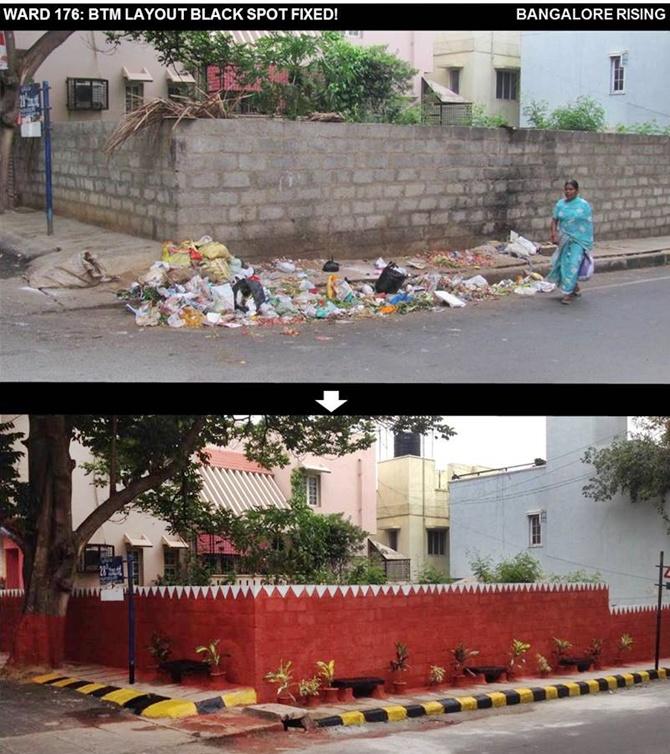 They are currently in talks with 10 companies to include them in the movement. They could either beautify and maintain the mile or even build skywalks and other infrastructure in partnership with civic agencies.

"We are not talking about picking up garbage or filling potholes, which is the job of the Bruhat Bengaluru Mahanagara Palike," says Ramachandran.
By involving companies, the group also hopes to bring in the rigour of the corporate sector into the programme by publishing quarterly results on the website www.adoptamile.in and by conducting audits of the adopted stretches of road independently.

"For instance, if a company is found to have failed in its responsibility in maintaining that "mile" the agreement with it can be cancelled," explains Ramachandran. The volunteering could also become a team-building exercise for the employees who participate. The entire effort, he says, has been in partnership with The Ugly Indian.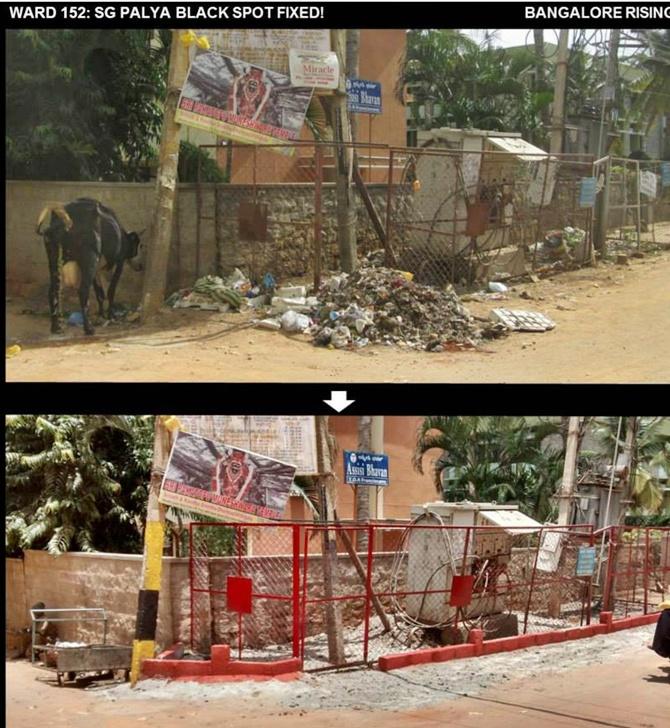 And it's not just Bangalore. On Friday, photographs appeared on The Ugly Indian Facebook page about 'Rajahmundry Rising', where a 'spot' in the Andhra town filled with garbage, near a decrepit wall which was being used as a urinal, has been transformed into a clean, bright quarter with a bench and potted plants.

The Facebook page of the Andhra Pradesh group chronicles its efforts through at least a couple of other 'spot fixes' and it would warm the cockles of even a cynic's heart.
In August, it was Mumbai's turn, when a bunch of enthusiasts got busy on a Sunday morning and spruced up, what seems to have been, an eyesore in Worli. Bhubaneswar too has a group that calls itself "Stopp Us", reports Times of India.

It has already cleaned up four walls in the city and have plans for many more. "Risings' have also taken place in Vijayawada, Meerut, Salem, Gurgaon, Kanpur and Visakhapatnam, among others.
The Ugly Indian started off with a simple enough premise. If you want to make a change, begin by doing something instead of just sitting back and blaming the government or "the system".

The modus operandi is 'spot fixes', where a particular area in a city is chosen and a group of volunteers, usually brought together via email, turn up to clean and beautify it. People in the vicinity are asked to monitor it to help ensure it is maintained. As a volunteer at two such spot-fixes a couple of years ago, I can vouch that the emphasis is on working, not socialising.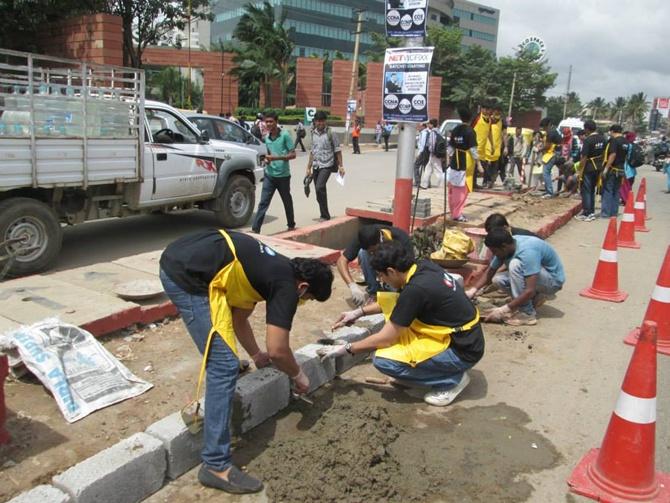 The entire operation was supervised by a small group of people, who also chipped in. Volunteers are given gloves, masks, paint and brushes and roll up their sleeves and plunge in.

After cleaning and painting, small dustbins, or TereBins, are placed so that litterbugs no longer have an excuse. The materials are bought with Rs 100-200 contributed by each volunteer at the spot fix, usually numbering 10 to 15.
Unfortunately, The Ugly Indian's "moo bandh" principle also extends to media queries and email requests for interviews were met with "we do not respond to the media". This would also be in keeping with its principle of anonymity and no single person taking centre stage.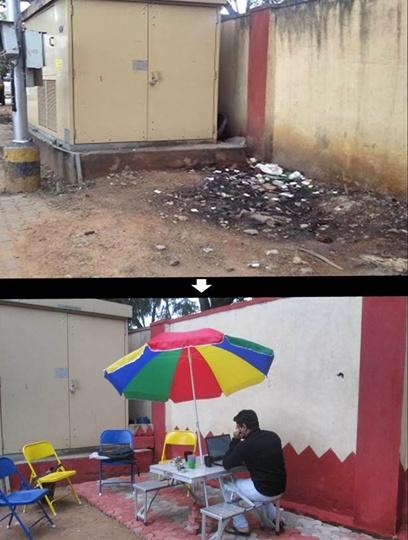 A wi-fi hotspot & pavement cafe at a former dirty spot on MG Road, Bangalore
But the group does add: "All we can say is that all the growth around the country is totally spontaneous and 'inspired' - nobody from Bangalore is going to other cities, or even talking to anyone."

The exception seems to have been an 'Ask Me Anything' on Reddit, where a volunteer clarified: "We are trying to move from an underground guerilla-type movement to one where citizens collaborate with elected officials."

Requests for "spot fixes" and "risings" have been coming in even from Pakistan, Bangladesh, Indonesia and a few other countries, adding "Our only agenda is to convert despair to hope."
To volunteer for a spot fix or learn how to organise one, send an email to theuglyindian@gmail.com. More details on www.facebook.com/theugl.yindian