Infosys' September quarter results may have been impressive, but experts are not yet ready to give full credit for the performance to the new management.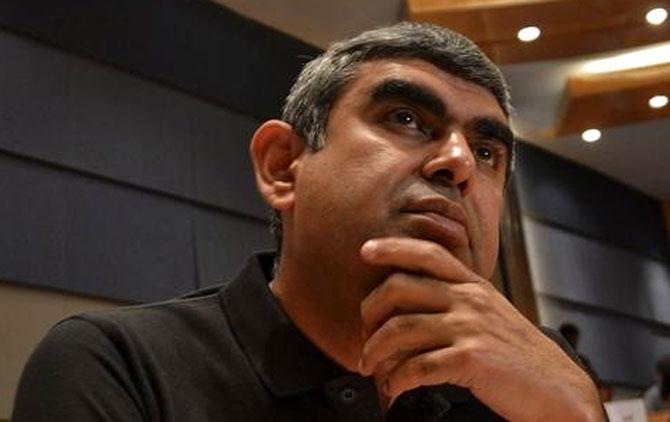 Image: Analysts expect CEO Vishal Sikka to turnaround fortunes of Infosys. Photograph: Reuters
Sometime last quarter, a large mining company approached Infosys with a unique problem.
The company, which operates thousands of expensive trucks to carry minerals, wanted a predictive maintenance platform to avoid the loss it incurred when those vehicles broke down.
Since the trucks were fitted with sensors and other technologies, they sent lots of data.
However, the data was hardly of any use due to the lack of a mechanism to analyse those in real time.
Image: Analysts expect Infosys to perform better in the next financial quarter. Photograph: Reuters
Infosys built a proof of concept, or PoC, using open source tools and technologies such as Hadoop and cloud-based hardware, which helped the company process tonnes of data and obtain meaningful insights.
Infosys applied the same technique to help a large bank draw meaningful insights from its huge volume of unstructured internal data.
Instead of creating a PoC for each customer, Infosys has now come out with something called Infosys Information Platform.
It is a standard framework which will allow it to do the PoC in a faster manner, even though the context in each case is different.
This approach, which Infosys has termed 'design thinking,' is one of the key elements of the strategy road map laid out by CEO Vishal Sikka after he joined the Bangalore-based company in June.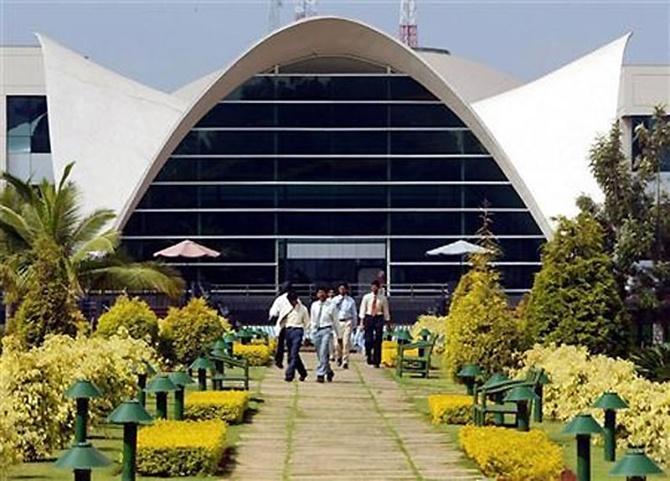 Image: Infosys campus Photograph: Reuters
It is not that platforms and products are something that Infosys has not tried earlier.
In fact, in the late 1980s, while working with one of its early clients, Reebok in France, Infosys had built a standard software package for distributor management. Eventually, Reebok implemented this package known as Distributor Management Apparel Package in its worldwide operations.
However, despite the fact that there were hardly any standard ERP packages, or business management software, available those days, Infosys decided to stop focusing on the product owing to its bitter experience with Finacle, its banking software which was then known as Bancs 2000.
As Infosys embarks on the next phase of its journey under its first non-founder CEO, products and platforms are expected to play a major role.
"We believe that platforms will be a big thing in the long-term.
That's the way the industry is shifting and that's the way the consumers are consuming technology," says COO UB Pravin Rao.
"We expect a good percentage of our business to come from platforms in three to five years."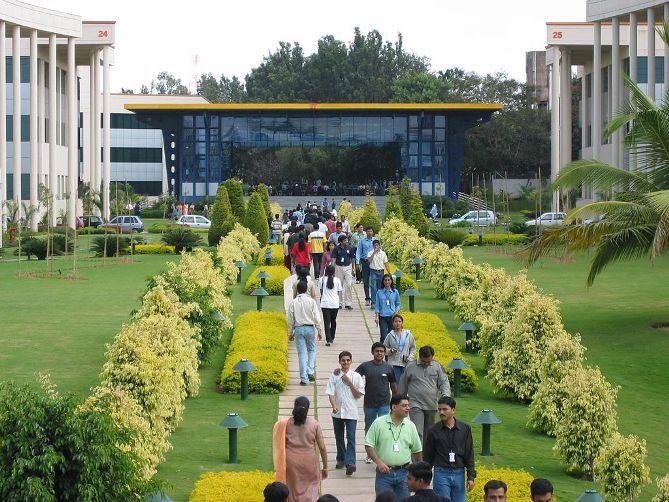 Image: Lunch time at Electronic City campus, Infosys Technologies Ltd, Bengaluru. Photograph: Zondor at en.wikipedia/Wikimedia Commons
A good show
Signs of change are already there. The September quarter numbers of Infosys stand out from the rest of the pack in many ways, though they aren't the company's best.
When expectations were running low, it delivered results good enough to rejuvenate the market, making it the darling of the street.
Infosys's revenue growth exceeded the consensus estimates: its dollar revenues grew 3.1 per cent sequentially, ahead of Cognizant's 2.5 per cent and HCL Technologies' 1.9 per cent.
However, leader TCS's dollar revenue growth at 6.4 per cent was higher, which was expected.
In terms of net profit (in dollars), Infosys was ahead of the pack with sequential growth of 6 per cent, against TCS's 3.2 per cent and HCL Technologies' 0.6 per cent.
Cognizant reported a 4.3 per cent decline in net profit as it tried to absorb the cost of wage increases.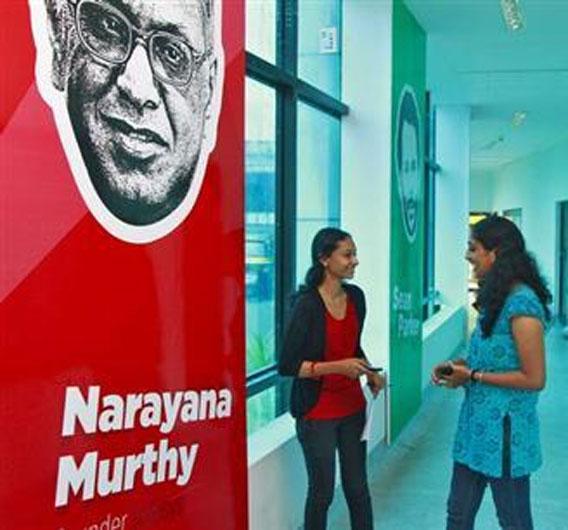 Image: The IT indsutry has high hopes from the new Infosys CEO, Vishal Sikka. Photograph: Sivaram V/Reuters
To top it all, the new Infosys leadership was seen filled with high optimism about growth prospects with no mention of "cautious optimism", which the previous regime uttered frequently.
However, experts are not yet ready to give full credit for the quarter's performance to the new management.
"I think the only thing that Sikka has done up to this point is to restore morale and give both employees and customers a sense of confidence in the Infosys strategy," says Peter Bendor-Samuel, founder and CEO of management consulting firm Everest Group.
"The strategy itself is largely unchanged and the organisation is also largely unaltered. However, the improvement in morale is driving better execution, while the charismatic figurehead is opening client doors which had been closed under the previous leadership."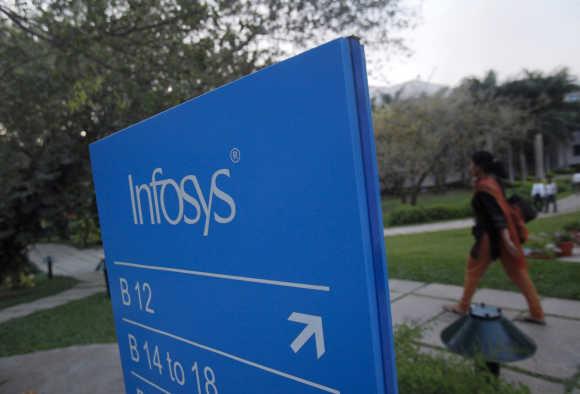 Image: Infosys has adopted new strategies to enhance revenues . Photograph: Vivek Prakash/Reuters
The new strategy, a part of which the company unveiled recently, entails Infosys earnestly trying to align with the customers' way of thinking.
The company is vigorously going ahead with its "design thinking" campaign to ensure that it stays relevant by showing the customers the problem as well as the solution.
According to Rao, the new strategy is not radically different from the earlier one, though the company is trying to bring in a greater degree of focus on each of its businesses as well as on execution.
"Besides, some new thinking is being applied to make the execution of the strategy more vigorous," he adds.
In a recent interaction with the media, Sikka said that the new strategy aims at positioning the company as a "next-generation services company" with a focus on renewal of the core and innovation into new areas.
Under the new strategy, Infosys is planning to renew the existing systems and processes to make them more relevant to the emerging world and derive more value out of it.
The second dimension is about innovating into newer areas with design-led thinking, instead of just leveraging the cost arbitrage.
Apart from newer technologies like automation, robotics and machine learning, Infosys is laying emphasis on partnerships, whether with academic institutions or start-ups doing innovative work in niche technology areas.
"In addition to renewing all our existing service lines, we are also proposing adding new additional capabilities to that, like co-creation with the customers on design thinking," Sikka said.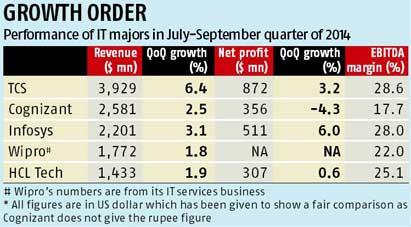 The investor community is quite optimistic about the new leadership.
"When Sikka took over, Infosys was already in transition phase. But definitely, there is improvement in investor sentiment in the recent past," says Sanjeev Hota, an analyst with brokerage house Sharekhan.
Besides, he says, what makes the new leadership stand out is its clarity of vision.
"For example, the company has assured to come out with its plan to use its cash (reserves) by April 2015, which is very encouraging," he adds.
But the new management knows that investor sentiment can be fickle. "When NR Narayana Murthy returned (in 2013), we talked about the three-year journey.
We are now in the second year of that journey. We are confident that at the end of the third year, we will be able to get back to what we call 'desirable Infosys'," concludes Rao.