Globally, there is no single standard definition of High- Speed Rail (HSR) but systems with speeds exceeding 250 kmph are considered high speed (International Union of Railways' definition).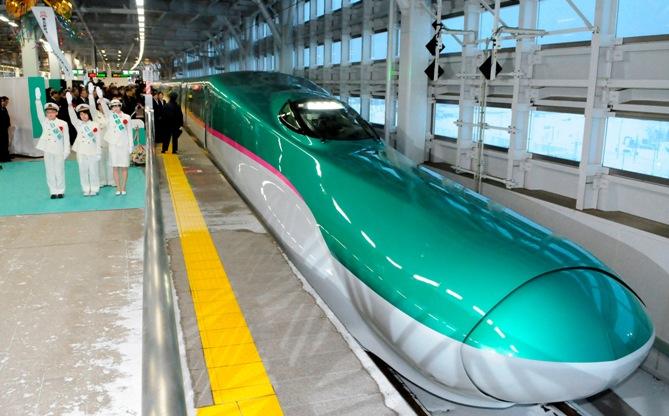 Image: The Hayabusa shinkansen or bullet train departs from Aomori station in Aomori, northern Japan. Photograph: Reuters
Globally, 22,900 km of HSR network is operational (China alone accounts for a half of this) and 12,700 km is under construction.
Fourteen countries currently operate high-speed trains of 250 kmph and above.
These include 350 kmph in China, 320 kmph in Japan and France, 300 kmph in Italy, Germany, Spain, Belgium, UK, South Korea, Taiwan and The Netherlands and 250 kmph in Switzerland, Turkey and Austria.
In India, while HSR systems have been talked about since 1980s, the plan was rolled out for the first time in the Railways' Vision 2020 document of 2009. It proposed implementing at least four HSR projects for bullet train services at 250-350 kmph.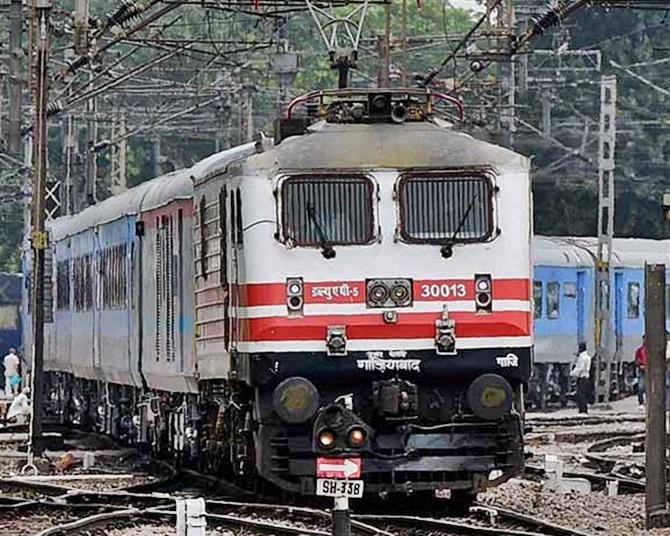 Image: A high speed New Delhi Agra test train leaves New Delhi station.
Photograph: Shirish Shete/PTI
Currently, the maximum train speed achieved in India is 150 kmph (Shatabdi Express on the Delhi-Agra section). Average speed of Mail and Express trains in India last financial year (2013-14) was 50.6 kmph (kilometre per hour).
India does not have any high-speed corridor operational at present but eight HSR corridors have been identified for feasibility studies. These include:
1) Pune-Mumbai-Ahmedabad (650 km)
2) Delhi-Agra-Lucknow-Varanasi-Patna (991 km)
3) Howrah-Haldia (135 km)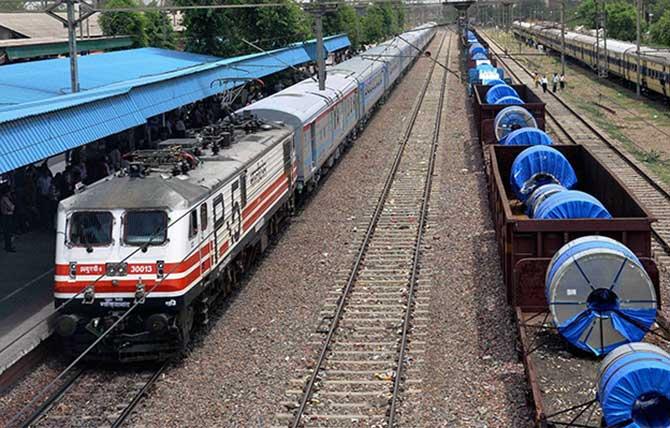 Image: Delhi- Agra high speed train passes through Faridabad Railway Station during a trial run. Photograph: Shirish Shete/PTI
4) Hyderabad-Dornakal-Vijaywada-Chennai (664 km)
5) Chennai-Bengaluru-Coimbatore-Ernakulam-Thiruvananthapuram (850 km)
6) Delhi-Chandigarh-Amritsar (450 km)
7) Delhi-Jaipur-Ajmer-Jodhpur (591 km)
8) A 10,000 km-long Diamond Quadrilateral Network of HSR comprising four sides (Delhi-Mumbai, Mumbai-Chennai, Chennai-Kolkata and Kolkata-Delhi) and two diagonals (Delhi-Chennai and Mumbai-Kolkata)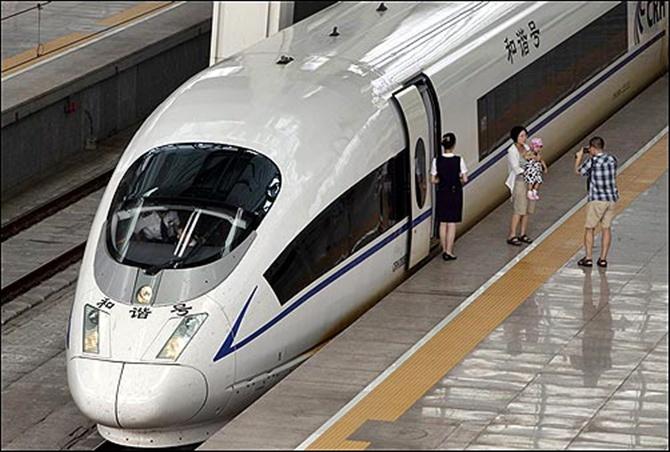 Image: A bullet train in China. Photograph: Reuters
The feasibility study of Mumbai-Ahmedabad HSR corridor, co-financed by India and Japan, is slated for completion in June 2015. The business development studies for this corridor are being conducted with French assistance. The Mumbai-Ahmedabad corridor is estimated to cost around Rs 63,180 crore with an average cost of Rs 118 crore (Rs 1.18 billion) per km.
The feasibility study of Delhi-Chennai corridor is being done in cooperation with Chinese Railways.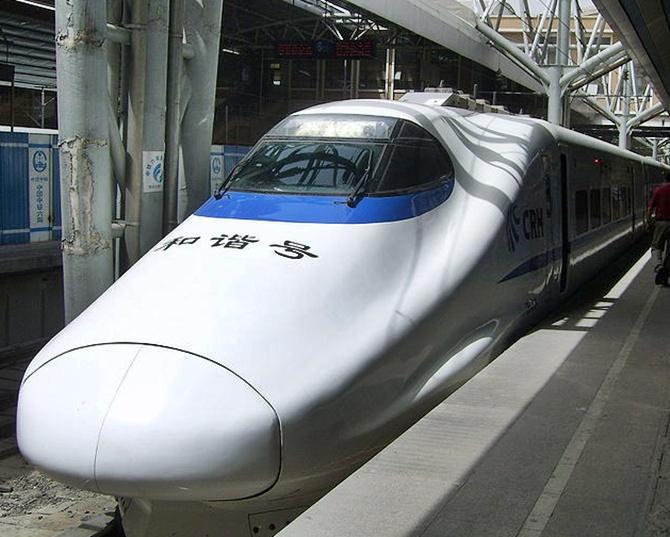 Image: A high speed bullet train. Photograph, Courtesy: Wikimedia Commons
Additionally, Indian Railways has identified nine corridors where speed of passenger trains will be speed to 160-200 kmph. These include Delhi-Agra, Delhi-Chandigarh, Delhi-Kanpur, Nagpur-Bilaspur, Mysore-Bengaluru-Chennai, Mumbai-Goa, Mumbai-Ahmedabad, Chennai-Hyderabad and Nagpur-Secunderabad.
Overall, HSR systems are being planned to bring about at least 20 per cent savings in journey time.