2014 was a mixed bag for India Inc, few made it, few slipped.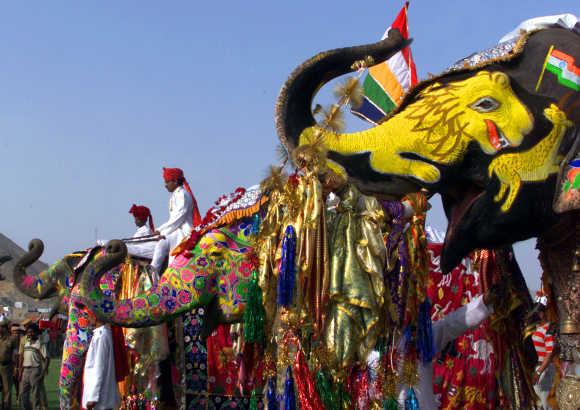 An employee uses a computer mouse inside an office. Photograph: Kamal Kishore/ Reuters
Sachin Bansal: India's e-tail poster boy
For Sachin Bansal (below left), the 33-year-old co-founder & chief executive of Flipkart, there could not have been a better way to end the year.
When the e-commerce portal closed a $700-million funding on December 20, its third in 2014, Flipkart's total fundraising during the year touched $1.9 billion.
Since the company's launch in 2007, prominent investors have put in a total of $2.7 billion in Flipkart, making it an estimated $11-billion (Rs 67,000 crore) firm, bigger than many top business groups in India.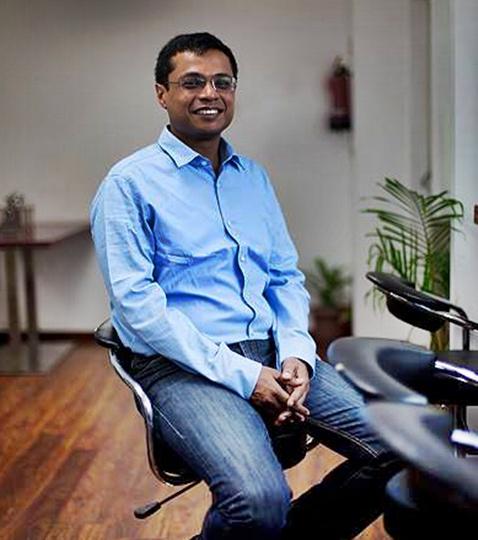 Bansal's Flipkart, which had started as an online bookstore, diversified itself to several other categories in 2014.
It also acquired fashion biggie Myntra this year and made headlines with the exclusive sale of MotoG phones - which would run out of stock within seconds of sales opening - on its platform.
Besides, there were instances of several other companies tying up with the e-commerce portal for exclusive sale of their products.
While the company's fundraising spree kept Bansal in the limelight through the year, he also drew attention for other reasons - a few not-so-happy ones - such as the technical glitches during Flipkart's 'Big Billion Day' sale, for which he and co-founder Binny Bansal (not related to each other) had to apologise to customers.
Meanwhile, competition, including that from global giant Amazon, Sachin Bansal's first workplace, kept the IITian on his toes.
Amazon founder & CEO Jeff Bezos did not directly reply to Business Standard's recent query on whether he had imagined Sachin Bansal was going to make it this big but said he and his company did not waste time thinking of competition.
Recent examples, however, have shown both Bezos and Bansal are watching each other, closely.
Satya Nadella: India on top @Microsoft
The year 2014 was a fantastic one for Satya Nadella, save one low point.
When he was appointed CEO of Microsoft in February this year, Nadella (46) became the first Indian to head the world's largest technology company and the third chief for the firm in the 37 years of its existence.
Soon after taking over, Nadella articulated his vision - cloud first, mobile first.
Almost all of Microsoft's plans this year were towards this goal. One such was the announcement of Windows 10, which will seamlessly work across platforms - from the most traditional (desktops) to the most modern (internet of things).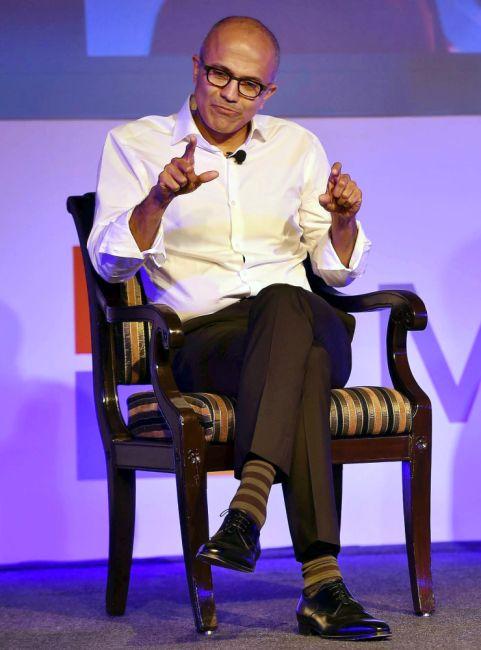 Microsoft CEO Satya Nadella speaks at Talent India 2014 Conference in New Delhi. Photograph: Vijay Kumar Joshi/PTI
While the company made one of its biggest revenue earners, the Office suite, free for Apple and Android, all devices smaller than nine inches are to get Windows for free.
And, there is unlimited cloud storage for users, and local data centres in key markets like India.
Nadella's stint as Microsoft CEO has so far been marked by bold policy shifts that have got thumbs-up from both the Wall Street and industry watchers.
In the three quarters since he took charge, Microsoft's revenue has risen 14 per cent to $67 billion, and its profit has increased 10 per cent to $16.2 billion.
Microsoft's stock price has also nearly doubled this year, and hit a 14-year high.
The only blemish for him, though, was kicking up a storm with his remark that women should not ask for salary hikes, if they "deserve", they would receive them.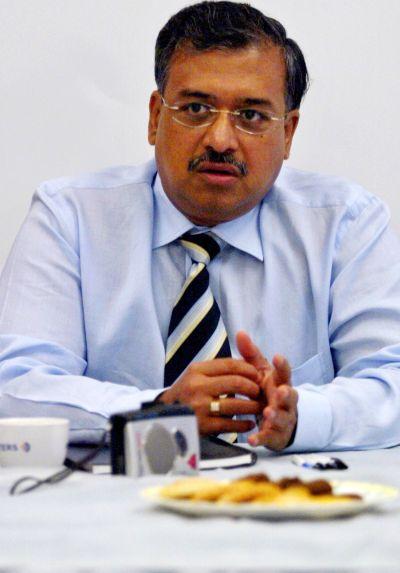 Image: Sun Pharmaceuticals' founder Dilip Shanghvi. Photograph: Adeel Halim/Reuters
Dilip Shanghvi, MD, Sun Pharma
Recently, India's pharmaceutical industry made global headlines when the Competition Commission of India approved the proposed merger between Dilip Shanghvi-led Sun Pharma and Ranbaxy; the world's fifth-largest generic drug company was taking shape.
Believed to be an introvert, Shanghvi likes to maintain a low-profile and is rarely seen on newspapers' front pages.
But, with assets worth $18 billion, he is the second-richest Indian.
He ranks ahead of some of the more publicly seen industrialists, such as ArcelorMittal chief Lakshmi Mittal, on the Forbes India rich list for 2014.
Shanghvi has also managed to keep his company at the forefront of business, with record profits and growth.
From being a start-up with sales of $0.02 million in 1983, Sun Pharma has grown to be India's largest drug manufacturer, with a market capitalisation of Rs 175,676.12 crore.
After the acquisition of Ranbaxy, Shanghvi will take Sun Pharma to an even stronger position, his competitors and colleagues say.
The instance of a domestic giant acquiring a strong rival is rare in the Indian pharma industry. This was more surprising in Sun Pharma's case because Ranbaxy's India plants were barred from selling in the US, the world's largest market for drugs.
As things currently stand, Ranbaxy's domestic plants still cannot sell in the US. But those who know him well say Shanghvi has been right on so many occasions that his chances of making a wrong move are negligible.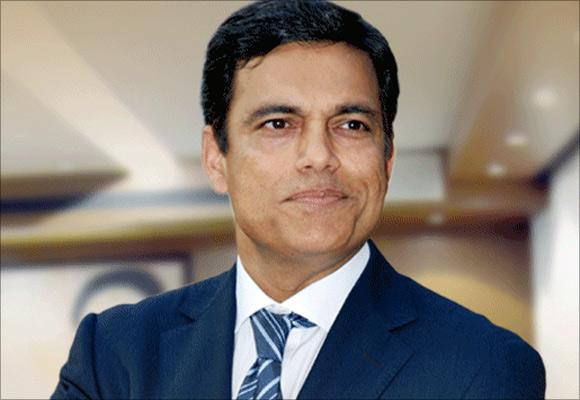 Image: Sajjan Jindal, chairman, JSW Group. Photograph: Courtesy, JSW Steel
Sajjan Jindal: Man of steel
The year 2014 proved a good one for Sajjan Jindal, the 55-year-old chairman of JSW Group, who acquired two of the Jaypee group's hydro projects in Himachal Pradesh for Rs 9,700 crore, and took over ailing Welspun Maxsteel at an enterprise value of Rs 1,000 crore.
Apart from these, Jindal, a BangaloreUniversity alumnus, also bought hedge fund Eton Capital's 10 per cent stake in unlisted JSW Infra for Rs 600 crore, and made a $100-million bid for loss-making Italian steel maker Lucchini that was later rejected.
A 24 per cent (Rs 8,100 crore or Rs 81 billion) increase in the market value of JSW's listed companies during the year added to Jindal's M&A fire power.
Operationally, the group's flagship JSW Steel pipped Tata Steel to be India's second-largest steel maker, next only to SAIL, in terms of domestic capacity.
Jindal also shelved the long-delayed Rs 35,000-crore Bengal steel project due to uncertainties over raw materials.
Jindal entered the sports business in a big way, buying a stake in Bengaluru Football Club, a business his 24-year-old son, Parth, is looking after.
For 2015, Jindal has set his sights high. He wants to take JSW's Bellari production capacity to 20 million tonnes and plans to set up a 500-km slurry pipeline to transport iron ore from Goa to the Karnataka plant. With a slew of takeovers, analysts say, Jindal will have to decide how to raise funds for acquisition of the Jaypee assets and for the Bellari expansion.
On the flip side, Jindal will also have to face a Central Bureau of Investigation inquiry over the alleged irregularities in environment clearance to acquisition of a piece of land in Jharkhand's Ankua.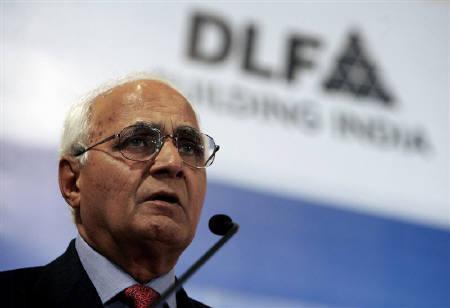 Image: DLF chairman, Kushal Pal Singh. Photograph: Arko Datta/Reuters
K P Singh: Past realities haunt realtor
In a 2012 interview, DLF Chairman K P Singh had told Business Standard India was going through a revolution of transparency.
He was referring to the many disclosures made under the 'Right to Information'. Little did he know that his company, India's largest real estate player, would two years later be barred from accessing securities markets over issues related to alleged non-disclosures at the time of its 2007 initial public offering.
Singh, 83, who rarely speaks to the media these days, had last met mediapersons for interviews after the launch of his autobiography, Whatever the Odds, in 2012.
DLF has found the going tough for a few years now, thanks to a slow real estate market, swelling inventory and the many controversies it has been part of.
But it was in 2014 that the bad times peaked for Singh, who had almost sold DLF in 1975 for Rs 26,00,000 but stopped short.
The man credited with creating much of the new Gurgaon, his son Rajiv Singh, daughter Pia and three top executives of his company were in October told by the Securities and Exchange Board of India (Sebi) to stay away from the securities market for three years.
The case is currently being heard at the Securities Appellate Tribunal.
This was not the only piece of bad news for DLF this year.
It was also slapped with a Rs 630-crore penalty for an alleged abuse of market dominance, after a group of DLF apartment owners in Gurgaon moved the Competition Commission of India.
The case is now in the Supreme Court.
Also keeping the company in the spotlight for the wrong reasons were allegations of its illegal land deals with companies owned by Robert Vadra, son-in-law of Congress president Sonia Gandhi.
These became sharper after the Congress lost power at the Centre, as well as Haryana.
Worse, the company's debt remain high - Rs 19,944 crore as of September 30 - even after it sold many of its non-core assets.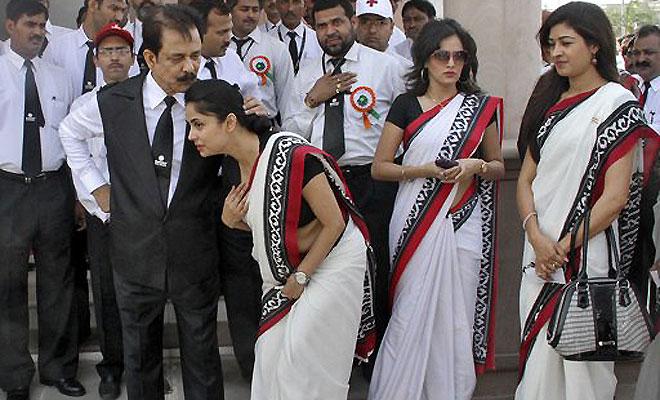 Image: Sahara Group chief, Subrata Roy. Photograph: Reuters
The year 2014 will easily go down as the worst in the eventful life of Sahara group chief Subrata Roy, who has been in Delhi's Tihar jail for good 10 months now.
Roy, whose firms are embroiled in a protracted legal battle with the Securities and Exchange Board of India over their fundraising through issue of optionally fully-convertible debentures, started the year on a not-so-happy note, with the Supreme Court restricting his movement out of the country.
Things only got worse from there. By the end of February, the court, incensed by the repeated non-compliance of its orders by the group, issued a non-bailable warrant against Roy and directed he be produced before it on March 4.
More drama unfolded as the Uttar Pradesh Police visited Roy's palatial home in Lucknow but failed to arrest him.
Soon after, Roy surrendered and was kept in a Lucknow guest house for a few days before being moved to Delhi.
The court, not convinced with his arguments, sent him to Tihar, and set an unprecedented Rs 10,000-crore bail condition for his release. A new three-judge Bench, which heard his case after the retirement of K S Radhakrishnan and recusal by J S Khehar, allowed a Skype facility inside jail for Roy to negotiate sale of assets and raise money for his bail.
While Roy could not sew up a deal during the period this facility was given, the recent deals to sell Gurgaon and Mumbai properties have raised the hope of his release.
Image: Vijay Mallya, Chairman, UB Group Photograph: Reuters
Vijay MallyaVijay Mallya: Facing bad times. Wilfully?
It was a year UB Group Chairman Vijay Mallya would want to forget in a hurry. Save for one piece of good news towards the end of 2014 - on December 27, the Calcutta High Court dismissed United Bank of India's (UBI's) decision to declare his grounded Kingfisher Airlines (KFA) a wilful defaulter - Vijay Mallya was surrounded by difficulties through this year.
Earlier, the Kolkata-based lender had declared Kingfisher, chairman Mallya, and three former directors wilful defaulters over non-payment of loans to the tune of Rs 400 crore or Rs 4 billion.
A few other lenders, including State Bank of India, the country's largest, also identified the airline as a wilful defaulter but are yet to declare it so. KFA has unpaid loans of about Rs 6,500 crore or Rs 65 billion from a consortium of 17 banks.
The carrier, grounded since October 2012, lost its flying licence on December 31 that year.
The Directorate General of Civil Aviation, not satisfied with the KFA management's plans on resuming operations, refused to renew the licence.
Now, the two-year period within which its air operator's permit could be renewed also expires with the end of the current year.
The corporate affairs ministry recently rejected Kingfisher Airlines' application to reappoint Mallya as its managing director, without remuneration, for five years from October 16, 2013.
Also, minority shareholders of United Spirits Ltd (USL), another Mallya company, defeated nine of the 12 special resolutions moved by the company at its extraordinary general meeting.
Most of these pertained to the company's agreements with entities connected to Mallya and inked a month before USL's acquisition by British liquor giant Diageo.
Mallya also had to quit as the head of Mangalore Chemicals & Fertilizers (MCF), which has been in the midst of a takeover battle between Deepak Fertilizers and the Adventz group, despite his understanding with Saroj Poddar's Adventz group that he could remain chairman for five years, irrespective of his holding.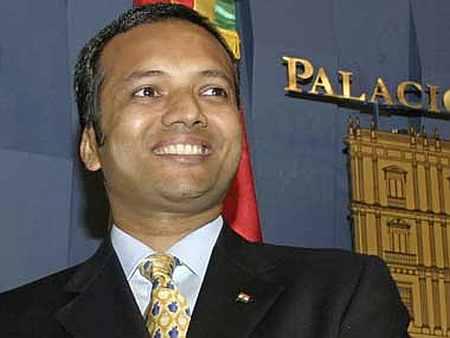 Image: Naveen Jindal, Chairman, JSPL. Photograph: Jose Luis Quintana/Reuters
Naveen Jindal: A youth icon in dark coal files
The shares of Jindal Steel & Power Ltd (JSPL) plummeted from Rs 350 apiece on June 9 on BSE to Rs 125 on December 17 - a slide that symbolised the changing fortunes of the company, as well as its promoter Naveen Jindal.
For the young and dynamic industrialist-turned-politician who once fought for the cause of 'hoisting the national flag as a fundamental right', a difficult phase had begun long ago.
It was only made worse by a sting-operation scandal involving him last year, and his tiff with a media group after that.
But it was in 2014 that he and his flagship JSPL took the worst blows.
First, in June, the Central Bureau of Investigation (CBI) named JSPL in its probe into alleged irregularities in coal block allocations and mining.
Three months later, the Supreme Court cancelled three coal blocks that had been allocated to the company for captive use and commercial sales (accounting for over 100 million tonnes of coal).
With the court terming the coal block allocations made over two decades 'illegal' and 'unconstitutional', JSPL will likely have to pay to the government a penalty of Rs 3,000 crore or Rs 30 billion, the highest among allottees whose blocks have been deallocated.
It does not seem the woes for Jindal and his company are going to end anytime soon, especially after a review petition on the Supreme Court ruling on coal block cancellations was dismissed recently, and with CBI pressing fresh charges on JSPL - for mining iron ore in Jharkhand's Naxal-affected Saranda forests.
The company recently had to cancel its $10-billion coal-to-diesel project in Odisha as the plant for this was supposed to get coal from one of the mines that were deallocated after the Supreme Court ruling.
Besides, it also remains to be seen if the company will re-bid for its cancelled coal blocks, given that the new guidelines on e-auction prevent a company under litigation to apply.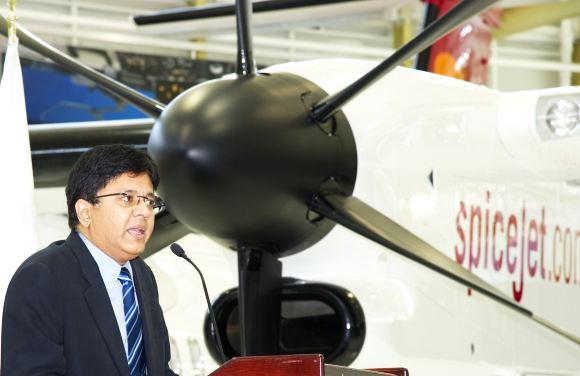 Image: Kalanithi Maran, chairman and MD of Sun Group, and promoter of SpiceJet. Photographs: Courtesy, Bombardier Aerospace
Kalanithi Maran: Out in cold with frozen wings
The Sun group and its chief, 50-year-old Kalanithi Maran, have had a muted 2014, thanks to the dark clouds of financial woes facing budget airline SpiceJet and the many legal challenges surrounding the promoters.
Even as Maran was juggling with court cases and inquries over his alleged role in the controversial Aircel-Maxis deal, the issues related to SpiceJet depleted his wealth and raised a question mark on his "business strategies".
There was a significant drop in Maran's net worth this year, according to Forbes. From being the 23rd-richest Indian with assets worth $3.3 billion as of March 2013, he slipped to 38th with $2.3-billion assets as of September this year.
Experts echoed the Forbes view that Maran was paying the price for his trophy assets, notably SpiceJet, which reported record losses in 2013-14.
But Maran continued to pump more money into the cash-strapped airline.
Sun TV, the cash cow for the group, also had its rough times, given a slowdown in advertisement spending, new regulatory norms and competition.
Even so, Maran and wife Kavery Kalanithi, India's best-paid executives, drew Rs 59.89 crore each in salary and other allowances in 2013-14.
Towards the end of the year, SpiceJet faced worse times and its flights suffered due to financial constraints and non-payment of dues.
The airline had to significantly cut down on its fleet and scout for investors to shore up its finances.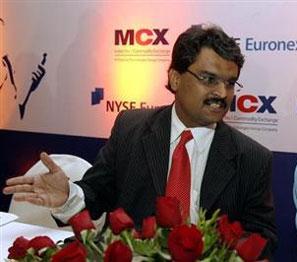 Jignesh Shah: A baron in the spot
Until as late as a year ago, Jignesh Shah was among the much regarded names in the exchange space. Global exchanges across asset classes would approach him for tie-ups or to buy into his ventures.
But that was until a year earlier, when a Rs 5,600-crore (Rs 56 billion) payment crisis at National Spot Exchange Ltd (NSEL), promoted by Shah's Financial Technologies India Ltd (FTIL), was yet to break out.
In 2014, the previous year's NSEL fiasco and the many reverses that followed ate into Jignesh Shah's fortunes, as well as his reputation.
He was arrested by the Mumbai Police's economic offences wing for cheating and forgery under sections of the Maharashtra Protection of Interest of Depositors Act and had to spend a little more than four months in jail till he was granted bail in August.
FTIL's wide-ranging business - from the Multi Commodity Exchange (MCX), NSEL and Indian Energy Exchange (IEX) in the commodity space, to stock exchange MCX-SX and related ventures like the National Bulk Handling Corporation and ODIN (software used by brokers), and the Dubai-based Dubai Gold and Commodities Exchange (DGCX), Singapore Mercantile Exchange (SMX), Bahrain Financial Exchange (BFX), Global Board of Trade (GBoT) - got significantly narrowed this year.
Shah was made to exit the exchange business; and, following regulatory issues because of the NSEL crisis, his FTIL has either exited or is in the process of exiting most of the the ventures named above.
A few months ago, Shah also announced he would become the chairman emeritus of FTIL and give up active management roles.
Thanks to a bleak year, he is no more an exchange baron and most of what he had amassed over the years seems to have slipped out of his hands. But Jignesh Shah intends to start afresh, as an entrepreneur - he wants to identify new businesses, support those and grow with those.