Of the 300 operational malls in the country, just 5-7 per cent, or about 20 malls, are doing well, say developers.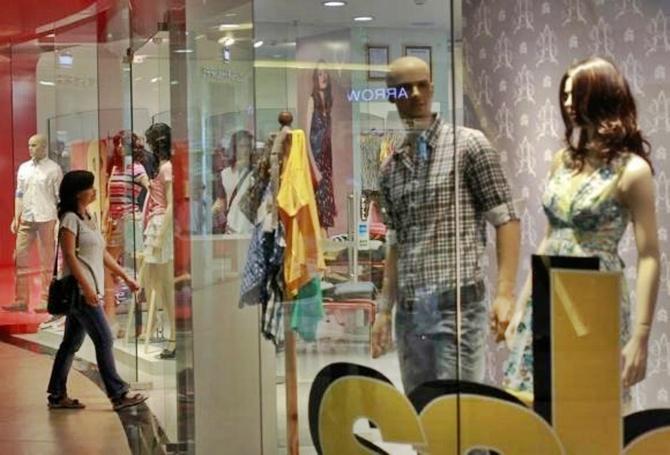 Image: A woman enters a retail store inside a shopping mall in Mumbai. Photograph: Danish Siddiqui/Reuters
The once-buzzing Atria Mall, a premium shopping destination in South Mumbai, barely has visitors - despite it being a relaxed Sunday evening.
While the escalators run up and down, store assistants wait for customers to show up.
Perhaps they know it is a futile wait. A third of the shops at the mall have already shut down, and the echoing expanse has a sombre mood, like that of a dying institution.
Over the past year, the owners have put the mall on the block and then taken it off several times.
In other parts of Mumbai too, malls are in similar decline.
In Navi Mumbai, in the east, the Gold Souk, which was meant to be a glittering ode to India's insatiable demand for gold, silver and diamond jewellery, and the Wedding Mall, designed to be a one-stop shop for all wedding-related needs, have been converted into commercial offices.
Another mall nearby, the Palm Beach Galleria, is also being refashioned into a residential complex with car and jewellery showrooms.
In the National Capital Region, things are no better. At least four malls in Rohini, Vasant Kunj, Pitampura and Gurgaon are lying vacant and looking for buyers, say property consultants.
In others, the footfall has decreased, forcing developers to tweak their business plans. Prozone, a joint venture of apparel retailer Provogue and Capital Shopping Centres, which was looking to build six malls in the country, has scaled down its plans to three malls.
Its malls in Nagpur, Aurangabad and Coimbatore will be developed as a mixed-use complex with commercial and residential properties in equal measure.
Image: Phoenix Market City Mall. Photograph: Courtesy, Phoenix Market City Mall
In Indore, the company has decided to build a residential complex instead of a mall and has kept its plans open-ended for Mysore.
"Four malls were coming up in Indore, whereas the opportunity that existed was for one or two malls at the most," says Provogue Managing Director Nikhil Chaturvedi. "It made no sense. The same is the case with Mysore."
As the business case for malls weakens, Chaturvedi says he plans to build residential projects first and develop a mall around it only if the demand scenario improves.
Others developers such as DLF and Runwal, the biggest in NCR and Mumbai, respectively, too are going easy on malls.
"At the moment, we are not bullish on malls. The development of such properties takes three to four years, and you can't predict how the markets will behave on their completion," says DLF Executive Director Rajeev Talwar.
The biggest challenge facing mall owners is the disproportionate rise in land prices, especially in Mumbai. According to Anupam T, chief executive (malls) at the Runwal group, land prices in Mumbai have gone up 50 times in the last decade and rentals by 10 times, but consumption has grown only three times, making malls unfeasible for developers.
"In 2005, developers could buy an acre for Rs 2 crore or Rs 200 million.
Today, you have to shell out at least Rs 100 crore or Rs 1 billion per acre. Rents have gone up from Rs 60 a sq ft to Rs 120 a sq ft during this period," Anupam says.
As the e-commerce boom takes hold, the future only looks dire for malls. It is not just that rents are rising,consumers are visiting malls less frequently.
While many do most of their shopping online, others go to a mall only after having done their research online and know exactly what they want, thus leaving no room for impulse buying. Experts believe the share of e-commerce, which accounts for $ 4billion of the country's retail pie of around $600 billion, is expected to jump to 22 billion by 2018.
This could be the reason why, says Anand Sundaram, CEO at Pioneer Property Zone, a mall management firm, the growth in sales at most malls has fallen from 20-25 per cent in 2013 to 15 to 20 per cent this year.
Image:

An employee operates a floor cleaning machine in front of a Hugo Boss showroom inside a shopping mall in Mumbai. Photograph:

Vivek Prakash/Reuters
Going residential
With the tide changing in favour of e-commerce, developers are already preferring to go with residential projects because the returns are much better.
According to property consultant Jones Lang LaSalle (JLL), only 2.4 million square feet (sq ft) of new mall space, comprising six to seven malls, would be completed across the country this year, the lowest in the last six years.
"Not many developers are willing to invest in malls," says Kishore Biyani, founder of the Futures group. There are reasons for this. According to Susil Dungarwal, founder of mall management firm Beyond Squarefeet, of the 300 operational malls in the country, just 5-7 per cent, or about 20 malls, are doing well. This has led to most of the 50 or so mall developers in the country look at projects other than malls.
"Developers looked at malls as real estate projects and many were sold to investors. While they made money, investors lost heavily," says Dungarwal. He lists reasons such as design, outright sale of mall and poor management for the failure of these shopping complexes. "Single-mall developers no longer want to build malls, while chains are looking at the possibility of buying existing ones," he says.
Yet, there are some who still remain hopeful. Rajendra Kalkar, senior centre director, Phoenix Mills, which has malls in west and south India, does not agree that e-commerce and economic slowdown have impacted business.
"Some of our malls are still growing at 30-35 per cent year on year," Kalkar claims, adding that if developers offer a good experience, proper mix of stores and location, malls are bound to do well.
Even Provogue's Chaturvedi says his company won't desist from making malls completely.
"Mall space is getting consolidated," he explains.
"Reits (real estate investment trusts) will help it become a specialised asset involving only professional players."