GM hoped to replace the Tavera, especially in cities, with the Enjoy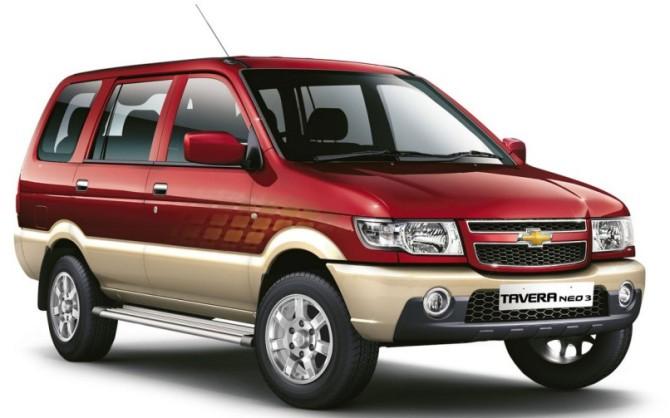 Image: Chevrolet's Tavera. Photograph: Kind courtesy, Chevrolet
Spooked by the new emission norms set by the government, the popular automobile brand faces an uncertain future
General Motors' Chevrolet Tavera was one of India's best-selling utility vehicles, but stricter emission norms that all Indian automobiles are now being asked to follow could take the wheels off the brand.
An affordable alternative to Toyota's Innova, news is that the Tavera might not get upgraded to Bharat Stage IV norms, according to sources.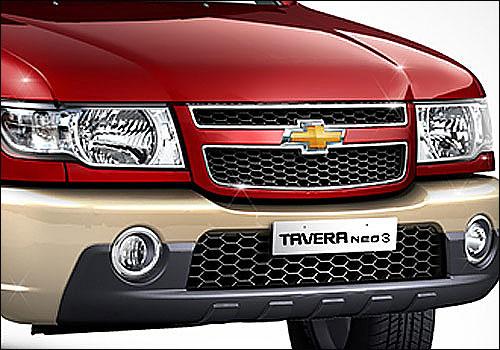 Image: Chevrolet's Tavera. Photograph: Kind courtesy, CarDekho
The multi-seater vehicle currently runs on BSIII engines and is sold only in towns where BSIII norms are in place.
As of now more than 50 cities in India have adopted BSIV standards. Five more states such as Goa, Karnataka, Kerala, Telangana and Odisha will switch to BSIV from April 1, 2016.
The entire country will move to BSIV from April 1, 2017 and to BSVI by 2020.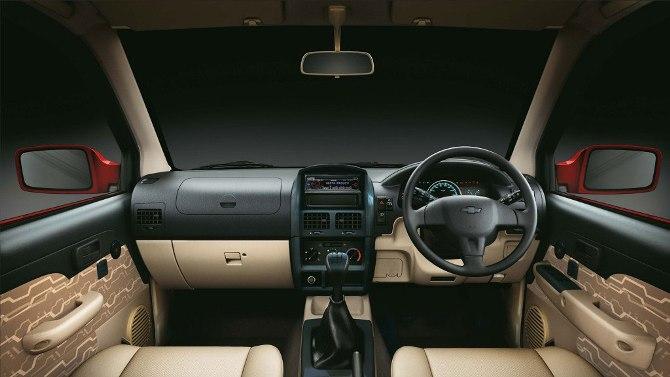 Image: Chevrolet Tavera's interior. Photograph: Kind courtesy, Chevrolet
Unless General Motors decides to give the Tavera a BSIV engine it will have to phase out the model's production in a phased manner. This will prove to be a big jolt to GM as nearly half of its total monthly volumes come from the Tavera alone.
A mail sent to General Motors did not elicit a response.
As per data provided by the Society of Indian Automobile Manufacturers November sales of Tavera stood at nearly 1,000 units while that of General Motors was 2,500 units.
During the April-November period GM saw sales of nearly 22,000 units of which Tavera clocked 6,900 units.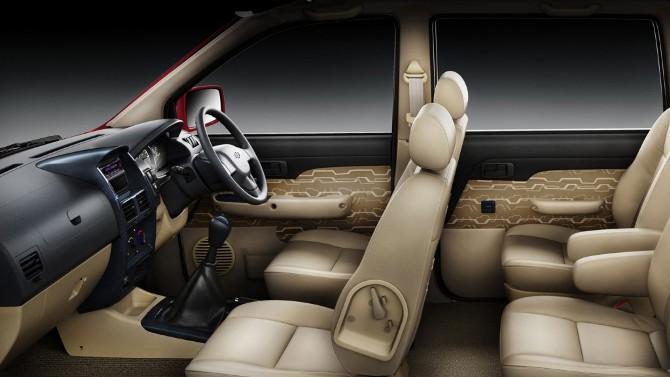 Image: Priced at Rs 800,000 (ex-showroom, Mumbai) the Tavera is cheaper than Toyota's Innova. Photograph: Kind courtesy, Chevrolet
Priced at Rs 800,000 (ex-showroom, Mumbai) the Tavera is cheaper than Toyota's Innova which is priced at Rs 10.73 lakh or Rs 1.07 million (ex-showroom, Mumbai).
GM had upgraded the Tavera to BSIV when it bought 2000cc engines from the Punjab-based tractor and utility vehicle maker Sonalika in 2011-12.
However the three year engine supply contract expired in 2014 and was never renewed. The model was renamed Tavera Neo subsequently.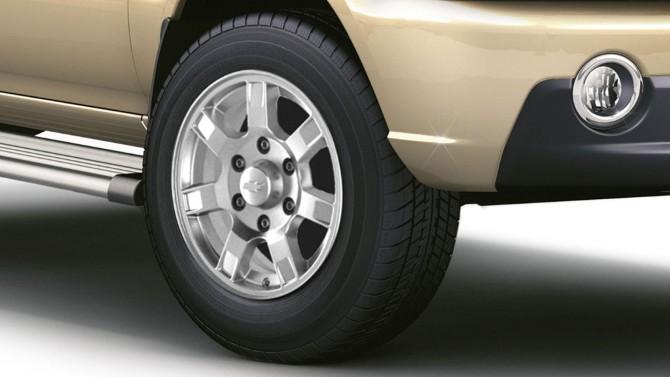 Image: Chevrolet's Tavera. Photograph: Kind courtesy, Chevrolet
A senior executive from Sonalika said, "We were supplying BSIV diesel engines to GM for the Tavera.
This contract expired in 2014 and they (GM) decided against renewing it because they wanted to push their new MPV.
However, we are still ready to supply engines to them if they do require".
GM hoped to replace the Tavera, especially in cities, with the Enjoy, a multi-purpose vehicle and eventually extend it to the rest of the country even while Tavera continued to sell with a BSIII engine.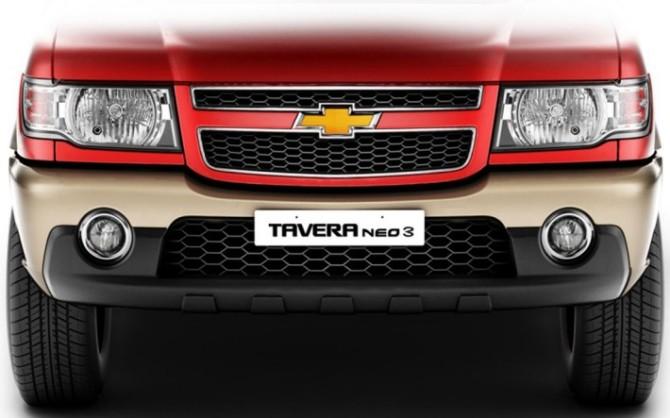 Image: Chevrolet's Tavera. Photograph: Kind courtesy, Chevrolet
But sales of Enjoy, which is a product of a joint venture between GM and a Chinese company, have been a big disappointment.
In the April-November period this year Enjoy clocked average sales of just 400 units a month, according to SIAM.
Buyers from the commercial segment who use the vehicle as a taxi vouch for Tavera's build quality, reliability and ease of maintenance.
A majority of Tavera sales are to commercial buyers.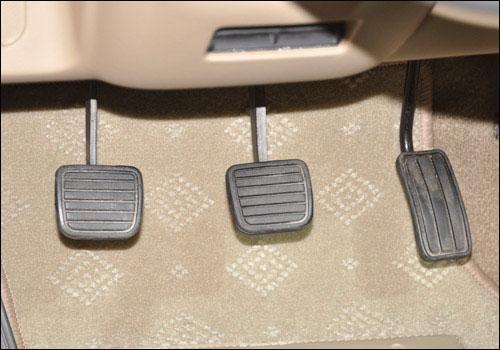 Image: Chevrolet's Tavera. Photograph: Kind courtesy, CarDekho
Tavera presently sells more than twice the numbers clocked by Enjoy despite being more expensive.
Tavera may be the first in a long line of vehicles to bite the dust after the new emission norms come into play.
With the ban on sale of diesel-powered vehicles with engines more than 2,000cc in Delhi-NCR, auto makers have already been hit hard.
And many say that this is enough to discourage them from even attempting to upgrade to BSIV norms.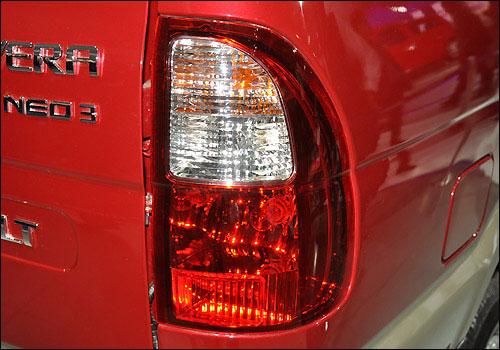 Image: Chevrolet's Tavera. Photograph: Kind courtesy, Chevrolet
Tavera's ride in the country, however, has not always been a smooth one. Many would remember the General Motors' emission fudging episode which left the company and government authorities red-faced.
The company recalled all Taveras built between 2005 and 2013 as they were manipulated to beat the emission norm.
GM had claimed then that some of its staff "re-fitted already approved engines in new Tavera models sent for inspection".
The company was forced to recall 114,000 Taveras, the biggest recall by GM in India.
Its supporters however have been quick to gloss over such glitches.
Tavera remains one of the few models from General Motors to have tasted success on Indian roads. Models like U-VA, Sail, Sail U-VA, Aveo, SRV and Optra have failed miserably while only two other models, Beat and Spark, have fared well.
However, over the years even these models have faced strong headwinds due to stronger competition.
Tavera has a long list of luminaries for company, if it does stop selling in India.
Other popular models which have been phased out in recent years are Hyundai Santro, Maruti Suzuki A-Star, Maruti M800, Maruti Suzuki Zen Estilo, Honda Civic, Nissan Evalia, Tata Manza, Tata Indigo and Tata Vista. Reasons range from low demand to failure to upgrade to new emission standards.
And as the government and the courts get more serious about emission norms and vehicular pollution in the coming months, the list could get even longer.
PASSAGE TO INDIA
Chevy Tavera launched in 2004
In 2009-10, it became one of General Motors' best-selling brands in the country
Cricketers Zaheer Khan and Irfan Pathan were among its brand ambassadors
Was the sponsor of the Baroda Cricket Association for three years between 2006 and 2009
114,000 Taveras recalled in 2013 as the company was accused of fudging emission norms
New emission norms could see the brand being phased out