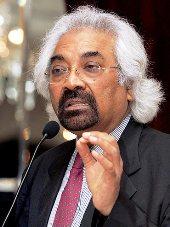 National Innovation Council Chairman Sam Pitroda has suggested that Kerala come up with an Entrepreneurship policy to create more job opportunities.

'We need to create 10-15 million jobs every year, which have to come from entrepreneurship', Pitroda, also the Advisor to Chief Minister Oommen Chandy, said.

He was addressing delegates through video conferencing at the two-day TiECON conference in Kochi on Thursday.

'Kerala should come up with an Entrepreneurship policy which we don't have now. We can even minimise government involvement, It would be a big challenge and Kerala can be a model for the same', he said.

"Since time immemorial in India, entrepreneurship ecosystem was intact and was well protected but today much needs to be done to facilitate entrepreneurship.

"Affordability, scalability and sustainability of the products should be there," he said.

There was need to engage more young entrepreneurs with innovative ideas.

IT, telecom, automotive and pharmaceutical sectors have to be tapped, he said and urged entrepreneurs to take failures in the stride as only then they can taste success.

In its recommendations, NIC says Kerala may create two Knowledge cities where people can live and work in the same place.
Image: Sam Pitroda | Photograph: Rediff Archives