According to industry experts, companies in sectors such as consumer durables (fans, air-conditioners), power cables and the electrical industry will be hit, given that they are big users of copper.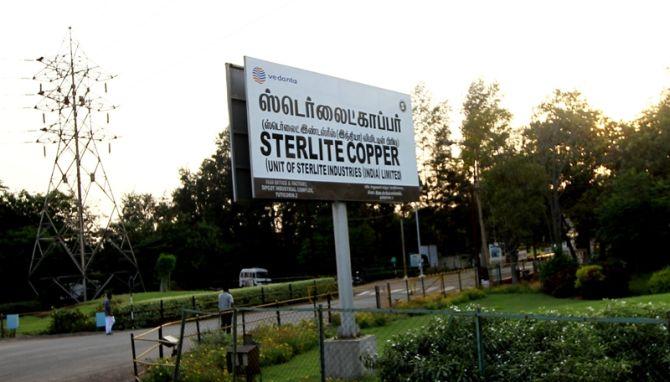 The Tamil Nadu government's decision to permanently shut down Vedanta's copper smelter in Thoothukudi has significant implications for domestic industry.
The unit has a capacity of 400,000 tonnes, of which 45 per cent is exported mainly to China and the Far East and West Asia, while the balance 55 per cent is sold to domestic customers.
"A sudden permanent shutdown of this kind has led to disruption in the supply chain of copper. Clients have been informed, but most do not have immediate alternative arrangements," a Vedanta executive said.
The company caters to 800 small and medium enterprises (SMEs) across the country.
"We have a copper rod facility at Silvassa and we could also import copper cathodes and produce rods for the domestic market. That is one option we have, but we are still assessing the situation," a company executive said.
Yet, such a move may not help much in offsetting the shortfall created by Sterlite's shutdown.
The installed capacity for copper in the country is estimated at 1 million tonnes, according to the mines ministry.
In 2017-18, India produced 0.84 million tonnes of copper, of which 60 per cent was consumed domestically, while 40 per cent was exported, according to Bloomberg data.
If Sterlite's plant remains shut, India may emerge as a net importer of copper, from being a net exporter.
According to industry experts, companies in sectors such as consumer durables (fans, air-conditioners), power cables and the electrical industry will be hit, given that they are big users of copper.
"This is a blow to the stability that the downstream industry had with supplies intact from Sterlite and Hindalco," said Milan Mehta, vice-chairman of Winding Wires Association, which is also a client of Sterlite.
"The supply chain will be affected severely and we will have to rely only on one supplier, which is not healthy from the business point of view," he added.
The winding wire industry has a demand of 0.25 million tonnes of copper. Imports will increase prices by around Rs 10,000 per tonne.
Aditya Birla group company Hindalco Industries, state-owned Hindustan Copper and Anil Agarwal-led Vedanta are the three copper producers in India.
Hindalco and Sterlite account for 49 per cent and 48 per cent, respectively, of the country's installed copper capacity.
However, some customers were already importing copper as Sterlite's plant was shut in March this year for scheduled maintenance.
"In anticipation of a shortage, traders had already started importing higher quantities of copper from March. This shortfall will now be met mainly via imports," said an executive with Hindalco Industries.
"Our export commitments are long term and to that extent, these cannot be diverted to the domestic market if there is a shortfall here," he added.
"With the plant not producing copper, the demand is being addressed by additional imports, which would cost $2 billion of forex outflow," Sterlite Copper chief executive officer P Ramnath had said earlier.
Hindustan Copper produces just around 36,000 tonnes copper annually, and hence does not see itself filling in for the copper shortage caused by the Sterlite plant closure.
However, Hindalco's copper capacity operates at about 85 per cent utilisation, which leaves some scope to ramp up production. But it will still not be enough to bridge the shortfall.
The market is expected to grow at 8-10 per cent in 2019-20, given the infrastructure projects announced, building activities picking up, increased rural and railway electrification, as well as a lot of renewable energy projects and focus on electric vehicles, according to industry experts.
Copper premiums currently range from $100 per tonne to $260 per tonne, depending upon the product category. "We are currently in the wait-and-watch mode with regard to premium levels and cannot comment on revision of these levels as of now," said Jayanta Mukherjee, chief marketing officer at Kolkata-based Hindustan Copper.
For Vedanta, which owns Sterlite Copper, the shutdown is expected to lower its annual pre-tax earnings by $200-250 million. Additionally, 26,000 jobs are likely to be affected.
On Monday, the Tamil Nadu government issued an order to permanently close Sterlite's copper plant at Thoothukudi.
Then, SIPCOT cancelled land allotment for the expansion of the plant's second phase.
Photograph: PTI Photo