Sources at both IndiGo and Vistara say that some senior pilots and crew who have elderly parents at home had said that they would like to stay off the roster for now.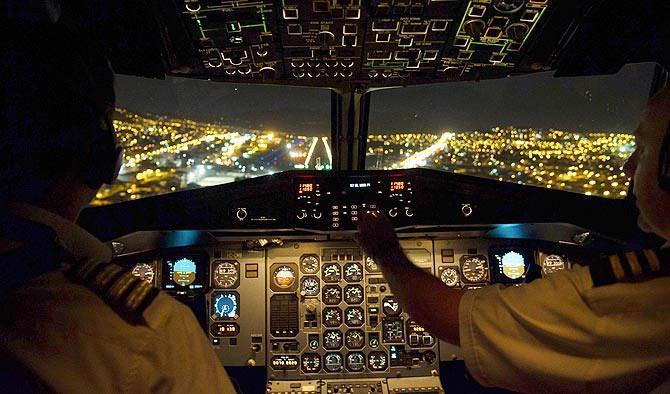 Fifty-three-year old IndiGo commander Navneet Sarin's life has been thrown out of gear since May 25 when domestic flights in India resumed after two months of a lockdown.
Far from welcoming the move, Sarin is now struggling with a huge dilemma: To fly or to to fly.
The senior pilot has been under pressure from his family not to resume duty.
Gurugram, where he lives with his parents (both aged over 75), his wife and two children, is witnessing a steady uptick in coronavirus cases.
And his wife feels that he is putting the lives of his family, especially his vulnerable aged parents, at risk by assuming command.
What's making his family even more fearful is that a few pilots have tested positive for COVID-19 since flying resumed.
Sarin's family wants him to take leave without pay till December this year.
Senior commanders with India's airlines earn anywhere between Rs 5 to 10 lakh a month, depending on how much they fly (flying allowances comprise a substantial portion of their paycheck).
Sarin, who has been a commander for over 10 years, owns two other properties apart from the one he lives in, and earns a comfortable rental income.
A few months of leave without pay won't hurt him or his family in any way.
As the coronavirus pandemic continues its relentless surge in India, many airlines pilots, cabin crew and staffers are finding themselves in the unenviable position of having to work out a balance between their own welfare and what their jobs demand.
Unlike medical and health care professionals who have no choice, airline employees are taking a calculated decision on whether or not to expose themselves to the risk of infection.
Sarin says that in the first few days after flights resumed, a few of his colleagues chose to call in sick, as the fear factor was quite pronounced then.
For many younger colleagues, the fear has now abated, he says, and things are getting back to normal.
Even so, airline sources reveal that some pilots have indicated that they would rather go on leave without pay for some time than fly in the midst of a pandemic.
Since airlines are not operating at full capacity, this elective decision will not affect them adversely.
Sources at both IndiGo and Vistara say that some senior pilots and crew who have elderly parents at home had said that they would like to stay off the roster for now.
They don't mind the hit in their pay package as they have built up safety nets that will see them through for a while.
Amrita Khurana, a senior flight attendant who has worked with Air India for over two decades, found it stifling to stay at home during the lockdown - so accustomed is she to being up in the air.
But after she did her first flight (a repatriation flight) in full protective gear, she found that she simply could not breathe in it.
She says that the "suffocating feeling" is not just age-related and that many of her younger colleagues have also experienced significant problems with protective gear.
"Besides the severe heat, not everyone can deal with these kinds of precautions and the stress of knowing that you are putting yourself at risk," she adds.
Khurana's husband and children have been trying to persuade her to do what some commanders are opting to do: go on leave without pay for a while.
Senior Directorate General of Civil Aviation sources say that in the case of certain airlines like Go Air, pilots and the crew are reluctant to fly at all, especially because many of them fear that they will not be paid even if they fly.
Since the pandemic hit, the airline has appeared to be in an increasingly precarious position.
Although many carriers have jumped back in with almost 30-40 per cent of their fleet, Go Air has been slow to get back in gear.
It is operating around 16-20 flights a day and started a week after the others.
Taking note of the trend, aviation veteran and expert Shakti Lumba says, "These are extraordinary times having extraordinary consequences and outcomes.
"Many airlines have placed employees on leave without pay.
"Now that the skies are opening up, perceived high-risk employees like crew also have the right to exercise the leave-without-pay option, which is unlikely to affect the airline operationally due to drastically reduced aircraft utilisation."
Airline employees need to be calm and collected because they are responsible for the safety of many lives.
But faced with salary cuts, an uncertain future, and over and above that, the risk of being exposed to the virus, the stress levels of airline staff are shooting up - a situation where mistakes cannot be ruled out.
For a lot of people, the risk of the virus added to the risks of staying in the job of flying has become one risk too many.
(Some names have been changed to protect their identity)
Photograph: Guillermo Granja/Reuters