The Volvo Group, one of the world's leading heavy-duty commercial vehicle (CV) and diesel engine makers, is engineering a fresh push in India, one of the world's biggest growth markets for commercial vehicles.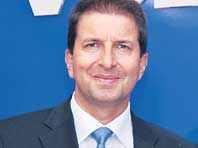 The 85-year-old group has appointed Philippe Divry as the managing director of Volvo India and senior vice-president, Truck Joint Ventures India. Divry will oversee domestic operations, where Volvo has a joint venture with Delhi-based Eicher Motors, under the company VE Commercial Vehicles.

Volvo's brand presence so far is visible mostly in the premium trucking segment, inter-state luxury buses segment, construction equipment space and engines (Volvo Penta). The group aims to increase presence not just in CVs but in other areas of business as well. It hopes to increase footprint in the exports segment, too.

Divry, 47,
has over two decades of experience in the commercial vehicles segment and automotive industry at Renault Trucks and in the Volvo Group. He has never been posted in India though he has assisted product development teams based here on occasion.
Divry has a background of operations and project management, and was the head of Volvo Powertrain France for five years. He also held positions in business development and strategic planning, and, since 2009, was the head of global product and marketing, for Volvo Bus Corporation in Sweden.
Though operating since mid-2008, VE Commercial Vehicle's share in the medium and heavy segment in India is only 11 per cent. The company is not present in the mini truck segment, where Tata Ace clocks maximum volumes. Divry's challenge is to increase VE's share in the  India market, which is dominated by Tata Motors and Ashok Leyland.
Image: Philippe Divry