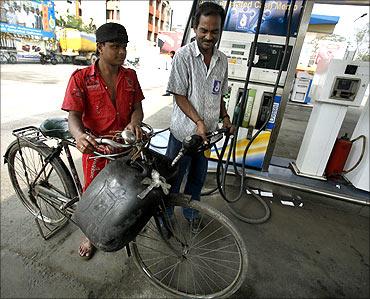 Coming down heavily on the central government's economic policies, the Congress Party on Monday asked the government to explain why aviation turbine fuel prices (ATF) were cheaper than that of ordinary petrol and diesel.
"Why is this government so anti-people? Price of petrol paid by the common man for scooter, motorcycle or car is at Rs 61.33 per litre, while aviation turbine fuel used by airplanes costs Rs 52.42 a litre," said Congress spokesperson Randeep Surjewala.

According to him, ATF prices had been reduced 31.24 per cent, while petrol prices had come down 15.73 per cent and diesel 11.38 per cent only.
Accusing the government of "shamelessly profiteering" at the cost of the common man, the Congress spokesperson questioned why the benefits of fall in crude prices were not being passed onto the consumer.
He said the price of crude oil had fallen 50 per cent from $110 per barrel in May 2014 to $56 per barrel now in January; the fall in price of petrol and diesel was by only 15. 7 per cent and 11.4 per cent, respectively.
Adding to the woes of the people, the government increased the excise duty on petroleum products three times in the past six months, Surjewala alleged. Besides, hike in the customs duty from 2.5 per cent to 7. 5 per cent had led to spiralling of prices.

"Why is the Modi government not following the policy of decontrol of petrol and diesel prices," asked the Congress leader.

Pointing out the "dichotomy" in the government's policy, he said when international prices of crude oil are falling, the government is not passing on the benefits to the common man. But when crude oil prices rise, immediately the government hikes fuel prices.
He said the Modi government had betrayed the people and was committing a "grave injustice" on them.