These plans do provide safety from skimming and cloning of cards and emergency funds if a person loses his wallet and doesn't have access to money.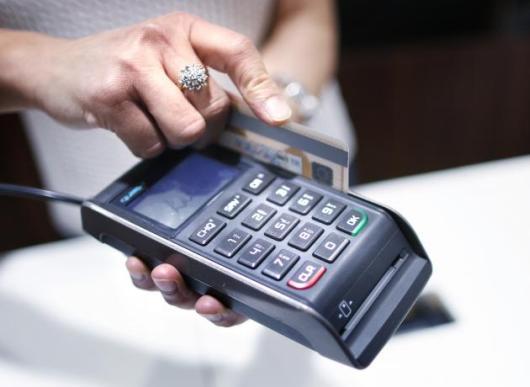 When an individual becomes a victim of card fraud, the issuers usually don't take any responsibility.

The onus is on the cardholder to prove it didn't happen due to his or her negligence.

Even approaching the police might not yield results. More than half these cases remain unsolved.
Card frauds will continue their relentless growth, according to McAfee Labs' 2016 Threats Predictions report.
It says cyber criminals are directly targeting consumers, source of the credentials and weakest link in the payment process.
While it's not difficult to fall prey to card fraud, individuals can protect themselves against losses.
For instance, CPP India, OneAssist and Tata AIG General Insurance have card protection plans that can cover you in most cases of fraud.
"It's a long battle to make the issuer reverse the charges in case of fraud. The person needs to go to the ombudsman or court and prove it was not due to his/her negligence," says M Ravichandran, president at Tata AIG General Insurance.
With a card protection plan, the onus shifts on the company, to prove the fraud happened due to the customer's negligence.
How it works
OneAssist's WalletAssist and CPP India's Card Protection work in a similar way.
Once a customer signs with them, he/she needs to add all the cards details to their accounts.
These plans not only offer insurance for fraud but the expenses a person would incur on losing his/her wallet.
Customers of these companies need to contact the call centre when they lose cards or detect a fraud. They can block all cards with one call.
Subrat Pani, co-Founder of OneAssist Consumer Solutions, says most customers in metro cities hold at least two debit cards and one credit card.
If there's a fraud or they lose their wallet, it's a hassle to call each bank individually, go through the verification and ask to block the card.
In card protection, these companies call the banks on behalf of the customer.
"If issuers ask for extra information for verification before blocking, we take the customer on a conference call to help us with it," says Pani.
Both WalletAssist and Card Protection provide cover for fraudulent transactions conducted up to several days prior to reporting the loss or misuse of a card.
For fraud protection, these companies have tied up with insurance firms.
The customer needs to fill a claim form and attach the First Information Report filed with the police, along with other documents, to make a claim.
The insurer conducts an investigation and disburses money once the claim is verified.
While an individual can take a cover from Tata AIG General Insurance, the company usually works with card issuers.
The coverage, plan and premium are customised on the issuer's requirement.
The company has four individual plans that can be bought together as one or taken individually.
The plans include protection against identity theft, against fraudulent charges made on cards, ATM assault and robbery, and against a person losing his/her wallet.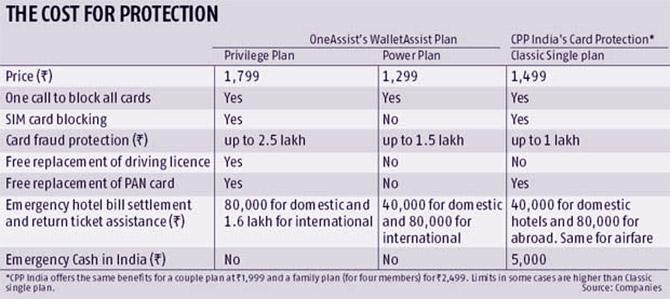 More benefits
Deepak Matai, country manager at CPP India, says it's not only fraud protection that people sign up for.

The core product is meant to take care of someone who loses his/her wallet.

A person can get emergency hotel and travel assistance anywhere in the world in WalletAssist and CPP's Protection Plan.
The companies provide interest-free cash to the customer, pay their hotel bills and also arrange flight tickets, if the wallet is stolen and the person is unable to arrange funds.
For this they have tied up with travel agents. To protect from online fraud, CPP offers a one-year membership of anti-virus security software F-Secure and also replaces a lost PAN card.
WalletAssist also covers forex cards and offers to replace a lost driving licence.
Pricing
WalletAssist has a privilege plan for Rs 1,799 that offers fraud protection up to Rs 2.5 lakh, with blocking of the phone SIM card.
The limit for emergency hotel bill settlement and return ticket is Rs 80,000 (domestic) or Rs 1.6 lakh (international).
The company's power plan, for Rs 1,299, offers card fraud protection of up to Rs 1.5 lakh and does not offer SIM, PAN Card or driving licence replacement.
CPP has similar coverage. It has a Rs 1,499 plan for a single person, a Rs 1,999 plan for a couple and Rs 2,499 for four immediate family members.

Matai says on weekends, the company gets a lot of calls from customers travelling within the country for emergency cash to continue their holiday and pay hotel bills.
Not all frauds covered
As these are card protection plans, they don't cover internet or phone banking frauds.
Even when it comes to cards, a person is not covered for all types of fraud. Where fraud happens due to customer negligence, the claim may get rejected.

For example, frauds where criminals call up a person and fool them into giving away their personal details and one-time passwords, termed vishing, can be rejected.
"Initially, all vishing frauds were rejected, as these happen due to customer negligence. Then, we got a cover for certain vishing frauds from our partner insurers. But, claims may get rejected, depending on the outcome of the insurance company's investigations," says Matai.
Pani says that processing of a claim is on the insurance company's discretion.

If they reach a conclusion that the claim cannot be accepted because of customer negligence, OneAssist cannot do anything.

Both also point to instances where customers write PIN on a card. If fraud happens in such cases, the claims are rejected.
OneAssist lists the fraudulent transactions that can be covered.

Some include swiping of cards after customers lose them, online transactions where customer cards are fraudulently used by a third party, if cards without chips are swiped or used at ATMs, and when criminals acquire card information fraudulently through e-mail, phone calls, copying the card details and so on.
Also, if cards are used after blocking, which has happened, such cases are not covered. "The banks are liable for such transactions," says Pani.
Tata AIG covers charges made on the card only up to 48 hours prior to first reporting the loss of the card or cash withdrawn. In some covers, they have a deductible.

For example, in identity theft, there's a deductible of Rs 3,000. Ravichandran explains this condition helps to do away with very small claims that are not feasible for the company.

"The idea of the product is to protect the customer for the amounts that would really pinch him," he says.
Suits frequent travellers
If you hold many cards, by multiple banks, say in excess of three, it makes sense to go for these plans.
These would work out the best for frequent travellers, especially those who often go abroad.
Cloning and skimming of cards are common in many countries.
Also, if you lose a wallet abroad, you can block all cards by dialling only one number in the case of CPP India and OneAssist.