Insurers cover the house on market value, and not on construction cost. They also don't insist on bills when giving the policy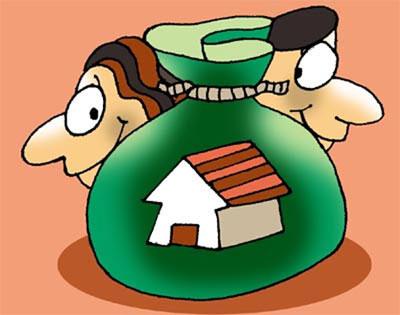 This year's monsoon showers will definitely remind Chennai residents of the ordeal they underwent during the floods last year. The rising frequency and unpredictability of natural disasters underlines the importance of buying home insurance cover. This is also a policy that can protect your home against the rising incidence of terrorism, burglary, etc.
The penetration of home insurance stands at an abysmal 0.7 per cent in India, compared to 90 per cent in the US and the UK. Most people are unaware of how the valuation of houses and contents is done, how claims are calculated and paid for.
However, a few recently launched products attempt to deal with some of the long-standing issues that customers had with this product besides providing comprehensive cover for fire, earthquake and burglary.
Structure of house
Earlier, houses were insured at the prevailing reconstruction cost. This meant that whether you lived in a well-furnished house in a posh society with the best of amenities or in a middle-class locality with basic amenities, the sum insured (or the value of the house) would be the cost of construction.
This would usually not exceed Rs 2,000 per sq ft, which means that a 1,500 sq ft house would be valued at Rs 30 lakh (Rs 3 million). A few insurance companies have now started covering homes at market valuations based on government rates.
If there is a major damage, it will pay you the agreed market value instead of the reconstruction cost. Similarly, contents in the house can now be covered at new-for-old basis instead of on indemnity basis, the current market value of the old products.
Content
Paintings, curios: Getting paintings and curios covered was a complicated affair earlier. Many insurance policies excluded them from coverage. Now, you can get such items covered by giving a valuation certificate.
No need for micro-details: One of the main reasons customers who showed interest in home insurance ended up not buying it was that insurance companies or their intermediaries asked for invoice copies and serial numbers of the assets you wanted covered. Most customers were not able to retrieve these details.
They soon lost interest and skipped buying the cover altogether. A few insurance companies now do not insist on such micro-details in the proposal form (in most cases).
Portable equipments: Gadgets like laptops, iPods, expensive mobiles and tablets run the highest risk of getting damaged or stolen.
Most insurance companies were earlier reluctant to cover any kind of portable gadget, especially mobile phones and tablets. Recently, many have started covering such assets, usually if they are less than five years old, for damage and theft.
Customisations available: Damage to a house due to a natural calamity can make it uninhabitable. One needs to find and pay for alternate accommodation till the house is restored. New home insurance policies provide add-on covers that pay for rent for an alternate accommodation for the time your house is getting repaired if you were living in the house, and loss of rent in case you had a tenant living in it.
Maids and servants are exposed to accidents in the house. You can be held liable to compensate them in case of an injury.
Many insurance policies cover civil liability for disability or injury caused to third party or maids and servants in your house due to error or negligence on your part. This is a part of the core benefits in many policies, it is available as a paid add-on in a few others.
Some other add-on covers that have now become available include the following: worldwide coverage on loss or damage of portable equipment; keys and lock replacement cover; dog insurance cover (covers death only); lost wallet cover; and ATM withdrawal robbery cover.
Caveats
Home insurance being modular and comprehensive, you need to be aware of the important things that are covered and those that are not.
In case you have covered your house under reinstatement or indemnity basis, and at the time of claim it is found that your house is valued higher than the sum insured you declared at the time of buying the policy, your claim will be proportionately reduced.
Insurers do provide agreed value coverage instead of valuing the house at construction cost. However, the insurance company will pay you the sum insured as per the agreed value coverage only if you don't retain the house but hand it over to the insurance company. If you retain the house with or without repair, the amount payable will be the cost of reconstruction of a similar flat.
Earthquake and terrorism are generally not covered in the core policy. You need to opt for these covers by paying additional premium.
Damage caused due to sub-standard workmanship by the builder, negligence, or due to seepage may not be covered by your policy. Home insurance policies have deductibles for each claim you make. Be aware of this amount. For each claim, the insurance company will deduct this deducible amount before making a payment to you.
While home insurance covers theft and burglary, there is a catch. Theft and burglary claims are not generally payable if your house is unoccupied for a long time, generally 30-45 days (the duration varies from one policy to another).
Many insurance plans cap jewellery coverage at an absolute value or as a percentage of the total cover. Contents are depreciating assets while the value of gold may appreciate year upon year.
After a certain time, when the house is a few years old, the value of your jewellery may not be covered entirely. If you have a considerable amount of jewellery to be covered, check with your agent or insurance company about the capping in the policy before you purchase it.
Illustration: Uttam Ghosh/Rediff.com
Mahavir Chopra is director, Coverfox.com