Mindtree, eclerx and Hexaware are trading at similar valuations to that of the larger peers.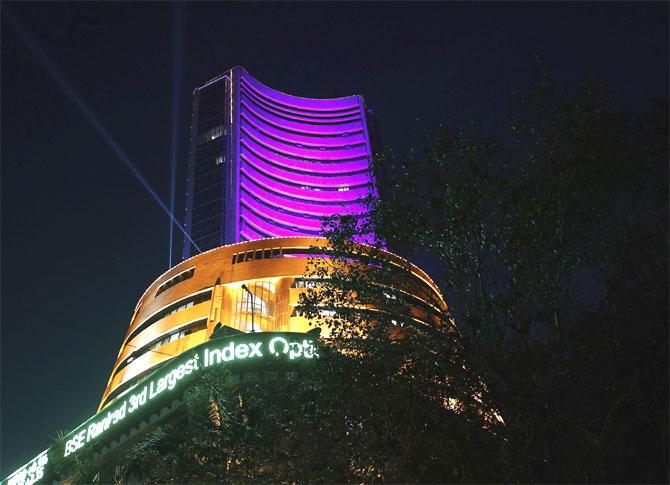 A host of mid-cap information technology (IT) services stocks such as Oracle Financial Services (OFSS), Mindtree, Mphasis, Vakrangee, Hexaware, eclerx, NIIT Technologies, Take Solutions, amongst others have out-performed their larger peers such as Tata Consultancy Services (TCS), Infosys, Wipro, HCL Technologies and Tech Mahindra in the past one year.

Thus, while TCS, Infosys and Wipro fell 12.3 per cent, 1.1 per cent and 1.9 per cent respectively; the midcap stocks mentioned above rallied between 4 per cent and 249 per cent.
Overall, nine of the twelve mid-cap stocks we looked at gave positive returns in the year with the rest falling between 3.8-17.3 per cent.

Healthy revenue growth momentum, continued high client mining and strong presence in their select niche segments are key reasons for this out-performance.

On the other hand, the larger base of large cap companies means the revenue growth will gradually come in lower than their own past track record, believe analysts.
But the key question is, is this rally sustainable? Though most analysts believe there are fewer legs to this rally, these valuations are unlikely to fall meaningfully either.
Vikas Khemani, CEO, Wholesale Capital Markets, Edelweiss Securities says, "Midcap IT stocks have re-rated significantly given the higher revenue growth due to their smaller base. We believe there is very little valuation catch up left from here on."

Notably, while the top five IT stocks are trading between 14-17 times FY17 estimated earnings, midcap stocks such as Take Solutions and OFSS are trading at 20-21 times FY17 estimated earnings.

Mindtree, eclerx and Hexaware are trading at similar valuations to that of the larger peers.

Higher vulnerability of mid cap companies to client-specific future shocks is a key factor restricting further re-rating.
"The way the sector is evolving both in terms of demand and the macroeconomic sentiments, I think negative downward cycle is just about starting to happen. Historically in a downward cycle, there are a few firms which undergo a cardiac arrest and the impact of those firms on midcaps is substantially more pronounced than on large cap firms," says an IT analyst with a domestic brokerage.

He has a negative view on the sector as he believes risks of transition to digitisation are not fully reflected in current prices.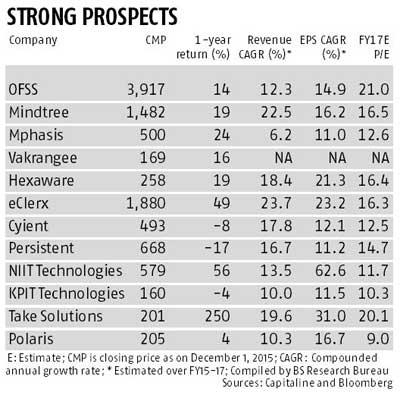 Analysts though remain positive on midcap companies' ability to align their business models with digitisation. Harit Shah, IT analyst, HDFC Securities, says, "We believe mid caps do not have legacy issues that come with a large size and hence it will be easier for midcaps to transit to digitisation."

Mindtree and eclerx are his preferred mid-cap picks in the sector. While Mindtree derives 35 per cent of its revenues from digitisation, eclerx has a presence in digital marketing through a recent acquisition. KPIT is also focussing on digitisation space.
As per Bloomberg consensus data; Cyient and Polaris have highest upside potential of 17 per cent and 14 per cent from current levels.

In case of Cyient, relatively undemanding valuations of 12 times FY17 earnings is a key reason for higher upsides.

While Cyient management remains confident citing strong deal pipeline in aerospace, transportation and utilities verticals but investors will need to keep an eye on easing of stress in couple of major customers.

Higher volatility in revenues and margins of its acquisitions namely Rangsons and Softential will reduce earnings predictability going forward.
Polaris on the other hand stands to gain post its acquisition by Virtusa which has a strong presence in banking financial services and insurance (BFSI) segment.
In the near term, the stock may react to news flow around the upcoming open offer.
While analysts are positive on companies such as Mindtree, Persistent Systems, KPIT, Oracle, NIIT Technologies, eclerx and Take Solutions; their current valuations appear full and leave little scope for upsides.