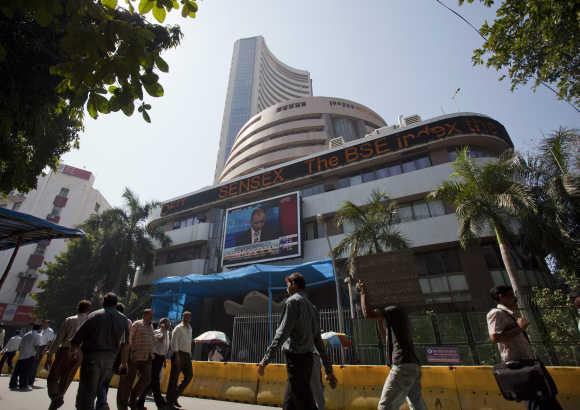 With stock markets getting into a buoyant mode, mutual funds are stepping up their draft filings with the regulator Sebi for new equity schemes.
As per data available with the Securities and Exchange Board of India (Sebi), draft offer documents were filed for at least three equity mutual fund schemes in September.
In contrast, not a single draft offer was filed for equity mutual fund scheme in August, while papers were filed for just one stock-focussed scheme in the month of July.
The filings of equity fund offer documents had dried up in recent months in the wake of weak stock market trends.
However, the stock market rallied by about 8 per cent in September on the back of a slew of economic reform measures initiated by the government, helping bolstering the market sentiments and leading to sustained foreign fund inflows.
Among the recent offer documents, Indiabulls Asset Management Company Ltd filed documents on September 21 for Indiabulls Balanced Fund.
Besides, the country's second largest fund house Reliance Mutual Fund on September 17 filed with Sebi papers for two schemes -- R*Shares Consumption Fund and R*Shares Dividend Opportunities Fund.
Mutual fund distributors say that the industry is expecting many draft documents for equity mutual fund schemes in the days to come.
With Sebi also being vocal about the under-performance of existing equity funds, fund houses have been careful about launching new offers, they added.
In July, foreign fund house JPMorgan Asset Management India had filed papers to launch JPMorgan India Focus Fund, an open-ended equity growth scheme that is to be benchmarked to BSE200 index.
The month also saw filings for Union KBC Mutual Fund's Union KBC Asset Allocation Fund (hybrid fund).
According to mutual fund industry body AMFI, no new equity schemes were sold in August and September. In July, Axis Focused 25 Fund and ICICI Prudential US Bluechip Equity Fund managed to collect Rs 308 crore.
In June, Baroda Pioneer Banking and Financial Services Fund and IIFL Dividend Opportunities Index Fund garnered Rs 73 crore. In May, Taurus Banking and Financial Services Fund raised Rs 18 crore. There were no sales in April, AMFI data shows.