While the benefits offered by the new-generation products are alluring, choose a plan that offers features you may actually need in the future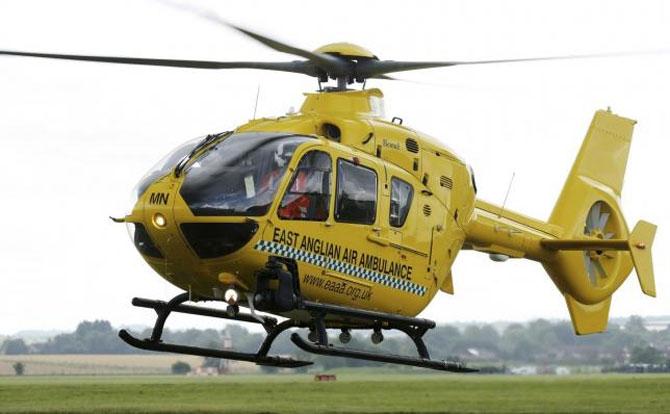 The competition in the health insurance space is making the companies work harder to attract customers. This means better options for you at competitive prices. Over the years, insurers have added features such as cashless service, maternity cover, restore benefit, free checkups and wellness solutions.
Recently, we are witnessing the advent of what can be called the generation five of health insurance products (See table: Getting better with time) with better features and options. Let's see if they are worth paying for.
Air ambulance: The need for this service is becoming a necessity in cities owing to rising traffic congestion and in smaller towns where this would come handy for those seeking a quick access to good tertiary-care hospitals.
Independent service providers as well as hospitals like Fortis, Apollo and Max offer air ambulance service. However, the cost of this can be daunting at Rs 75,000 to Rs 100,000 per flying hour. Insurers have recently started covering this service in their policies.
Products that provide this cover include Bajaj Healthcare Supreme, National Parivar Mediclaim Plus and Star Comprehensive.
Better cover for maternity expenses: With more women, especially in tier one cities, focusing on their careers, the child bearing age has increased from the late twenties and early thirties to the late thirties.
While this has its advantages as women are more financially secure, the probability of complications such as infertility, miscarriage, increased chance of cesarean (C-Section) surgery and health complications in the newborn have increased significantly.
Insurance companies are introducing new plans that cover infertility treatment, provide higher coverage on maternity expenses including complications, and pre- and post-natal care, hospitalisation expenses for a newborn from day one, and expenses for all the necessary vaccinations for the baby.
Products that provide this cover include Bajaj Healthcare Supreme and infertility treatment expenses by National Parivar Plus.
Treatment abroad: Though the best of facilities and professionals are available in the country, when a family member is affected by a serious illness it is natural for the family to look for best-in-class treatment across the world, especially in the developed nations that have the best and latest healthcare infrastructure.
Hence, insurance plans have started covering expenses for treatment abroad in select countries for a limited list of ailments, mostly critical illnesses.
However, such benefits are usually available only in the insurer's higher sum insured plans (Rs 25 lakh and above). Products that provide this cover include Religare Care (Rs 50 and 60 lakh cover) and Cigna Pro Health Plus Prime.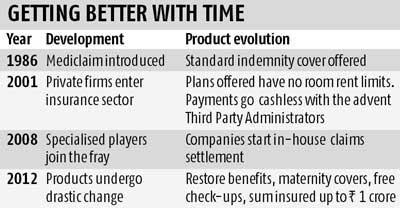 Better cover on organ donor hospitalisation: Organ donation is no more a rare treatment carried out by a few hospitals. There's a significant rise in the number of transplants every year. Insurance plans that covers transplants also provide cover on hospitalisation expenses incurred while harvesting the organ from the donor's body.
Organ donation can cost anywhere from Rs 1 lakh for a cornea transplant to Rs 28 lakh for a liver transplant (See table: Cost of transplants). While organ transplant was covered earlier, those plans had limits.
The newer ones have done away with limits and cover organ transplant up to the sum insured. Companies that provide this cover include Apollo Munich Easy Health Premium, L&T Medi Prime, Star Comprehensive, and Max Bupa Heartbeat.
Cover for physiotherapy: Professionals and salaried class people in tier one cities are exposed to excessive sitting and use of electronic gadgets. This has given rise to a set of ailments that can be treated by physiotherapy without being hospitalised. Insurance companies have recently introduced new products that provide a separate cover for physiotherapy expenses. Bajaj Healthcare Supreme is one product that provides this cover.
Bariatric surgery: Owing to a sedentary lifestyle, obesity is a rising medical concern that cuts across the urban-rural divide. Contrary to popular belief, bariatric surgery can be a life-saving procedure for the obese. Long-term studies have proven that bariatric surgery helps patients recover from diabetes, reduces risk of cardio-vascular ailments, and also reduces mortality by 25-40 per cent.
Till recently, most insurance companies did not cover bariatric surgery as it was considered more a cosmetic than a medical procedure. Recently Star Health Comprehensive has started providing this cover.
Cashless OPD: Though more than 40 per cent of the lifetime healthcare expenses of an average middle-class individual are outpatient expenses, coverage on these routine expenses like doctor's consultations, pharmacy and diagnostic tests have always been missing in mediclaim.
In the second half of 2015, there have been product launches with OPD covers on reimbursement basis. By the end of 2016, there could be a set of new comprehensive produts as well as standalone OPD plans that will provide cashless treatment at a wide network of diagnostic centres and pharmacies through the use of technology, including magnetic strip cards and mobile apps.
Products that provide this cover include Star Health Comprehensive, Bajaj Healthcare Supreme, National Parivar Plus (add-on), Cigna Pro Health Plus Prime.
Should you buy them?
If you find these benefits attractive and would like to explore the option of buying or switching to one of them, it is imperative to consider a few things before you make the change.
Buy a comprehensive cover with a large sum insured at one go. The health insurance solution you are subscribing to is a cover for lifetime healthcare expenses. The freedom to make upgrades and changes in existing plans will become restricted as the insured grow older.
Therefore, opt for a plan that offers the core benefits you believe will finance your healthcare needs for the next 25-40 years, and beyond retirement. More importantly, sift the long term benefits from the frills and the feel-good or good-to-have benefits that you may not really use.
Mahavir Chopra is director-health and life insurance, Coverfox.com
Image used for representation purpose only
Photograph: Chris Radburn/Reuters