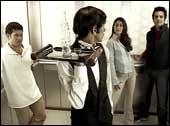 With the cricket season about to hot up, Pepsi has unveiled a new television campaign starring master-blaster Sachin Tendulkar and Bollywood stars Fardeen Khan and Kareena Kapoor.
The cola company is also trying to push up its sales after the battering the soft drinks industry took as sales dropped following the furore over tests on some soft drinks showed high levels of pesticides in them.
The new Pepsi campaign has been conceptualised by JWT, and has been directed by ad man Sunhill Sippy.
The new festive season campaign shot inside a lift has the three stars -- Sachin, Fardeen and Kareena -- all eyeing a chilled Pepsi on a waiter's tray when luckily for someone the lights in the lift go off for a second. When the lights come on the waiter is left with an empty Pepsi bottle on his tray… So who drank the cola?
Shashi Kalathil, executive director (marketing), Pepsi Foods Pvt. Ltd, says: "It is wonderful to see Sachin and two of our hottest Bollywood stars finding Pepsi irresistible. The new commercial seeks to combine imagery from the 'What's there' summer campaign with the 'Yeh Dil Maange More' brand construct."
Pepsi's new ad campaign comes close on the heels of its summer campaign, which featured Kareena Kapoor, Preity Zinta, Saif Ali Khan and Fardeen Khan.