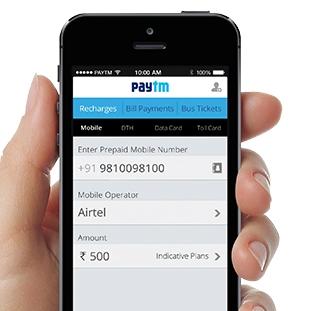 Paytm will handhold them through support services
Digital payments company Paytm, founded by Vijay Shekhar Sharma, is handholding small and medium enterprises to come online.
It hopes to expand the network of merchants on its e-commerce marketplace from the existing 60,000 to 100,000 by the end of this year and, eventually, to a million.
Through its GoBig platform, the Alibaba-backed firm is not only providing tech tools such as content writers, web marketers and photographers but has also created a directory of service providers that extend loans to SMEs along with finance and accounting firms.
Paytm has 300 employees who are tasked with helping SMEs sell online, but the company can only scale up to a certain limit through this way, said Renu Satti, vice-president (business).
"If Paytm has to bring a million merchants on is platform, we need to provide them with a complete ecosystem," she added.
Though Paytm, which forayed into e-commerce only recently, competes with the likes of Flipkart and Snapdeal, the company has publicly stated that its focus is more on unstructured or unorganised trade.
Satti said since the company aims to become a true marketplace by connecting buyers and sellers through its platform, Paytm will not own any warehouses in the future but will rope in warehouse firms as partners, which can help merchants with logistics. Similar is its strategy on courier or delivery companies.
"We want to play the role of a facilitator at each level," said Satti.
Ant Financial Services, part of the Jack Ma-owned Alibaba Group, has a 25 per cent stake in Paytm.
The company is modelling its many ventures on the businesses of Alibaba in China.
Its e-commerce foray is a reflection of Alibaba-owned TaoBao, an e-commerce site in China.
Alibaba first invested in Paytm in February and there is speculation of more investment. According to a recent report in The Times of India, Alibaba will increase its stake in Paytm from 25 per cent to 40 per cent.
"However, it will be capped at 40 per cent, since the company doesn't want to become a subsidiary of Alibaba in India," Paytm founder was quoted as saying in the report.
In another report last month, Sharma said the company's gross merchandise value increased from Rs 2,500 crore in 2014 to around Rs 9,500 crore and hoped to touch Rs 10,000 crore (Rs 100 billion) by the end of July.
According to Sharma, the mobile marketplace will push Paytm's total transaction value to $4 billion by the end of 2015.
Half of this will come from mobile commerce, while the rest will come from its existing e-commerce wallet business.
On the other hand, according to various media reports, Snapdeal touched an annualised GMV of roughly $2 billion in March and is hoping to increase it to between $8 billion and $10 billion by March.
Flipkart, the oldest player in the market, has set a target of generating a GMV of $8 billion by December.
Despite it being a relatively newer player, what works in Paytm's favour is the fact that it doesn't charge merchants a commission on their sales, making money instead on fees charged when they transfer money earned out of the site.
On the flip side, the platform might suffer in comparison due to the fact that its logistics are not directly under its control.
Satti argued that Paytm is different since it believes in being a 'true marketplace' and the self support it is offering through the GoBig platform will go a long way in building India's online commerce.
A vast majority of the SMEs do not know where and how to get their items photographed or even how to get soft loans for their businesses, they can just look up the directory and find the right partners, she said.
"There are eight to nine million small businesses in India, even if we manage to get a million online, it will be big," she added.