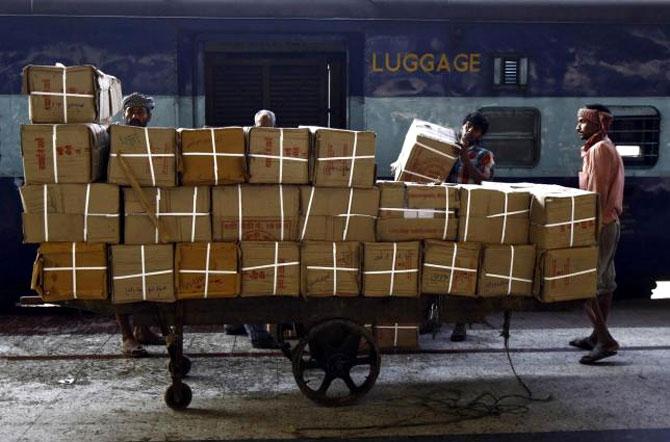 The Congress party on Thursday said the National Democratic Alliance government's Goods and Services Tax Bill was a 'distortion' of the legislation drafted by the United Progressive Alliance government. Former Union minister and Congress leader Veerappa Moily said: "Passing the GST Bill in its present form makes no sense."
The Narendra Modi government is keen to get the Bill cleared by the Rajya Sabha (where it is short on numbers) in the coming Parliament session.
The Bill has already been passed by the Lok Sabha.
Moily told Business Standard: "There are several issues that need to be corrected. The one per cent additional tax, for instance, will have a cascading effect and dilute the very objective of a single destination tax."
"Again, there has to be a grievance redressal mechanism in place," adds Moily.
"As per the present Bill, the government (the Centre) has a veto power; that cannot be the case."
Moily, former chairman of the Tax Reforms Commission, warned against bringing in a legislation that was 'half-baked' as 'former prime minister V P Singh's modified system of value-added tax (Modvat)'.
A Rajya Sabha committee is at present deliberating on the 122nd constitutional amendment to usher in the GST regime and is expected to give its report in the House during the coming session.
Refusing to spell out the Congress' strategy in the upcoming Monsoon session with regards to the passage of the GST Bill, Moily said the party would stand firm on the five concerns that it wants to be addressed: withdrawal of the imposition of one per cent additional tax needs over GST for manufacturing states, inclusion of tobacco and electricity within the proposed indirect taxation regime, much lower revenue neutral rate for GST at 18 per cent against around 27 per cent, a dispute settlement mechanism and an explicit compensation formula.
Finance Minister Arun Jaitley said, "The Bills (to amend the Land Acquisition Act, and introduce the Goods and Services Tax) are very crucial for development and I hope no political party takes anti-growth and anti-development position."
Taking umbrage at Jaitley's comment, Congress Satyavrat Chaturvedi said, "What standing does a BJP leader have to question us on the GST when they opposed it during the UPA years."