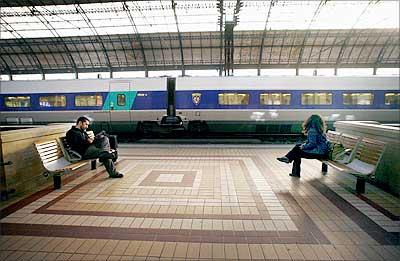 Paris came to a halt on Tuesday after seven labour unions went on strike, protesting President Nicolas Sarkozy's plans to reform labour laws.
Media reports said one in 15 subway trains and about 15 percent of buses were operating on Wednesday, but the strike halted commuter trains around Paris, stranding suburban commuters.
Protestors are angry at Sarkozy, who promised early this year to revive France's economy and open up the job market by stripping away enshrined labour protections.
The nationwide strike led to traffic jams, as more and more people turned to their cars instead of public transport.
"I'm fed up of this," said one woman at Saint Lazare train station, where electronic boards warned passengers of disruptions to service.
The proposed reforms focus on special pension plans, which allow some workers -- mostly train drivers -- to retire as early as 50.
The strikes coincide with the commercial launch of a new Eurostar service, connecting Paris Gare du Nord with the new St. Pancras terminal in Waterloo.
Under the French law, the strike won't lead to complete shutdown of the transit systems. As a result, 90 of 700 high-speed trains will run, as well as one in every 10 commuter trains.
Image: Passengers wait at Gare Saint-Charles in Bordeaux in France on the day of a nationwide strike.
Photograph: Jean-Pierre Muller/AFP/Getty Images