With a pay packet of $84.5 million, software major Oracle's Larry Ellison has emerged as the highest paid CEO in the US last year, according to executive compensation research firm Equilar.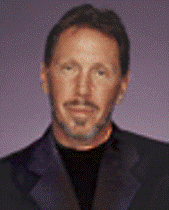 In the list of top ten highest paid CEOs published on 'cnnmoney.com' website, based on Equilar data, medical devices maker Boston Scientific's Ray Elliott is at the second place ($33.4 million).
At the third spot is oil entity Occidental Petroleum's Ray Irani ($31.4 million) and software entity Hewlett-Packard's Mark Hurd ($24.2 million) is ranked fourth.
Out of the total compensation in 2009, Ellison received more than $78 million in stock and options. "Most of Ellison's pay came in the form of stock option awards, which he has made use of recently: In 2008, Ellison exercised a stunning 36 million options, banking $543 million," the website said.
The total compensation includes actual salary received, discretionary and performance-based bonus payouts, the grant-date fair value of new stock and option award. For the study, Equilar analysed compensation of 200 CEOs at the 199 largest companies, that filed their 2009 proxies as on March 26.
All these firms have revenues of over $5.7 billion. Others in the list include Anadaro Petroleum chief James Hackett ($23.5 million, 5th place), Procter & Gamble's chief A G Lafley ($23.5 million, 6th) and Johnson & Johnson's head William Weldon ($22.8 million, 7th). Abbott Laboratories' Miles White, who was paid $21.9 million last year, cornered the eight position.
Writing about White, the website said, "Believe it or not, this year's sweet numbers constitute a paycut for White, who made $25 million in 2008 and $29 million in 2007, thanks to big stock option grants. "But not all his numbers are falling: The company's cost of providing security for White surged 67 per cent in 2009, to $300,193." Bob Iger, chief of Walt Disney placed ninth, received a compensation of $21.6 million and at tenth spot is IBM's Samuel Palmisano ($21.2 million).