BSE proposes two models for making gold trading and investment transparent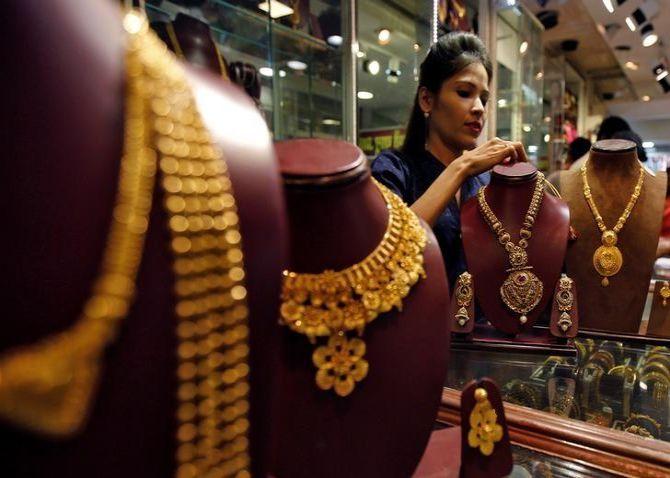 Government is preparing a comprehensive gold policy announced by the finance minister in the Union Budget this year, which will focus on making gold an asset class.
This will be major shift from the past, because so far, gold has been treated under the category of demerit goods.
Once it is recognised as a financial asset, the securitised form of gold could also be defined.
So far, the precious metal has been considered as a security only from the prism of gold exchange traded funds.
However once it starts trading on a modern automated exchange platform, regulated by one of the existing regulators, it will get be able to avail financing on better terms and the risk margins jewellers maintain for availing bank finance will also be lower.
Subhash C Garg, Secretary, the Department of Economic Affairs (DEA), indicated to Business Standard in an interview that gold will be developed as an asset class by ensuring the generation of a singular national rate in a transparent manner.
The metal would also be regulated and be actively trade on spot exchanges.
Besides, the gold monetisation scheme would be revamped as well.
Sources say that the Bombay Stock Exchange has submitted two models for transparent trading of gold on an automated exchange.
One is to set up a dedicated exchange at Gift City-based International Finance Service Centre (IFSC), where the government plans to have a unified regulator.
Indian businessmen can bring gold from vaults in the IFSC to the domestic market by paying customs duty at the exchange on which the commodity has been traded.
Under BSE's second model, all stakeholders will work together to revolutionise gold trading on the spot exchange platform by putting in place an entire eco-system, including vaults, repositories and such like.
The model will permit jewellers to trade on a transparent electronic platform with infrastructure to ensure they can take gold delivery from vaults registered with BSE in almost all small cities.
The government, however, has not decided which model to accept and whether this will be in phases.
A BSE spokesperson declined to comment. The BSE had earlier signed an MoU with Indian Bullion and Jewellers Association (IBJA) to form a spot gold exchange.
Sources in the know say that a committee formed by Niti Aayog on gold policy had, in the past, proposed the formation of a gold board that would name either the Securities and Exchange Board of India (Sebi) or the Reserve Bank of India (RBI) as the regulator of the gold spot exchange.
So far, Sebi has been reluctant to take on this role.
Interestingly, if gold is recognised as an asset, will have acquire new significance for those who buy it. Surendra Mehta, National Secretary, IBJA says, "Union Budget 2018 says a policy will be adopted to develop gold as an asset class.
"However when that happens, the metal would likely be treated on par with other assets such as real estate and equities as far as capital appreciation is concerned.
"It will also have its own regulatory requirements in terms of registration, KYC and PAN, as in the case of equities and real estate.
"The gold spot exchange will be first initiative in this direction."
Making gold an asset class means that the government is moving from treating under the category of demerit goods to that of financial assets, which is extremely positive for industry.
Sudheesh Nambiath, lead analyst, South Asia and UAE, GFMS Thomson Reuters says, "Comparing how such reforms have brought changes globally, I expect India to leap forward in transparency and traceability with this move.
"It is possible that 5 years down th line, the dynamics are going to change significantly for the good of the country and industry."
A source says, "The Government is now beginning to view gold from a wider perspective, and is apparently moving from bandaid approach that was used in the gold market to a goal-oriented one in terms of developing the market.
"Such a move will be good both for country and industry. What this means is that there is going to be greater transparency not just with respect to pricing but also the conduct of business."
Photograph: Shailesh Andrade/Reuters