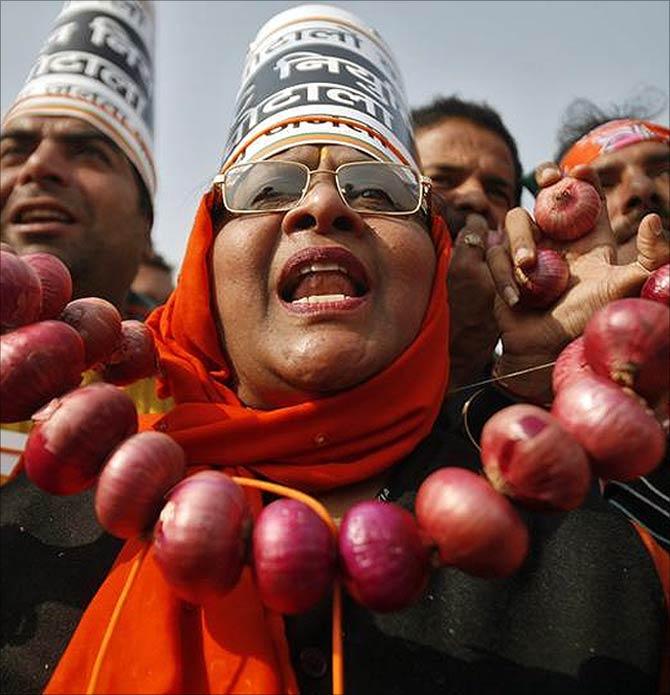 Prices doubled this month; government to import 10,000 tonnes but traders say delivery not possible before mid-Sept
Onion prices have doubled in July on a supply shortage, as stockists held back quantities in anticipation of a further rise in the lean supply period of August and September.
In the benchmark Lasalgaon (Nashik, Maharashtra) wholesale market, the fair quality was trading at an average of Rs 3,150 a quintal on Wednesday, from Rs 1,551 a qtl on July 1.
Supply remained the biggest worry for buyers, with total arrivals at 500 tonnes on Wednesday from 1,400 tonnes early this month.
In Delhi, the price is Rs 2,950 a qtl from Rs 1,666 a qtl at the start of July.
And, Rs 3,500 a qtl from the earlier Rs 2,100 in Benguluru and Rs 3,625 a qtl from the earlier Rs 2,250 in Kolkata.
"There is a real shortage in the market due to crop damage in the last rabi season following unseasonal rain and hail in April–May, the crop maturing time," said Ajit Shah, president, Horticulture Exporters Association.
Traders estimate around 30 per cent of rabi crop damage this year.
And, stockists could not build the usual inventory for fear of spoilage, as rain-soaked onion has a maximum shelf life of two weeks.
Therefore, farmers dumped their produce in the market at harvest time.
"Apart from that, the government reiterated several times that it would not let agri commodity prices go up, so stockists feared a loss if the price declined from Rs 1,400-1,500 a qtl, the prevailing price in May.
The supply shortage, however, is taking the price up," said Shah.
Meanwhile, the government has floated a tender to import 10,000 tonnes, possibly from Turkey, Pakistan and China, to control the price rise.
Supply orders will be regulated in units of 500 tonnes, depending on requirement.
Earlier, the government had allowed stock building to public sector trading firms Small Farmers Agribusiness Consortium and National Agricultural Cooperative Marketing Federation of India, of 10,000 tonnes and 2,500 tonnes, respectively.
However, these proved insufficient.
"Stockists have realised that imported onion would hit Indian ports only after mid-September.
"As per the tender, the government would take a final decision on August 8 for its delivery in a month. So, two months from now is a golden period for traders to elevate price.
"Looking at the shortage, Rs 25-28 a kg is a fair price level.
"Beyond that, the price is artificially raised by creating panic in the market," said a Lasalgaon stockist.
"Another said prices would rise, as arrivals would not be enough.
The National Horticulture Board estimates the country's output at 19.36 million tonnes in 2014-15, as against 19.4 mt the previous year.
Image: A protest against onion price hike. Photograph: Reuters