Retail prices of onions continued to rule at the high level of Rs 45-60 a kg in metros, but are likely to decline after the arrival of fresh crops from Maharashtra and Gujarat, which are expected to hit the market by January 15.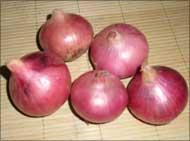 In Delhi, onions are being sold at Rs 50-60 per kg, but there were reports that in some posh colonies, vendors are even charging Rs 65-70/kg.
Mother Dairy was selling onions at Rs 45-47 a kg on Monday at its 400 outlets. According to reports from the other three metros, onion prices in the retail markets of Kolkata and Mumbai remained unchanged at Rs 45-50 per kg, but in Chennai, they fell to Rs 56 a kg from Rs 60-65 per kg on Monday.
With a view to provide immediate relief to the common man, state-owned trading firms PEC, STC and MMTC are importing at least 1,000 tonnes of onions from Pakistan, which will be offloaded in retail markets across the country by state governments.
The onions imported by the state-run trading firms -- which cost around Rs 30 per kg -- are likely to start arriving in the country from the end of this week.
Top officials of the Delhi government on Monday said the Centre has agreed to provide 300 tonnes of onion to Delhi out of the total quantity being imported from Pakistan and these would be sold at select outlets at about Rs 35 per kg.
Retail prices of onions had surged to Rs 70-85 per kg on December 20-21 in major cities across the country due to crop damage in Maharashtra caused by abnormal rainfall.
Maharashtra and Karnataka are the two major onion- producing states in the country, accounting for 40 per cent of the average annual output of 12 million tonnes.

The government had banned exports and removed import duty on onions to boost domestic supply and curb rising prices.

Private traders have already imported over 5,000 tonnes of onions via road through Amritsar.

Meanwhile, wholesale prices of onions in Delhi's Azadpur market remained unchanged at Rs 45/kg, even though arrivals slowed down to 600 tonnes on Tuesday from 800 tonnes on Tuesday, Tomato and Onion Merchant Association General Secretary Rajendra Sharma said, adding that prices would remain firm till Lohri.

"Supply from Rajasthan has almost dried up. Arrivals from Maharashtra and Gujarat would pick up after January 14," he said.

Wholesale markets in Maharashtra were closed on Tuesday on account of Amavasya, which marks the end of the lunar month.