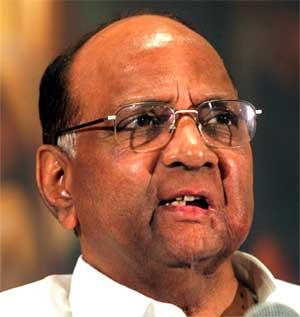 Agriculture Minister Sharad Pawar on Wednesday indicated that onion prices -- which have shot up to Rs 80-90 per kg -- might remain high for 2-3 weeks, and asked states to crack down on hoarders to help tame the rates.

". . .next two to three weeks will be tough and ultimately we have to find a solution," Pawar said on onion prices that have reached all-time high levels.

Asked whether he meant that the prices would come down in the next two to three weeks, he said: "No, no. I am not an astrologer.

"But I know something about crops. On my own assessment, this situation will continue for the next two to three weeks."

Speaking to reporters in Bengaluru on the sidelines of the Eighth National Conference on Krishi Vigyan Kendras 2013, Pawar also ruled out the possibility of traders exporting onions to other countries where prices
are less than India.
"Nobody is exporting because in other countries price of onions is somewhere near $500 and in India, it is $900.
"So in such a situation there is no export," he said.
He asked the Chief Ministers of all states to invoke the Essential Commodities Act against hoarders.
Pawar said he would inform Food Minister K V Thomas that the National Agricultural Cooperative Marketing Federation of India Ltd is ready to import some quantity.
"We have to import as early as possible. I have instructed the managing director of NAFED (that) if there is a request from any state we should be ready," he said.
"Fortunately, there is ample onion (stock) available in China, Egypt and neighbouring countries and have collected figures and prices yesterday.
"The prices in these countries are cheaper compared to India," Pawar added. Pawar said the monsoon has been good this year but extensive rainfall has hit supply.