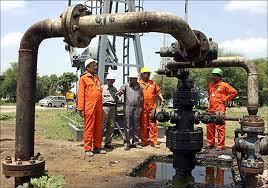 State-owned Oil and Natural Gas Corporation is in talks to buy a 26 per cent stake in Indian Oil Corporation's Rs 4,320-crore (Rs 43.2-billion) liquefied natural gas import plant at Ennore in Tamil Nadu.

IOC is building a 5 million tonnes per annum LNG terminal at Ennore near Chennai which is to be completed by 2017.

"In our Perspective Plan 2030, we have set a target of non-E&P business contributing 30 per cent of the company's total revenues.

"Among the non-E&P business, we are betting big on entry into LNG business," a top company official said.

Besides setting up a 2.5-5 MTPA LNG import terminal at Mangalore in Karnataka, ONGC is keen to get a foothold in IOC's upcoming plant on the east coast.

ONGC estimates an unmet demand of 21.5 million standard cubic meters per day (mmscmd) in the Ennore catchment area which will rise to 41.7 mmscmd in 10 years.

Overall in the southern India, it sees an unmet demand of about 90 mmscmd.

"Power and fertiliser plants in and around Ennore need 12-14 mmscmd of gas which is equivalent to 2.5 million tonnes of LNG," he said.

By taking equity, ONGC wants right to bring in at least a quarter of the LNG at Ennore and market it.

"We held detailed discussions
with IOC on stake in Ennore terminal in October last year and hope to conclude a deal shortly," the official said.
ONGC has 12.5 per cent stake in Petronet LNG Ltd, the firm that owns and operates LNG import facilities at Dahej in Gujarat and Kochi in Kerala.
But unlike other promoters like GAIL and IOC, ONGC does not have any rights to market the gas imported.
The rush for LNG terminals is mainly due to projections of India's gas demand rising to 466 mmscmd in 2016/17 from 286 mmscmd currently. Domestic supply barely meet a third of the demand.
Like ONGC, IOC and Hindustan Petroleum Corp Ltd, too, have unveiled plans to set up LNG import facilities on East and West coasts.
ONGC in March last year signed a MoU with Mitsui and Bharat Petroleum Corp Ltd to set up a LNG import terminal at Mangalore by 2018-19.
"Consultants have been engaged for carrying out the pre-feasibility to ascertain the technical and commercial viability of the terminal (at Mangalore)," the official said.
ONGC is also one of the six firms that has been shortlisted for buying a 25 per cent stake in GSPC LNG Ltd's proposed terminal at Mundra in Gujarat.
"We can bring LNG from Mozambique where we have 15 per cent stake in a giant gas field," he said.
The Mozambique gas field will produce 34 million tonnes per annum of LNG beginning the end of 2018.