With actor Amitabh Bachchan as brand ambassador, Chinese phone maker OnePlus moves away from its digital-only ad strategy.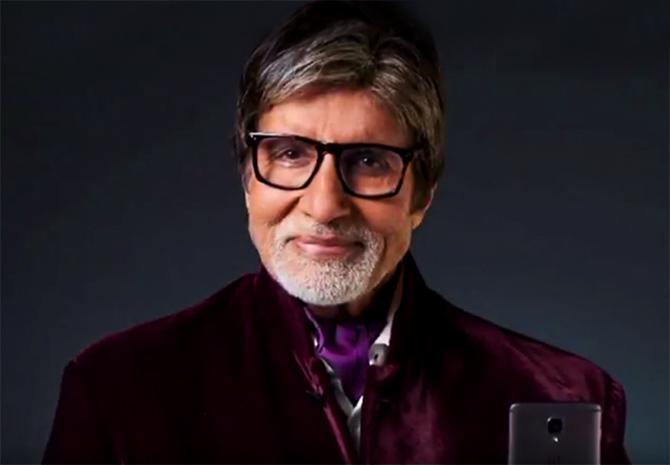 IMAGE: The new OnePlus ads indicate that the brand is hoping to walk the thin line between premium and mass market categories. Amitabh Bachchan as KBC anchor appeals to the masses. But the ads pitch OnePlus against Apple, Google and Samsung. Photograph: Kind Courtesy: OnePlus.
When OnePlus signed Amitabh Bachchan as brand ambassador, there was little doubt that the Chinese phone maker would jog down the beaten track with high-pitched television and hoardings-led campaigns, just like other smartphone brands.
The first ads are out and OnePlus has played to the script so far, swinging sharply away from its early days of a digital-only promotional strategy and referral purchases.
While the company says this is the best way to tap into the potential of the 25-million-plus smartphone market in India (IDC, Q4 2016), experts ask whether this will help OnePlus make the transition from an exclusive and experential purchase to a mass-market brand. OnePlus believes it can, by spreading awareness about the phone and its features.
Vikas Agarwal, general manager, OnePlus India says the brand is using Bachchan to do just that. As a mass market label, OnePlus wants to reach out to new target groups and geographies that have been left out of the brand's digital net.
Bachchan is popular across income and age groups and the brand hopes to ride on his appeal. Agarwal adds, while the company has a new advertising strategy and budget, it is sticking with its online-only sales strategy.

OnePlus had created quite a stir with an 'invite only' promotional campaign at the time of its launch. The current campaign, Agarwal says, is essentially a scaled-up version of the same referral marketing.
Bachchan and stand-up comedian Rohan Joshi of AIB have come together to launch a series of unique activations including a quiz show where Bachchan plays the role of contestant and declares OnePlus to be the best brand through an audience poll.

Agarwal says that OnePlus is the third biggest brand in premium segment ($400 or above) in India and the company wanted to leverage the positive feedback shared by actual end users for the campaign.
"The Best Smartphone Contest communicates this core message and recognises the contribution of the OnePlus community with rewards that include a grand prize of Rs 1 crore along with numerous other offers and a chance to meet Bachchan in person," he adds.

OnePlus is owned by a subsidiary of the Chinese phone maker BBK which also owns the Vivo and Oppo labels. Many believe that the strategy to go big with ad campaigns could also be an extension of a larger corporate strategy as both Oppo and Vivo are big advertisers.

Agarwal looks at it differently. He explains that the referral strategy during the launch was a strategic one as is the current decision to shift into a mass market advertising plan. The company was unsure about the sales volumes when it was launching its phones and the invite system helped manage its supply chain. That it lured customers in with a unique purchase experience was a bonus.
"As a new brand, we weren't sure how well received our products would be. We used the referral system to match supply with fluctuating demand. Fortunately, the system worked well as it helped in keeping our inventory in check while creating a positive recommendation chain that quickly went viral. The invite system made our products exclusive and generated a lot of buzz," says Agarwal.

It is now time to scale up and improve brand awareness. Agarwal says that he wants the new campaign to educate users about the brand and the OnePlus community.
"We have expanded the scope to penetrate new user groups and experiment with new marketing channels to check their effectiveness. We have roped in Amitabh Bachchan as he is one of the most consistent performers and is also tech savvy."

The new ads indicate that the brand is also hoping to walk the thin line between premium and mass market categories. Bachchan as KBC anchor appeals to the masses. But the ads pitch OnePlus against Apple, Google and Samsung, thereby positioning it within the premium category.
Bachchan walks the same line as a superstar with mass appeal and "his personality resonates well with our brand mantra. With him on board, we are looking to expand our community," adds Agarwal.


IMAGE: Vikas Agarwal, GM, OnePlus India. Photograph: Kind courtesy @Vikas_AGL/Twitter.
The company has invested in improving its supply chain and production capacity and has recently started making its phones in India. It adopted a similar strategy in other markets too; in Europe it partnered with carriers like O2 (UK) and Elisa (Finland) to make demand more predictable and stable.
Now after three years with operations in over 30 countries, the company has dropped the invite-led sales strategy with the launch of the OnePlus 3 model late last year. However OnePlus plans to continue selling online, the only change being that it will now offer smartphones on its own e-commerce website.

Can OnePlus move away from being an experiential purchase and a novelty for first time buyers to the conscious choice of feature-hungry smartphone users?
Agarwal believes it can by keeping an unwavering eye on the product.
"With a product first philosophy and one premium flagship smartphone a year strategy, our products are synonymous with our brand. Our constant endeavour is to offer the best device experience and improve engagement with our users. Since inception, our fans have been instrumental in refining products through constant feedback and driving word-of-mouth awareness," says Agarwal.
He is confident that the community-based brand philosophy will continue to drive sales, but then loyalty is a fickle friend in the mass market.