The strike call is over privatisation, mergers, and also due to write-off of corporate NPAs, criminalisation of willful default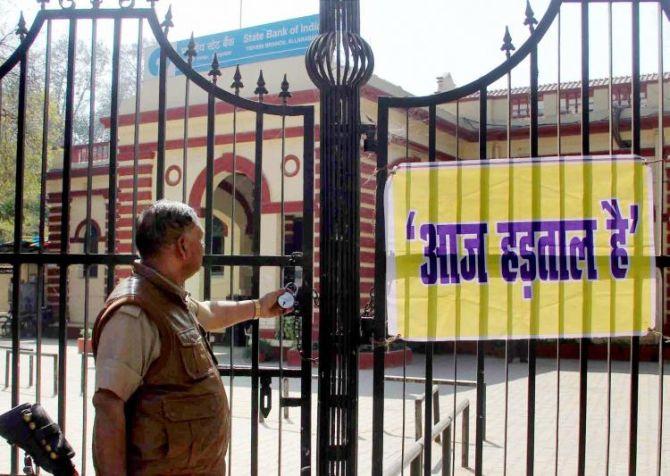 Around one million bank employees and officers will go on strike on August 22, following a call by the United Forum of Bank Unions (UFBU), which consists of all the nine bank unions.
The UFBU is criticising the government's decision to privatise public sector banks, mergers and consolidation of banks, and write off corporate Non-Performing Assets(NPAs) and demanding to declare willful default of bank loans as a criminal offence, implement recommendations of the parliamentary committee on the recovery of NPAs.
The Union also wants the government to ensure accountability of top Management/executives for bad loans and put in place stringent measures to recover bad loans and withdraw proposed Financial resolution and deposit insurance (FRDI) Bill, abolish Banks Board Bureau and not to pass on the burden of corporate NPAs on bank customers by hiking charges.
C H Venkatachalam, general secretary, All India Bank Employees Association (AIBEA) said UFBU has observed that instead of taking urgent remedial measures to recover the alarmingly increasing bad loans which are threatening to drive the banks into a serious crisis, the steps like MOU, PCA, FRDI Bill, NPA Ordnance, IBC, etc. are only aimed to clean the balance sheets at the cost of the banks which represent the hard earned savings of the people rather than to recover the money, he alleged.
While denying the Public Sector Banks of adequate capital thus restricting their business expansion, licences are freely being given to the corporate houses to open private banks, small banks and payment banks, thus weakening the Public Sector Banks, Venkatachalam said.
The Union urged for tough measures, including criminal action on willful defaulters to recover the huge bad loans given to the corporate houses, big business and top industrialists.
"It is also observed that the burden of the corporate NPAs are put on the shoulders of the common public and banking clientele in the form of hike in fees, charges, penalties, etc. for every type of normal banking services. Recently, SBI and Bank of Baroda have reduced the rate of interest on savings deposits," said the Union.
Photograph: PTI Photo