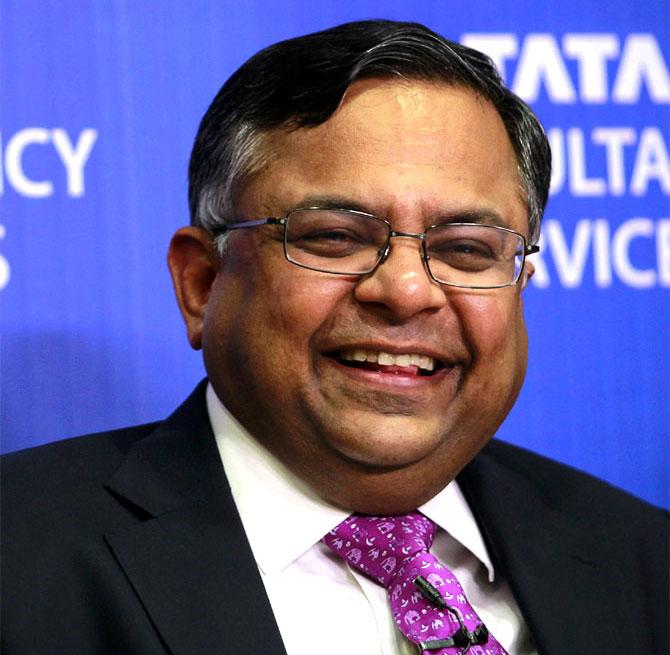 Infosys, Wipro may follow suit as investors eye a piece of the large cash kitty as growth slows.
Barely a week after the US-based software services player Cognizant Technology Solutions, which has several delivery centres in India, announced plans to return $3.4 billion to its shareholders through buyback of shares and dividends, Tata Consultancy Services (TCS), too, said its board would be meeting on Monday to consider a buyback plan.
In a statement to stock exchanges on Thursday, TCS said, "We would like to inform you that the board of directors will consider a proposal for buyback of equity shares of the company at its meeting to be held on February 20, 2017."
If approved, this will be TCS's first buyback since its listing in 2004.
The Street took the news positively, as stocks of domestic information technology (IT) majors -- TCS, Infosys, Wipro, Tech Mahindra and HCL Technologies -- were up 1.4-3 per cent on Thursday.
When asked about the company's capital allocation plans, Rishad Premji, whole-time director and chief strategy officer, Wipro, said, "We did a buyback last year worth Rs 2,500 crore. We have a stated dividend payout ratio policy, which is 40-45 per cent, which we have maintained.
"We have said that on an annual basis, we actively discuss this within the company and evaluate what makes sense with the cash that the company generates. We are open to evaluating options like buyback, special dividends. It makes sense for the organisation, as we move forward."
Buybacks are seen as the preferred route over dividends, as they are more tax-efficient. Besides dividend distribution tax at an effective rate of over 20 per cent, dividend income in the hands of all residents, except domestic companies, trusts or funds, also attracts an additional dividend tax of 10 per cent on dividend income over Rs 10 lakh a year.
In a statement on Thursday, Infosys said it has a clear, defined capital allocation policy, which is periodically reviewed by the board.
"We have increased the dividend payout twice in the past three years as a result of this process. The board and the management will continue to review the policy and take a decision at an appropriate time," the company added.
Indian IT services player such as TCS and Infosys have been faced with questions from investors, both large and small, on the utilisation of excess cash and why companies are not returning it to shareholders.
"With maturity in growth of Indian IT, the imperative to return excess cash to shareholders is high. We believe there is scope to optimise capital allocation, especially the buyback route, with valuations also at historical lows," say Apurva Prasad and Amit Chandra, analysts at HDFC Securities, in a note on Thursday.
Such calls are backed by strong reasoning and come at a time when business growth is slowing. Headwinds faced by clients in the world's largest IT market, the US, which account for a large share of revenue for most Indian IT companies, have led to volume as well as pricing pressure for the companies.
Donald Trump's victory as US president and consequent measures to incentivise employment in the US software industry through possible visa and remuneration restrictions for non-US companies have only compounded their woes in recent times.
Indian IT services companies have also been cautious to make big-ticket acquisitions, besides being somewhat late to look at newer technologies such as cloud and digital. These factors have also impacted their growth rates.
Data shows that top companies like Infosys, HCL Technologies and Tech Mahindra have together made 11 acquisitions, totalling $1.1 billion in the past two years (see table). Wipro stands out with five acquisitions for $1.2 billion in the past two years; TCS has not acquired a single company in this period.
Wipro also was the first among the five large IT firms to complete a buyback of Rs 2,500 crore last year, and is sitting comfortably on nearly Rs 32,000 crore of cash and cash equivalent as on December 31, 2016.
Although companies have been hesitant to make expensive acquisitions, the trend may change, going ahead, as they seek to beef up strength in new technologies and fill service/product gaps, says an analyst with a leading domestic brokerage.
"Infosys did acquire Panaya, a cloud enterprise resource planning player, for $200 million or about six times revenue, in 2015. However, companies will also have to be careful and be able to justify to shareholders of expensive acquisitions," he adds.
While there has been pressure on business growth, and acquisitions are an option, companies continue to generate a lot a free cash flow, year after year. Free cash flow is calculated as cash flow from operations less all capital expenditure required to sustain the business. And this cash kitty has been growing every year for these companies.
Analysts say, the excess cash is weighing on return ratios like return on equity of Indian IT companies, and believe it is increasingly becoming necessary for companies to return part of it to shareholders. The return ratios are important, as they indicate how efficiently a company utilises its money, and hence, influence stock valuations.
While details of TCS' buyback proposal will be known on Monday, analysts have, for now, assumed it would buy back shares up to 10 per cent of its net worth or about Rs 8,400 crore from its cash kitty of over Rs 38,000 crore.
Analysts say a buyback up to 10 per cent of net worth can be approved by the board, while a buyback above that needs shareholder approval.