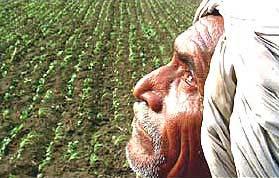 Encouraged by US President Barack Obama's appreciation of its innovations in the field of agriculture, the Indian Council of Agricultural Research plans to launch a campaign to popularise agriculture science in the country.
"President Obama spent about five minutes at the Indian Council of Agricultural Research stall during his tour of the Agriculture and Food Security Expo at Mumbai. . . . We feel indebted to the US President for praising innovation in the agriculture sector," ICAR director general S Ayyappan told PTI on the sidelines of a function at the institution on Tuesday.
Taking a tour of the Agriculture and Food Security Expo at St Xavier's College in Mumbai on Sunday, Obama had displayed a keen interest in the products on display and asked entrepreneurs to take their 'remarkable' work around the world.
The president tried his hands at stripping a corn cob after being inspired by a woman farmer who showcased a small agro tool (maize sheller).
"It reduces woman labour by 30 per cent. It is remarkable," he had said.
Ayyappan said the ICAR is thinking of gifting a silver corn sheller to Obama through the Indian Embassy in the US as a goodwill gesture.
Earlier, speaking at the Annual Day function of the National Agricultural Science Museum, the ICAR DG said taking advantage of Obama's praise of Indian agricultural innovation, the ICAR will soon launch
a comprehensive campaign to popularise the subject, especially among the youth.
He announced that the ICAR would open branches of the NASM at four places -- Kolkata, Mumbai, Chennai and somewhere in North-East -- within the next two years to showcase the progress in agriculture over the ages.
Former ICAR DG and the ex-Vice Chancellor of Benaras Hindu University, Panjab Singh, suggested starting a national level quiz competition on agriculture along the lines of popular TV show
Kaun Banega Crorepati
, hosted by mega star Amitabh Bachchan, which he hoped would create interest in the subject.
The first of its kind in the country, the NASM was inaugurated by former President APJ Abdul Kalam at the ICAR campus here in November, 2004.
The museum exhibits the development of agriculture in India since prehistoric time. Formerly known as the Imperial Council of Agricultural Research, the ICAR was established in its current form on July 16, 1929.
With 97 ICAR institutes and 45 agricultural universities across the country, it is one of the largest national agricultural research organisations in the world.