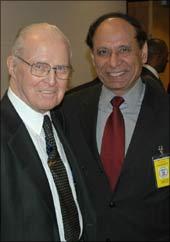 Islam A 'Isi' Siddiqui has been nominated by US President Barack Obama to be the Chief Agricultural Negotiator at the Office of the US Trade Representative
Siddiqui, in his new role, will now negotiate contentious agricultural issues with India and other developing countries at the World Trade Organization's stalled Doha Round.
Obama in nominating the Haldwani, Uttranchal-born Siddiqui and several others to key administration posts, said, "I am grateful for the willingness of these fine individuals to serve my administration and am confident that they will represent our nation well. I look forward to working with them in the coming months and years."
In an interview with rediff.com immediately after the White House announced his nomination, Siddiqui said, "This is such a great honour. I am deeply humbled by President Obama's decision to nominate me, particularly for this position."

"This is something on which I've worked for the last 25 years in California and four years in the Clinton Administration (from 1997 to 2001)."
Siddiqui is currently the vice president, Science and Regulatory Affairs, at the Washington, DC-based CropLife America, where he is responsible for regulatory and international trade issues related to crop protection chemicals.
Earlier, he served as CropLife America's vice president for Agricultural Biotechnology and Trade. He has also led CropLife International's initiative to achieve reduction/elimination of tariff and non-tariff barriers against crop protection chemicals as part of the WTO Doha Round.
This included organising seminars and briefings at the WTO headquarters in Geneva on tariff elimination for the chemical sector in coordination with the International Council of Chemical Associations, European Chemical Industry Association and the American Chemistry Council.
He also represented CropLife America as a NGO at the WTO Ministerial Conference in December 2005 and at the International Conference of Chemical Management in February 2006.

From 1997 to 2001, Siddiqui held senior positions in the Clinton Administration, including Under Secretary for Marketing and Regulatory Programs in the Department of Agriculture, which at the time made him the senior-most Indian American in US government.

He also served as Senior Trade Advisor to then Agriculture Secretary Dan Glickman and Deputy Under Secretary for Marketing and Regulatory Programs, where he worked closely with the USTR and represented United States Department of Agriculture in bilateral, regional and multi-lateral agricultural trade negotiations.
When Fromer US President Bill Clinton visited South Asia in March 2000, Siddiqui was the only Indian American who was part of the US delegation that travelled with Clinton on Air Force One.

The only other South Asian who was on Air Force One with the President was Bangladeshi American Osman Siddique, then US Ambassador to Fiji.
From 2004 to 2008, he served on the US Department of Commerce's Industry Trade Advisory Committee on Chemicals, Pharmaceuticals, and Health/Science Products and Services, which advised the Secretary of Commerce and USTR on international trade issues related to these sectors.
Before joining the Clinton Administration, he had spent nearly three decades with the California Department of Food and Agriculture in Sacramento, beginning in 1969 as a nematologist in the Department's Division on Plant Industry and rising to director of the Division, in which position he served from 1984 to 1997, when he was tapped by President Clinton to be the Deputy Under Secretary for Marketing and Regulatory Programs at the USDA.
"Even in the private sector I've been involved in international trade issues, and so, this position is something which is very much in my area of expertise and I am thrilled to be part of the administration", Siddiqui said.
He explained that his nomination would soon be sent by the White House to the Senate Finance Committee, chaired by Senator Max Baucus, Montana Democrat, for confirmation, but acknowledged that "since this whole issue of healthcare reform is before this committee, I imagine they would take their time before scheduling a hearing."
"It's most likely to be after the committee completes it mark-up on the healthcare reform legislation," he said, which could be sometime by end October.
Siddiqui was also a fundraiser for Obama's presidential campaign and held a major fundraiser at his McLean, Virginia home early last year, which was keynoted by Congressman Elijah Cummings, Maryland Democrat. The latter was designated by the campaign to be the surrogate for Obama.
An alumnus of Uttar Pradesh Agricultural University in Pantnagar, from where he received his bachelor of science degree majoring in plant protection, Siddiqui came to the US after graduation in 1964. He received his master of science and PhD from the University of Illinois, Champaign-Urbana in 1966 and 1969 respectively, majoring in plant pathology.
After getting his doctoral degree, Siddiqui joined the California Department of Food and Agriculture where he served for 28 years. As director, Division of Plant Industry, Siddiqui developed the Mediterranean Fruit Fly (Medfly) Eradication Program in response to public opposition to the continued use of Malathion aerial sprays in local communities. As a result, Mefly infestations have not been found since that time.
Siddiqui also led California's successful Boll Weevil Eradication Project that was later used as the template by other cotton-producing states to eradication boll weevil from south-western US.
From 1981 to 1984 as the chief, Emergency & Special Projects, Siddiqui administered various pest eradication projects for the Medfly, Mexican Fruit Fly, and Gupsy Moth, as well as the control and eradication of weeds and vertebrate pests and oversaw the fruit-stripping program in the Santa Clara Valley, which involved over 2,100 California Conservation Corps and National Guard members.
Siddiqui received numerous awards and honours, including the US Secretary of Agriculture's Distinguished Service Award in 1992, Superior Management Award from the California Department of Food and Agriculture in 1991, and the Distinguished Service Award for the Medfly Eradication Project in 1982.
He has published articles in national and international journals and has been a much sought after speaker at both national and international conferences related to plant protection, sanitary and phytosanitary issues, agricultural biotechnology, and international trade.
From 2001 to 2003, Siddiqui was a senior associate at the Center for Strategic and International Studies, where he focussed on agricultural biotechnology and food security issues.
Image:  Dr Islam A 'Isi' Siddiqui (right) with Noble Laureate Norman Borlaug at a conference in Washington DC in 2006. Borlaug passed away on September 12, 2009.