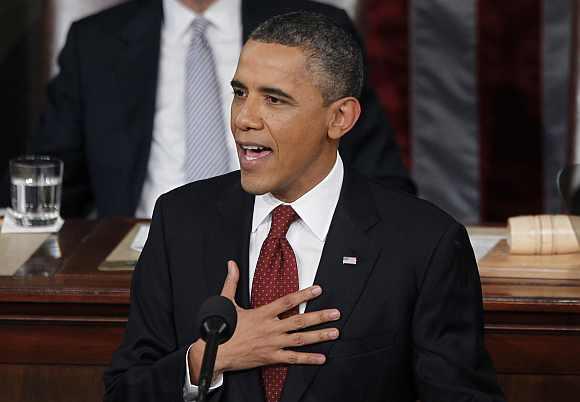 US President Barack Obama has met members of the Technology CEO Council and discussed 21st century economic and security issues, including trade, cybersecurity, immigration and tax reform.
During the meeting, Obama highlighted America's continued progress towards fixing the broken immigration system -- including a final rule announced last week that gives US work authorisation to spouses of certain high-skilled immigrant workers who are approved for a green card and waiting for one to become available.
Growing US exports to support new opportunities for US workers and businesses is a top priority for the President and the members of the Council, who reiterated their commitment to building bipartisan support for Trade Promotion Authority, a White House statement said.
"The President and the Tech CEO Council agreed that immigration reform remains an imperative for our nation and high tech sector, and that we should continue striving for
comprehensive reform that will fix our broken immigration system once and for all," it said.
The group also shared concerns on cybersecurity and agreed to work with the Obama Administration and Congress to develop better methods to help protect our critical infrastructure and privacy in the meeting on Monday.
They also discussed a shared desire to work with Congress to enact pro-growth, business tax reform.
CEO's council were represented by Ursula Burns from Xerox Corporation, Michael Dell from Dell Inc, Mark Durcan from Micron Technology Inc, Steve Mollenkopf from Qualcomm Inc, Ginni Rometty from IBM Corp and Joe Tucci from EMC Corp.
Image: US President Barack Obama; Photograph: Reuters