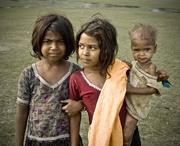 The committee headed by Prime Minister's Economic Advisor Suresh Tendulkar revealed that the poor in country has increased by 10 per cent.
According to the Tendulkar Committee report Bihar and Orissa are the worst affected states in term of poverty.
"In 2004 poverty India had actually 10 per cent more than estimated with poverty in rural India at 42 per cent and not 28 per cent as was estimate earlier," the report said.
So the overall poverty figure is 37 per cent and not 27 per cent as was estimated in 2004.
The only silver lining is that there is no change in urban poverty which remained at 27 per cent.
Commenting about the methodology used to asses the poverty Tendulkar said: "It is a new poverty line, defined on a wider access to commodity and services like health and education and not calories."
Tendulkar said in the past 35 years, the calorie norm was never revised saying that this one indicator was not enough and added expenditure needed for health and education also.
In yet another departure from the traditional calculation Tendulkar measures the urban and rural poor with the same unit.
So as per 2004-05 prices, a person spending was less than Rs 19 in urban areas and Rs 15 in rural areas would now be called poor.
The current poverty line is a per capita expenditure of Rs 12 per day.