Describing it as a personal victory of Prime Minister Manmohan Singh before the visit of US President Barack Obama to India, American media on Thursday said the passage of the Nuclear Liability bill would pave the way for much needed foreign investment in the crucial atomic energy sector of the country.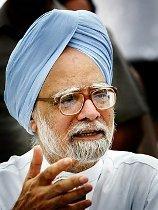 "With the passage of the bill, Prime Minister Manmohan Singh emerges politically stronger, demonstrating a resolve to push the deal through ahead of US President Barack Obama's visit this year," The Wall Street Journal said.
"The bill will enable US companies to compete with state-run European rivals as India is expected to invest more than $100 billion in nuclear power," the newspaper said.
The Lok Sabha on Wednesday passed the Civil Liability for the Nuclear Damages Bill after government dropped the contentious provision of "intent" in case of accidents, ending months of wrangling between treasury benches and the Opposition.
"If the bill is passed by the Upper House of parliament as expected, it will start to open the door for overseas companies," The Journal said.
"Passage of the nuclear bill was a personal victory for Prime Minister Manmohan Singh, who forged a deal in 2008 giving India access to international nuclear technology, ending isolation imposed after it tested a nuclear weapon in the late 1990s," reported the Los Angeles Times.
"The Obama administration, having convinced many US allies that India was a reliable nuclear power that would not contribute to the proliferation of weapons, reportedly sought passage of the bill in advance of the president's trip," the daily said.
"The passage by the Lok Sabha House of the People ahead of a scheduled November visit by President Obama is seen as a personal victory for Prime Minister Manmohan Singh, who signed the landmark civilian agreement with President (George W) Bush in 2008," said The Washington Times.
America's General Electric Co and Westinghouse Electric Corp are among the foreign energy suppliers that stand to gain a share of India's civilian nuclear business, estimated as possibly reaching $150 billion a year, it said.
"American companies consider a liability cap particularly important because, unlike the state-subsidized French and Russian nuclear suppliers, they are not underwritten by their government," it added.