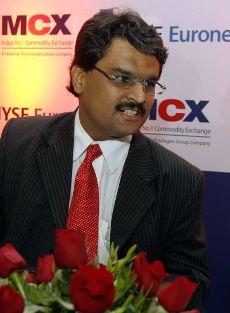 After a slew of resignations from the board of National Spot Exchange Ltd in the wake of its payment crisis, a new set of names is to be announced soon.

There were seven members, including a chairman.

After the resignations, including that of chairman Shankarlal Guru, only two remain.

Just before the exchange announced a new payment schedule on August 14, Shreekant Javalgekar, managing director of the FT group's commodity futures exchange, the Multi Commodity Exchange, resigned from the NSEL board (NSEL is also part of the FT group).

Guru is understood to have resigned in early August. He happens to be father-in-law of Nilesh Patel, who owns N K Protins, the company which defaulted on the NSEL by Rs 967 crore (Rs 9.67 billion).

It has told the exchange it would sell properties and make payment.

After that the chairman, Guru, B D Pawar and Ramanathan Devarajan had left the board. The exchange had removed Anjani Sinha, its MD, last week.

Only Jignesh Shah, who is the FT group's chief executive and is vice-chairman of NSEL, and Joseph Massey, who is MD of the group's stock exchange, MCX-SX, have remained.

The resignations followed the crisis, which began when the consumer affairs ministry wrote to NSEL in the second week of July, asking it not to launch any fresh contracts and settle all contracts on maturity.

This, saw the exchange announcing suspension of trading.

This resulted in a payment crisis and later an income tax department survey of all 24 buyer parties which failed to make payment on maturity.

The Forward Markets Commission has been given powers to resolve the crisis and it has already threatened the NSEL board of stricter action.

Meanwhile, MCX has also decided to reconstitute its board.

This follows the issuance of new norms by the FMC, on the functioning of the boards of national commodity exchanges.

While FMC had fixed 70 years as the cap for chairmen and independent directors, MCX chairman Venkat Chary and independent director C M Maniar are more than 70.

To fill the vacancies to be created as a result of complying with the FMC norms, the exchange is understood to have convened a meeting of its board this month-end.
Image: Jignesh Shah; Photograph: Punit Paranjpe/Reuters