The focus on Swachh Bharat has sharpened with Prime Minister Modi asking ministers to show the outcomes of schemes launched since the NDA government came to power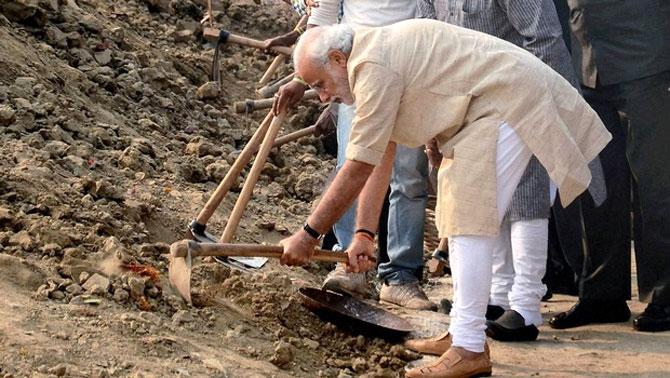 Swachh Bharat, which was ranked 10 out of 15 government initiatives put out for public rating recently, is being given a facelift by an international public relations company MSLGroup, part of the French media and advertising chain Publicis.
The focus on Swachh Bharat has sharpened with Prime Minister Narendra Modi asking ministers to show the outcomes of schemes launched since the National Democratic Alliance government came to power. Swachh Bharat was rolled out on October 2, 2014, but it has come under the lens for under-performance.
Officials in the urban development ministry, that partly administers the scheme, confirmed that a private PR firm was involved in Swachh Bharat's media and outreach programmes.
MSLGroup did not reply to a questionnaire, but officials pointed out media planning for any national programme rested with the Directorate of Advertising & Visual Publicity (DAVP), a wing of the information and broadcasting ministry. Officials of this ministry said private advertising agencies empanelled with the DAVP were used primarily for multimedia and print creatives.
While the government is keen to move Swachh Bharat up in the people's perception ahead of many state elections, advertising professionals believe private agencies have played a critical role in transforming government schemes into larger political campaigns.
Piyush Pandey, the man behind the "Ab ki baar Modi sarkar" campaign of the Bharatiya Janata Party (BJP) in 2014, said political parties and the government saw the value of professionals from time to time. According to the executive chairman and creative director of Ogilvy & Mather (O&M), the impact of campaigns backed by private professionals has been significant in tourism, the social sector and politics.
From "Ab ki baar…" that saw the BJP's landslide win in 2014 to "Obama for America" conceptualised by Blue State Digital during the last US elections; from Dentsu pitching for Congress with "Har Haath Shakti, Har Haath Tarakki" and being blamed for the party's defeat to Grey Worldwide making "India Shining" before the BJP's loss in 2004, private agencies have been an integral part of politics.
In tourism, "Incredible India", started by O&M, has been a constant since the early 2000s. The Voluntary Disclosure of Income Scheme in the 1990s was popularised by the line "30 per cent tax, 100 per cent peace of mind", coined by lyricist and CEO of McCann Worldgroup India Prasoon Joshi, who was then with O&M.
Another signature line that became word of mouth was "Mera Bharat Mahan" under then Prime Minister Rajiv Gandhi. A retired official recalled how "Mera Bharat Mahan", brainchild of former advertising man, actor and social worker Gerson da Cunha and popularised by Gandhi confidant Romi Chopra, became part of daily conversation.
Kiran Khalap, co-founder and managing director, Chlorophyll, a communications consultancy firm, cited the example of Lyndon Johnson who used Doyle Dane Bernbach (DDB) in the 1960s to create the world famous Daisy Girl, which ran only once and led to a landslide victory for Johnson as US President. Also, in the 1979 general elections in the UK, Saatchi & Saatchi contributed to Margaret Thatcher's win.
According to Samit Sinha, founder and managing partner, Alchemist Brand Consulting, "While it is not a given that a private organisation will necessarily do a better job, the chances are greater than it being done by the government."

Advertising and marketing professional Santosh Desai pointed out that campaigns were usually placed in three buckets: beneficiary-facing outcomes, political campaigns, and thinly veiled messages bordering on political.
Photograph: PTI