Direct-to-home service providers and TV manufacturers gear up for ICC Cricket World cup, set to launch special offers. It's barely a month before the ICC Cricket World Cup dominates our screens, but hold on to your enthusiasm.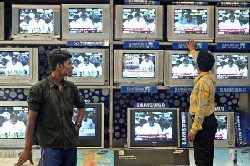 If you are inclined to believe cricket buff Amit Chorde, the time is not ripe to ramp up your TV screens or engage in finding the right direct-to-home operator.

Chorde has made several rounds at electronics stores to conclude: "While prices of LED TVs have dropped a little from 2010 - about Rs 2,000-Rs 5,000 depending on the brands - there seems to be no free bundled add-ons like we see around Diwali."

Now, he has decided to wait for another two weeks anticipating sweeter deals from TV and DTH companies.

Direct-to-home (DTH) service providers and TV manufacturers like Samsung, LG, Sony and Panasonic are expected to launch special offers soon to woo cricket fans.

Videocon d2h will launch its high-definition (HD) digital video recorder (DVR) in the run up to the World Cup.

"We will be using the World Cup fervour to the fullest to promote our product. We are still working out the detailed plans," said Videocon Director Saurubh Dhoot.

Videocon is not the only one working on its sales strategy - all major DTH players including Dish TV, Airtel DTH and Tata Sky are planning special packages.

Sugato Banerji, CMO-DTH services, Bharti Airtel believes that the industry adds around one million users every month, of which at least 25 per cent comes to Airtel.

"This will go up significantly as the country will see five months of cricketing action. After 15 years the World Cup has come to India. Add to this the fact that the Indian team seems to be in top form.

Every Cricket enthusiast would like to watch the matches in the best quality format. Hence it is obvious that players are hoping for a good sales year. But this will also mean plethora of schemes for the users to chose from," said a market expert, requesting anonymity.

Banerji of Airtel DTH agrees. "During IPL and FIFA World Cup we did see people using these events for upgrading their systems. This time cricket World Cup is coming to India after a long gap. We are hoping that a large part of the sales will come from the HD segment."

Bharti Airtel saw its sales going up in football-crazy regions of the country like the North-East, Bengal, Kerala, Bengaluru and Hyderabad. "Our sales doubled in these regions," he said.

Most DTH operators have launched a-la-carte option and are reworking on the bouquet of sports channels.

For instance, Tata Sky is offering India Cricket Pack where users can access any match involving India irrespective of the channel.

Tata Sky Chief Marketing Officer Vikram Mehra was tight lipped about the company's plans but agreed that sales will go up.

He expects sales of DVRs to pick up. "Our DVR sales have been doing well. There is no direct link but we have seen that during examination period people have used DVRs to record programmes that children prefer so that they can catch up later."

Industry insiders feel that bundled offer, along with value-added services will be the focus. Without giving any details Mehra said that bundled offers in the past during major events have led to good sales.

"We did a tie-up with LG during this Diwali. But will we do this again, we are yet to decide."

A Telecom Regulatory Authority of India report pegs the DTH subscriber base at 21 million till March 2010, and said the industry is expected to chug at a 21 per cent compounded annual growth rate till 2014.

Manish Sharma, head (Marketing), Panasonic is confident that sales for LCD and LED panels will see an uptick.

"We are expecting that the Jan-March quarter will bring in 30 per cent of the sales for our financial year. Since this is a major cricketing year we will be pushing our recently launched 24-inch flat screen models in tier-II and -III cities."

Samsung is expecting 100 per cent growth in the flat panel segment and 30-35 per cent rise in flat TVs in the first six months.

"In our case several new launches coincided with the IPL matches. When viewer interests are high in an event, consumption will go up," said a company spokesperson.