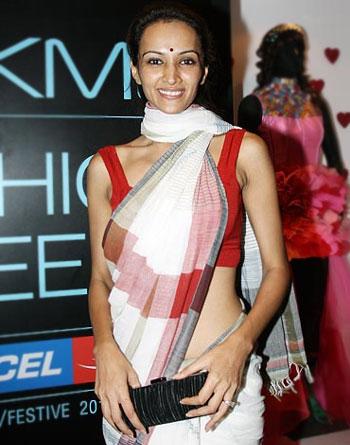 The scrapping of Rs 500 and Rs 1,000 notes by the Narendra Modi administration has surprised and affected one and all. Take the case of Bollywood actress Dipannita Sharma, who was spotted by Rediff.com's Jahanvi Patel outside a grocery store in Lokhandwala locality in Andheri, Mumbai shortly after the government's announcement.
We asked Dipannita, who was walking out with a bag full of essentials from a store for her reaction on the entire issue.
The actress had initially she passed it off as a hoax.
"I was in my pyjamas at home and my husband, who is out of town correctly, called and told me (about Rs 500 and Rs 1,000 notes being demonetised). I had no idea about this."
"I got a WhatsApp message and ignored it thinking it was a hoax."
"My husband then told me, 'get out of home right now; go buy grocery and use your Rs 500 and Rs 1000 notes, otherwise we will have to go to the bank and exchange them'."
"I just withdrew some money today and I was like 'why did I do that'."
Dipannita feels it was too short a notice for the common man.
"Now, I just dressed up a little and came to the grocery story to pick up some essentials. I feel like they gave us no time for it to even sink in. I don't know, maybe it's important right now for the situation, but as a common citizen of the country, it's been tough and inconvenient as hell."
Does she think this will help to get rid of the menace of corruption and the black money? "If it can be solved, I am okay with the little bit of inconvenience."
Video: Hitesh Harisinghani/Rediff.com