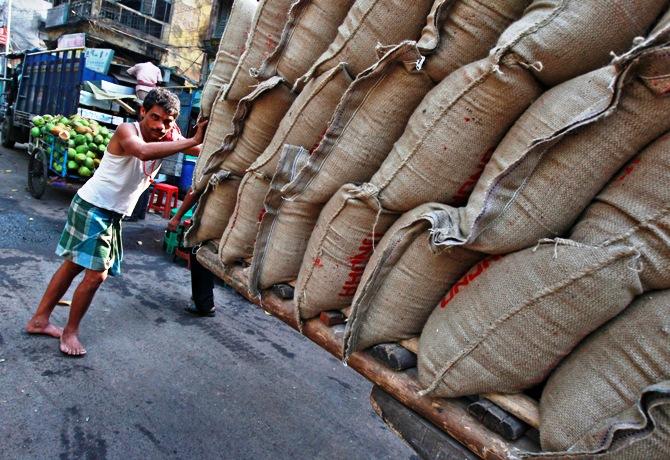 United Progressive Alliance government had piloted the GST bill but Bharatiya Janata Party-ruled states like Gujarat had opposed the draft.
As Parliament session ended without passing the landmark GST bill, Prime Minister Narendra Modi on Friday rued the Rajya Sabha not approving the biggest indirect tax reform measure since independence, saying states stood to benefit the most from it.
The Prime Minister, who spoke in the Upper House as it bid farewell to 53 retiring MPs, noted that Rajya Sabha members are representatives of the states and the interest of their state should be a priority for them.
While important reform measures were passed, "it would have been better if two critical decisions had also been approved," he said, referring to Goods and Services Tax Bill and Compensatory Afforestation Fund Management and Planning Authority.
"Bihar would benefit from GST, Uttar Pradesh would benefit from GST. Barring one or two states, all states would have benefited from GST," he said.
Goods and Services Tax, which is to subsume all indirect taxes like excise duty and service tax into a single GST rate, was to be implemented from April 1, 2016 but opposition from Congress over key clauses, including cap on the tax rate had stalled its passage in the Upper House.
Lok Sabha has already approved the constitutional amendment but it remains pending in Rajya Sabha, where the ruling National Democratic Alliance does not have a majority.
Modi said the second crucial legislation was the one to create CAMPA.
"States would have got Rs 42,000 crore (Rs 420 billion) if we had decided on the legislation," he said, adding each state would have got Rs 2000-3000 crore (Rs 20-30 billion).
The bill seeks to establish the national compensatory afforestation fund to promote afforestation and regeneration activities as way of compensating forest land diverted to non-forest uses.
"This (Rs 2000-3000 crore) is not a small amount," he said, adding availability of the funds before the beginning of the monsoon season would have greatly benefited the states.
"We will have to wait for 4-5 months now," he said, ruing that the move beneficial to states has been left out.
What Rajya Sabha can do for the states, no other House can do, Modi said.
The Upper House, he said, has a special privilege as it can bid goodbye to retiring members and also welcome new ones. Lok Sabha does not have this benefit.
Expressing gratitude to the retiring members, he said the 53 members in their six-year tenure have seen two governments.
"Both governments benefited from their knowledge and experience. This government benefited less, the previous one benefited more," he said.
The nation has benefited from their Parliamentary contributions, he said.
Speaking after Modi, Congress leader Anand Sharma noted that while the House had cleared important legislations like Bangladesh land boundary agreement, insurance bill that had been pending for seven years and the insolvency bill, it was true that there was delay in some.
He blamed ideological differences for it, saying they had led to stalling of the GST bill for years when the United Progressive Alliance was in power.
United Progressive Alliance government had piloted the GST bill but Bharatiya Janata Party-ruled states like Gujarat had opposed the draft.
A wrong image was created outside that no work is transacted in Rajya Sabha, he said, adding obstructions are part of democracy and are used to put across reservations on policies and programmes.
He, however, regretted the 'bitterness' in political discourse saying debate and discussion are part of India's rich democratic legacy.
"One has to be able to listen to dissenting voices without taking them personally but as ideological differences," he said.
"Government role in building consensus is important. Opposition also has a role but government has a bigger role," the Congress leader said.
Image: A labourer pushes a hand cart loaded with sacks of rice at a wholesale market in Kolkata. Photograph: Rupak De Chowdhuri/Reuters. The image is used for representational purpose only.