North-east states can witness a better growth if they focus on infrastructure, information system, and innovation, said Sam Pitroda, Advisor to PM on Public Information Infrastructure and Innovation.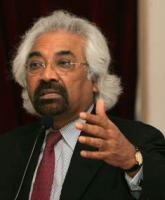 "The NE states have human capacity and potential. They should take more responsibility and initiative, demand more, and do more. Government is there to help," Pitroda said.

He was delivering the keynote address at the concluding session of the two-day 8th North East Business Summit organised by Indian Chamber of Commerce (ICC).

ICC president Rajiv Mundhra feels that the region is sitting at the cusp of high trajectory growth path by virtue of its strategic location, natural resource base, high literacy rate, and English speaking population.

"As pointed out by the Twelfth Five Year Plan, connectivity is crucial for ensuring the future growth
and development of the region, and its ensuing integration with the neighbouring Southeast Asian, East Asian and South Asian nations," Mundhra said.
Mr Hun Kim, country director - India, Asian Development Bank, highlighted ADB's various initiatives and activities for boosting up infrastructure in the North-East, and shared his vision for the region's future infrastructural developments.
Commenting that trade agreements like India-ASEAN have deeper implications for the north-east, Kim added that it is heartening to note that there are several proposals under consideration with regard to land and sea connectivity.
These include the India-Myanmar-Thailand Highway, its extension to Laos and Cambodia, and the development of a new highway also linking Vietnam.
The ADB will actively engage with the North-Eastern states to boost infrastructural links with the neighbouring countries, he assured.
Image:
Sam Pitroda