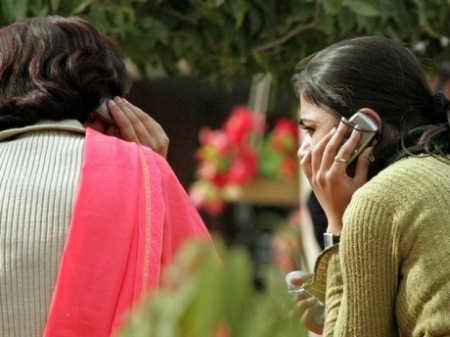 When S Aruna reported early at Nokia India's factory in Sriperumbudur last fortnight, her friends were surprised because her work shift was in the second half of the day.
Even as they wondered why she had reached the factory so early in the morning, she queued up to include her name in the list of those opting out under the company's Voluntary Retirement Scheme (VRS).
The 26-year-old later told her friends that she didn't have a choice other than to accept the VRS offer.
Mathivanan, a resident of Mangadu village, was among the first to accept VRS. When the scheme was announced in April, he applied for it, and within four days, got the settlement money deposited in his bank account.
He now wants to become a driver. By the last day of the scheme, May 14, over 5,O00 of the 6,500 confirmed workers had followed Mathivanan's footsteps.
And like Aruna, all of them expressed the same sentiment: they didn't have an alternative despite their future looking "bleak".

Most of the women who have chosen to resign are in their 20s and say they will use the money for their weddings.
The men mostly say they will pay off their personal and family loans or invest the money for their future. Nokia has announced it will support these people through its Bridge programme.
Bridge between despair and hope
* To help employees who are quitting the factory at Sriperumbudur, Nokia India will implement its global "Bridge" programme in which it will offer support and training to those who have worked at the factory for over six years. The initiatives include working with industry experts to identify new employment areas, developing suitable training, and skilling the employees based on their areas of interest.
* The company expects to conduct awareness sessions to share information and insights into more than 30 different skill development modules and employment outlook training across industries such as garments, automotive, retail, hospitality and beauty care, to name a few.
* Training sessions will be held at specified times at around 40 locations in Tamil Nadu, including in Chennai. The company will certify these employees on the skills learnt, invite potential employers with suitable openings to facilitate engagement and possible placements and also provide limited Bridge financial grants to support entrepreneurial or academic ambitions of former employees.
* The Bridge initiative, founded in 2011, is an extensive support programme for employees affected by changes to Nokia's operations. Globally, some 18,000 Nokia employees have benefited from Bridge. The framework of the programme is consistent around the world, but it is implemented at a local level and adapted to suit local needs.
The crisis-ridden mobile handset manufacturing facility, 40 km from Chennai and one of Nokia's largest across the globe, is on a course to cut staff after the company failed to transfer the factory to Microsoft, which has bought the handset and services arms of the Finnish company.
The Income Tax Department has frozen the unit until Nokia pays the dues of Rs 21,000 crore (Rs 210 billion) that the taxmen claim it fraudulently under-reported in 2006-07. The Tamil Nadu government has also served the company with a notice for Rs 2,400 crore (Rs 24 billion) in unpaid state taxes.

The factory till recently provided employment to around 8,000 people. They included over 730 trainees and a permanent workforce of 5,500 with an average age of 25, over 60 per cent of them women. The allied industries in the region also provided work opportunities for an additional 21,000 workers.

With the fate of the factory uncertain after the failure to include the factory among the assets being transferred to Microsoft, Nokia decided to introduce VRS last month.
The VRS, many say, could also be a part of the company's plan to exit India altogether. According to the employees, Nokia has offered compensation based on the number of years a worker has been on the company rolls. Each year of employment is considered equivalent to three months' salary, subject to a cap of 15 months' salary for those who have served for more than five years.
Besides, each worker also gets Rs 1 lakh as compensation and double the daily wage for the earned leaves surrendered. Nokia has officially refused to reveal the details of the VRS payouts.
Despite the financial settlement, the Nokia imbroglio has shattered the lives of the workers. Varun, 29, notes the irony of the situation.
If he had died in employment, he says, his family would have been entitled to a compensation of Rs 15 lakh.
What he will get as VRS, around Rs 6 lakh, is less than half that amount. Even from this sum, he points out, Rs 60,000 would be deducted as tax. After he pays off his debts of Rs 3.2 lakh, he would be left with around a lakh of rupees. "How can I secure my future with a sum like this?" he says.

A shadow of its past
Now deserted, the roads of Tiruvelankadu, a small village around 56 km from Chennai, used to be buzzing with activity till a couple of months ago. Buses deployed by Nokia regularly picked up or dropped workers.
The men and women, dressed in the stipulated blue uniforms, walked on the streets with pride as the villagers eyed them with envy.
Today, the roads are empty and the blue dresses have all but gone. Former employees sit in groups, clad in lungis and T-shirts, discussing their future or the lack of it.

The lay-off has repercussions beyond just the financial. Employees complain that their prospects in the employment market too have been affected. "Once we say we are from Nokia, companies try to avoid hiring us," says Varun.
He and some friends recently went for an interview at a tyre company that is setting up a unit in the state.
They say that despite doing well in the interviews and being duly qualified, they were rejected in the first round itself due to their employment history.
Ask them why their Nokia background should deprive them of new jobs, they are clueless. Is it because the workers had organised protests, you ask.
But, they respond, legal suits and protests were the only recourse they had to try to save their jobs.
"Also," adds a worker, "our job is not that of a skilled labourer. We only assembled mobile phones and that is all we know. Who would give us a job?"

Most workers have opted for the VRS scheme not only because the future of their job became uncertain, but also because they stood to lose whatever little they could make of a bad situation.
A senior employee says that those who have decided not to quit are hoping to be retained in their jobs since Nokia will convert the factory into a contract handset supplier after concluding a service agreement to manufacture products for Microsoft for a "limited time". This "limited time" is presumed to be an year from April, after which there are no visible plans for the facility.

The qualification required at the time of employment was a minimum of 60 per cent marks in the higher secondary school examination.
Many young men and women who were pursuing higher studies dropped their plans and joined the factory at Sriperumbudur, according to the Nokia India Employees' Union.

"If you take away Nokia and the years we have spent here, we have nothing else in our job backgrounds. All of us come from poor families and a majority from rural areas," M Saravana Kumar, president of the union had told Business Standard earlier.
He was disappointed with the way things have gone after having secured better wages for the employees last year. "We were just starting anew with better salaries and now see what has come upon us," he had said.
Countdown to despair
Jan '13: IT department surveys Nokia India's Chennai and Gurgaon premises
Feb '13: Nokia files letters of objection protesting the actions taken by the IT authorities at Chennai
May '13: Income Tax Appellate Tribunal (ITAT) asks Nokia to approach DG (I-T) for stay of tax demand of Rs 21,000 crore
Jun '13: DG (I-T) directs IT department to offer an installment plan and grants conditional stay
Jun '13: Nokia pays Rs 700 crore in installments
Sep '13: IT department freezes Nokia's assets and accounts; Nokia moves Delhi High Court
Sep '13: Delhi HC defreezes Nokia's accounts, but not fixed assets
Sep '13: Microsoft buys Nokia's device and services arm for $7.44 billion
Dec '13: Delhi HC defreezes Chennai assets and allows Nokia to sell the Sriperumbudur plant to Microsoft subject to Nokia depositing at least Rs 2,250 crore in an escrow account, continuing to pay Rs 700 crore as installment into the escrow account, and Nokia Finland submitting a letter of guarantee for Rs 3,500 crore
Feb '14: Nokia moves the Supreme Court seeking waiver of conditions
Mar '14: IT department approaches Supreme Court to stop transfer of Chennai plant to Microsoft
Mar '14: Supreme Court dismisses Nokia's appeal
Mar '14: Tamil Nadu tax department sends notice to Nokia for Rs 2,400 crore sales tax dues
Mar '14: Nokia files petition in court against Tamil Nadu tax department claim
Apr '14: VRS offered to employees.
Apr 26,'14: Nokia-Microsoft transactions closes, Sriperumbudur left out of transfer
Apr '14: Tamil Nadu High Court orders reinvestigation of the case. Asks Nokia to deposit 10 per cent of the Rs 2,400 crore claimed by Tamil Nadu sales tax department within 8 weeks.
May '14: VRS offer ends. Around 5,000 workers opt for it