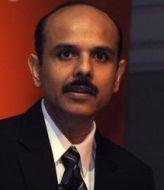 P Balaji, managing director of Nokia India - now called Microsoft Devices Group - has resigned from the company.
He will continue as an advisor to Microsoft Devices Group till October. "After spending almost two years with Nokia and now in Microsoft Devices Group, P Balaji has decided to move on from the organisation for personal reasons," the company said in a statement.
Balaji joined Nokia India in October 2012 as managing director.
He was instrumental in driving the momentum behind Lumia, building the X family of phones as well as strengthening Nokia's retail execution in the country.
After completing his B Tech in electronics and communication from the University of Roorkee (now IIT-Roorkee), he started his career with Tata Steel, Jamshedpur as a graduate trainee.
He has also worked in AT&T Switching Systems, a joint venture between AT&T and Tata Group, and with Tata Lucent Technologies, according to reports.
During the early days of his career, Balaji also achieved an MBA from Indian Institute of Management, Ahmedabad.
Later, he joined Ericsson India where he handled corporate affairs and communication.
Thereafter, he was appointed the managing director of Sony Ericsson India, following which he joined Nokia India. His tenure at Nokia India head has been eventful. It was during his tenure that the income tax department raised tax dispute with the company.
"While we look for potential candidates for the position, Ajey Mehta, the current head of sales operations - India Middle East and Africa, will be the acting area head for India," the company statement added.
Mehta, who will continue in his current role, has held several key roles including heading the retail vertical in Singapore, a stint in the global retail team, leading sales operations for the erstwhile SEAP (South East Asia Pacific) region.