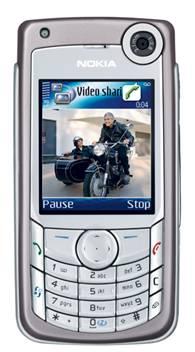 Nokia has announced that the Nokia 6680 imaging smart phone is now available in India. It costs Rs 30,009.
Weighing 133 grams and measuring 108.4 x 55.2 x 20.5 mm (104 cc), the Nokia 6680 is based on Symbian OS.
The Nokia 6680 is the first phone with two integrated cameras enabling 2-way video calling designed for instant visual sharing. This unique facility, said a Nokia statement, allows people to experience live camera/video clips during a normal voice call.
With its advanced 3G-enabled features, the Nokia 6680 supports two-way video call functionality that enables remote video conferencing and always-on e-mail functions.
The Nokia 6680 is designed for ease-of-use with an active slide covering the back camera that automatically activates the imaging application on opening the camera slide and allows effortless switching between front and back camera.
The Nokia 6680 offers a wide range of smartphone features, including the organiser, video streaming, Internet browser and always-on e-mail, making it a versatile work tool for business professionals.
Based on the leading smartphone Series 60 Platform, the quad-band phone for GSM 900/1800/1900, EDGE and WCDMA networks is capable of offering seamless roaming in over 100 countries, making it a world citizen's personal device.
Highlights
Two integrated cameras.
1.3 mega-pixel camera with 6 x digital zoom and LED flash.
VGA camera with 2 x digital zoom.
Instantaneous and interactive video call and video sharing.
Enabling two way video calling and video sharing during a voice call.
Excellent mobile browsing with advanced 3G features.
Always-on e-mail with attachment support (jpeg, 3gpp, MP3, ppt, doc, xls, pdf).
HTML web browsing and video streaming with broadband speed.
Integrated Push-to-Talk over WCDMA.
High quality music MP3 with stereo sound.
Easy and convenient printing with Nokia XpressPrint printing solution.
Direct printer connection via PictBridge.
XpressPrint using Bluetooth connectivity.
Gautam Advani, director, multimedia, Nokia India, said: "The Nokia 6680 imaging smartphone is the next step in digital convergence. With its advanced features such as dual camera and high end 3G capabilities the Nokia 6680 makes visual and voice communication more interactive than ever before."
With Nokia XpressPrint, the Nokia 6680 users can print directly from the imaging smartphone, using a range of compatible home or office printers or photo kiosks. The Nokia 6680 provides the PictBridge feature that enables users to connect the handset directly to a compatible printer using a USB cable.
The Nokia XpressPrint solution available with the phone also supports wireless printing using Bluetooth wireless technology.
The always-on e-mail feature on the Nokia 6680 provides support for office document viewers and various types of attachments (JPEG, MP3, PPT, DOC, XLS, PDF). The HTML browser brings web access in a pocketable format, and calendar information, contacts and tasks can be easily synchronised with compatible PCs.