A comprehensive reform of the US immigration system may have to wait until next year given the already-packed agenda of the Oba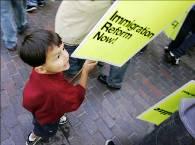 ma administration, US Senator Roland Burris said, even as he acknowledged the need for a "modern immigration programme" that does not split families, reports Yoshita Singh.
Addressing a town hall meeting attended by hundreds of Asian-Americans, including Indians Chinese and Filipinos, he said the government would work to ensure that reasonable and proper immigration laws are in place that "will allow those persons who want to be in the country, to be in this country".
"Unfortunately, the agenda is so packed, we have so many issues on our plate that... we will probably postpone the immigration reform until late this year or early next year," he said.
During his presidential campaign, Obama had pledged to make comprehensive immigration reform a top priority in his first year as President. However, with his hands full with issues like healthcare overhaul, immigration reform seems to be put on the back burner.
Burris, who sits on the Homeland Security committee that oversees immigration policies, said the country's immigration laws are not clear and do not currently address issues "that need to be addressed".
"We should not be splitting up families. We need to work on the issue of reform and proper immigration but we also have to protect our borders," he added.
Stating that "America is a country of immigrants", the Senator said the government will find a way to accommodate and grant citizenship to the scores of people who leave their native land to settle in the US and contribute to society and pay taxes.
During the meeting, President of the North American Association of Indian IT Professionals Shoji Matthews shared experiences of Indian H1-B visas holders who had to leave the US at short notices after unexpectedly losing their jobs.
Since H1-B visa holders depend on their employers for their legal status in the US, they sometimes become victims of an "unfair immigration system".

There needs to be adequate provision in the comprehensive immigration reform for "foreign workers so that we are treated humanely and fairly as we make economic contribution to the growth of the nation", Matthews said.