'If your paper writes something you don't agree with, will you criticise it?' Nitin Gadkari asks Aditi Phadnis when quizzed about demonetisation.
Illustration: Uttam Ghosh/Rediff.com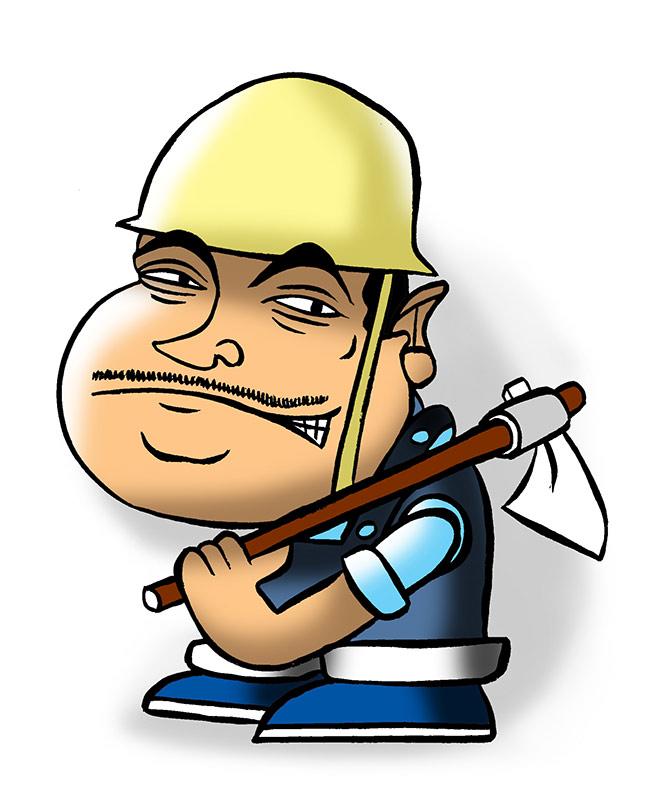 Nitin Gadkari, Union minister for road transport, highways and shipping, conjures up images of Santa Claus.
He exudes rotund well-being and 'jollification.' All that is missing is a bell, a sleigh and chortles of 'ho, ho, ho.' The same spirit was evident at a press conference he addressed before we went to lunch.
When reporters referred to Urban Development Minister M Venkaiah Naidu's suggestion that building permissions should be contingent on provisions for parking so that cars did not crowd roads and public thoroughfares, Gadkari said he had the same problem.
"Look at the road outside my office. It is crammed with cars because there is no place to park. I am considering a plan under which anybody can report a car parked illegally by taking a picture on their mobile and sending it to me."
"Not only will the owner be fined Rs 1,000, the person taking the picture will be rewarded with Rs 200. Imagine! In addition to the salary you earn, you can earn Rs 600 every day just by taking pictures of illegally parked cars! An additional revenue stream for you all!"
He looked around the room and beamed.
The conference also revealed a side to him that is steely.
A reporter whined that journalists in pursuit of their duties were required to go in and out of Delhi several times during the day and each time had to pay a toll fee.
The unsaid implication was that journalists should be exempt from this.
While the others in the room squirmed in embarrassment and humiliation, Gadkari said, his tone brooking no argument: "Sorry sir, I cannot help you. You will have to pay."
Lunch is in his room in Transport Bhavan, a 1960s style building that Indira Gandhi inaugurated in 1965.
Next to his desk is a quote by JFK: 'American roads are good not because America is rich. But America is rich because American roads are good.'
We enter the office of a politician who seems to celebrate the spirit of capitalism -- he is, after all, the chairman of the Purti group that owns sugar factories, supermarkets and a host of other businesses, and is no stranger to the entrepreneurial world.
The room is full of people engaged in chaotic negotiations in various corners. Gadkari plunges into the chaos, addressing the problems of several groups at once.
"Court <en bank toh picture mein hi nahin hai. Aap mujhe doolha la deejiye -- aapka road ban jayega (leave the court aside. And banks are not even in the picture. Just bring me the groom -- and the road will be built for you)," he suggests to a small group from Madhya Pradesh that wants to go into arbitration because a road they need has not been built as the contractor has decamped.
Gadkari is suggesting that the errant contractor be released from his boilerplate contract if another one can be found (the doolha), rather than getting embroiled in litigation.
A set of bureaucrats wants him to look at some papers now. He waves us into an antechamber.
Gadkari may be a servant of the people but he is conscious of his creature comforts and those of his guests.
He has a pantry in his office, which turns out gourmet food -- none of that IRCTC rubbish here. The chef is his personal employee. Ludhiana Chinese is the menu today. So soup arrives, bursting with golden kernels of corn, batons of carrots and slivers of finely sliced beans.
We sip our soup and wait, remembering to peek through the door frequently because Gadkari has so many things going on, he is likely to forget he has asked guests to wait.
An aide says a senior and venerable Bharatiya Janata Party leader came to the house to invite Gadkari for his daughter's wedding. Gadkari assured him he was just coming to meet him, asked his staff to serve snacks and tea and forgot.
Two hours later, the guest was still ensconced on the sofa and when he enquired after his host, he was told Gadkari had left home more than an hour ago.
Twenty years ago, as public works department minister in Maharashtra, Gadkari proposed a 95 km road between Mumbai and Pune.
A global tender was floated, which was won by the Reliance Group under Dhirubhai Ambani. But Gadkari thought the expressway could be made at a lower cost.
He started the Maharashtra State Road Development Corporation with a grant of Rs 10 crore (Rs 100 million) from the state government.
He raised another Rs 4,000 crore (Rs 40 billion) from the market through bonds and used the money to build the expressway for Rs 1,600 crore (Rs 16 billion).
The money was also used to build 55 flyovers across Mumbai in less than 18 months.
A total work of more than Rs 8,000 crore (Rs 80 billion) was given by him to different contractors in his tenure as PWD minister.
It was on the strength of his record that he was appointed road transport minister when Narendra Modi came to power and is now considered one of the best-performing ministers in the government.
But some of his claims -- like building 40 km of roads every day -- seem exaggerated.
He walks into the room as the second course is served, which seems to be fried momos smothered in a heavily seasoned sauce laden with garlic. I ask him about the road bit.
He says his ministry has built 22 km of roads every day so far and contracts amounting to Rs 40,000 crore (Rs 400 billion) have been awarded so the average over the next two-and-a-half years is a target of 40 km a day.
This week is Road Safety Week. There are fast cars, good roads and no enforcement of speed limits, standards for drivers or adequate facilities for training.
200,000 people died in road accidents in 2015.
Gadkari says soberly that most accidents occur because of faulty road design and that he would rather not have a road than have a faulty one.
He is working to get more corporate houses to invest in road safety as corporate social responsibility.
The conversation inevitably turns to demonetisation.
As if by rote, Gadkari recites the rationale: "Black money will surface and become part of the formal economy, digitisation will lead to less cash," etc. He doesn't sound convincing.
I provoke him further. An argument ensues. "If you're trying to make me criticise my own government, you will not succeed," he says.
"Just trying to get you to tell the truth," I say.
"If your paper writes something you don't agree with, will you criticise it?" he asks. I pause.
I ask him how he managed his daughter Ketaki's wedding, which fell some days after the government outlawed high denomination currency. All of Nagpur celebrated that marriage and attended it.
He admits that buying vegetables, milk, paneer and other groceries was a challenge because it had to be paid for in cash.
Cash also had to paid to tent houses and to labourers, who had come from West Bengal. But all other payments were by cheque.
Gadkari has some grand and, frankly, outlandish plans for roads, shipping and bridges and some are more than just promises.
The Zuari bridge in Goa, he says, will be built soon and will have two galleries on its towers, with capsule lifts and restaurants on top.
Work has begun on the structure that promises to be more than just a bridge.
He is fascinated by lighthouses, though their utility, in a world of advanced technology and GPS spread, could be questioned.
Inland rivers as a source of tourism sets his imagination on fire, though industry, devout pilgrims and encroachers have already staked their claim on waterways as a dumping ground before the government.
The final course arrives: American chopsuey, which is basically fried noodles with sautéed vegetables, the whole thing looking violently orange.
Gadkari initially looks upon the dish with disfavour, but eventually succumbs to temptation.
He suddenly remembers something -- presumably, a guest he's forgotten about. He gets up quickly and waves goodbye.
I add the "ho, ho, ho" silently.