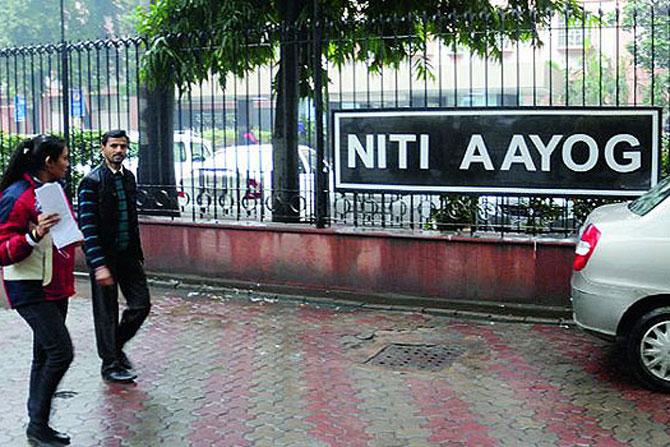 Contrary to popular belief, the National Democratic Alliance government may not scrap the 12th five-year Plan (2012-13 to 2016-17) formulated by the United Progressive Alliance (UPA) government.
Instead, it may carry out a course correction, in consultation with ministries and state governments.
A model for such a structured rectification would be firmed up at the first governing council meeting of the NITI (National Institute for Transforming India)
Aayog on Sunday, according to an agenda note, officials said. They added the Centre could allow state governments to continue with their annual plans, at least for the next two financial years —2015-16 and 2016-17 — though the process of reviewing these plans could be re-worked according to the changed priorities and goals.
12TH PLAN IN NUMBERS
Objective: Faster, more inclusive and sustainable growth
8% Average annual GDP growth with three scenarios
4% Agriculture growth 10 percentage points -
Reduction in head count poverty 50 mn
Generation of work opportunities
25 Fall in infant mortality rate 100 Maternal mortality rate
9% of GDP - Enhancement in infrastructure investment
NITI Aayog was formed earlier this year to replace the Planning Commission, which framed five-year Plans.
With the commission being done away with, there was a cloud over the future of the 12th Plan, as well as of the mid-term appraisal, usually carried out after the first three years of a Plan.
Till this financial year, the review of states' annual plans was done by the Planning Commission, in consultation with chief ministers.
At a macro level, the 12th Plan document estimated average annual growth of eight per cent during 2012-13 to 2016-17.
The Plan also presented two other scenarios — 6-6.5 per cent average growth a year if economic reforms were insufficient and 5-5.5 per cent growth if there was a logjam.
The first two years of the Plan period saw average annual growth of 4.6 per cent.
The government has, however, changed the method of computing economic growth rate, as well as the base year (of 2011-12, against 2004-05 earlier). Now, the growth target will have to be reworked in light of these changes.
"Chief ministers will be made aware of these goals and priorities; these include Prime Minister (Narendra) Modi's pet programmes such as the Swachh Bharat Abhiyan, Beti Bachao Beti Padhao, Jan Dhan Yojana,
Make In India, Namami Gange, etc," an official said.
The prime minister will also define the role states will play in fructifying his favourite projects.
Along with the existing flagship programmes of the UPA government, such as the Mahatma Gandhi National Rural Employment Guarantee Scheme, the mid-day meal and the Sarva Shiksha Abhiyan, will continue, albeit with minor tweaks.
For programmes such as the Pradhan Mantri Krishi Sinchayee Yojana, officials said Modi might urge state governments to prepare state-wise and district-wise irrigation plans to identify gaps in irrigation infrastructure.
Yo showcase efficient use of water resources, states will have to identify clusters of eight to 10 villages in each district. The chief ministers of all states, except West Bengal Chief Minister Mamata Banerjee, are expected to participate in Sunday's meeting. Arvind Panagariya, vice-chairman of NITI Aayog; two full-time members (Bibek Debroy and V K Saraswat); and four Cabinet ministers — Finance Minister Arun Jaitley,
Transport Minister Nitin Gadkari, Agriculture Minister Radha Mohan Singh and Railway Minister Suresh Prabhu — will also participate in the meeting. Officials said at the meeting, there would also wide consultations with states on the structure and future of NITI Aayog.
They added Modi, during his interaction with chief ministers, would direct states to entrust their chief secretaries with heading project monitoring groups for major infrastructure projects.
Project authorities and the ministries concerned might be tasked with overseeing adherence to timelines. To push major infrastructure projects, the prime minister might also announce the formation of an inter-state committee of secretaries.
According to an assessment by the Centre, 80-85 per cent of about 700 major infrastructure projects within the Centre's domain have been delayed due to a variety of reasons, the most common being inadequate funds. The Highest number of such projects is in the railways sector.