Private traders had placed orders early this month with Egyptian suppliers at $320 a tonne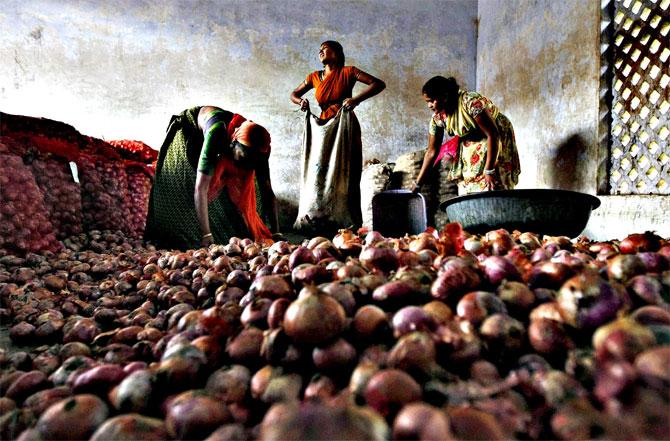 The first 90-tonne consignment of imported onions arrived in local mandis, which has helped stabilise the price of the vegetable.
The imports arrived in the Mumbai and Navi Mumbai ports earlier this week and were supplied to Mumbai and Bengaluru, trade sources said.
Private traders had placed orders early this month with Egyptian suppliers at $320 a tonne. The landed cost of these onions is Rs 32-35 a kg. Suppliers sold the imported onion at Rs 40-45 a kg in local mandis.
The price of locally grown onion had climbed to Rs 70 a kg last week in the Malegaon mandi, retailing at Rs 80 a kg in major cities.
"We have received this year's first consignment of imported onion from Egypt. But the price of onions there rose after India entered the Egyptian market. Onion prices will remain firm until the new local crop arrives in mandis a month from now," said Atul Shah, director, Agricultural Produce Market Committee (Pimpalgaon).
Pakistan is another onion exporter but traders do not anticipate supplies from there due to current bilateral relations.
The price of onions in Egypt has shot up to $390-400 a tonne at which the landed cost in India works out to Rs 40-42 a kg. Also, importers are apprehensive of a repeat of 2013, when local onion prices had crashed by the time consignments arrived at Indian ports.
In the benchmark Pimpalgaon mandi , it is trading at Rs 48 a kg, seven rupees lower than its highest price this season.
"The price decline is temporary," said Shah. The Centre has pressed the government in Maharashtra, the country's largest onion producing state, to crack down on hoarding. Yet traders have controlled supplies. Arrivals in the Lasalgaon mandi were 200 tonnes on Thursday, sharply lower than Wednesday's 497.6 tonnes and Tuesday's 588 tonnes.
"Traders reduce supply if the price falls. The decline in arrivals is not unusual," RP Gupta, director of the National Horticulture Research and Development Foundation, had said earlier.
Large farmers in Maharashtra's Nashik district have started harvesting prematurely to take advantage of the price rise. Although in very small quantities, premature onion is selling at Rs 30 a kg in Lasalgaon.
India is self-sufficient in onions, with 19 million tonnes of production and over a million tonnes of exports annually. But unseasonal rain damaged the previous rabi crop and inadequate rainfall in major producing areas is aggravating the supply situation.