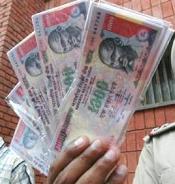 The newly constituted National Innovation Council (NIC) headed by Sam Pitroda, aims to have a $1-billion (around Rs 4,600 crore) fund to promote new ideas for inclusive development and innovation in the country.
"Our objective is to setup a $1-billion fund for the NIC but how big it will be depends on how the market reacts and how much money we are able to raise. We want to see if we can set up a large fund," Pitroda, advisor to the PM, told Business Standard.
A week ago, the Council had announced the setting up of a fund with a corpus of Rs 1,000 crore to encourage innovation. The government will contribute 10-20 per cent to the fund with the rest coming from other sources like private funds, institutions and foundations.
Last month, Prime Minister Manmohan Singh had approved the establishment of the Council with a mandate to prepare a road map for the Decade of Innovation (2010-2020) by evolving an Indian model of innovation, focusing on inclusive growth and creating an appropriate ecosystem.
Going ahead, innovation councils will be set up at the state and sectoral levels and Pitroda said that five states, including Orissa and Karnataka, have already shown interest in setting up their own innovation councils. The NIC will also have innovation centres in universities and innovation clusters to create regional hubs.
It will delineate appropriate policy initiatives within the government to spur innovation. It will also promote setting up of Sectoral Innovation Councils and State Innovation Councils.
"We are thinking of how to structure the fund, its management structure, hiring lawyers and investment bankers for it. We will need seed capital, private placement memorandum, executive committee, deal structures and a lot of things," said Pitroda.
The NIC has also collaborated with industry chambers CII and Ficci to identify 20 industrial clusters in the country like Indore, Bhopal, Gandhinagar and Kanpur, among others, to provide guidelines for innovation.
"Those clusters will be selected where there is a minimum critical mass of industries of some kind and then we will give them an innovation toolkit. The toolkit will be a set of guidelines on how to innovate. Moreover, we are also selecting 20 universities, besides the Indian Institutes of Technology (IIT) where we can do seed innovation," he said.
Prof Sanjay Dhande, IIT Kanpur director, who is a member of the Council, is in the process of identifying the universities which will then be given the innovation toolkit to be able to connect with industry.