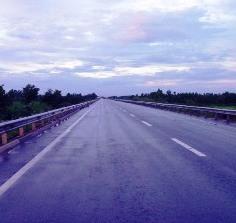 The road transport ministry's plan to construct highways at a pace of 20 km a day is likely to take a further hit, with the chairman of the National Highways Authority of India, Brajeshwar Singh, retiring on Tuesday and the government yet to decide on his replacement.
The government began the selection process a year earlier and has twice gone through the process of short-listing candidates.
A third panel of shortlisted candidates is now being constituted, with the government calling for applications from all serving secretary-level officials. The process for the final phase of selection will start next month.
The pace of award of road contracts was hit when the Central Bureau of Investigation raided the NHAI premises of NHAI  on May 26, arresting two officials.
The pace of award of contracts has since come down to just two projects in over three months, said a senior NHAI official. The highways' authority was awarding road projects at a pace of seven projects a month till May 26.
The first search committee was scrapped after the process got mired in controversy, with Brahm Dutt, the then secretary, roads, applying for the job despite being a member of the selection committee.
During the tenure of T R Ballu as minister, NHAI saw five chairmen between July 2006 and December 2008. The shortest tenure was that of J S Maini, which lasted for two months and the the longest was of N Gokulram, in office for 11 months.
An executive in one of the construction companies said the problem with NHAI was much more than the delay in appointment of a head. "The road ministry and the Planning Commission are openly fighting with each other," he said.
The NHAI official said the Planning Commission wanted a change in bidding norms. "Though they have not written yet, the Planning Commission wants us to get back to the earlier bidding norms.
But the market has given a thumbs-up to the new bidding norms, he said, and NHAI saw no reason to revert to the earlier system.
The Best Business Specials