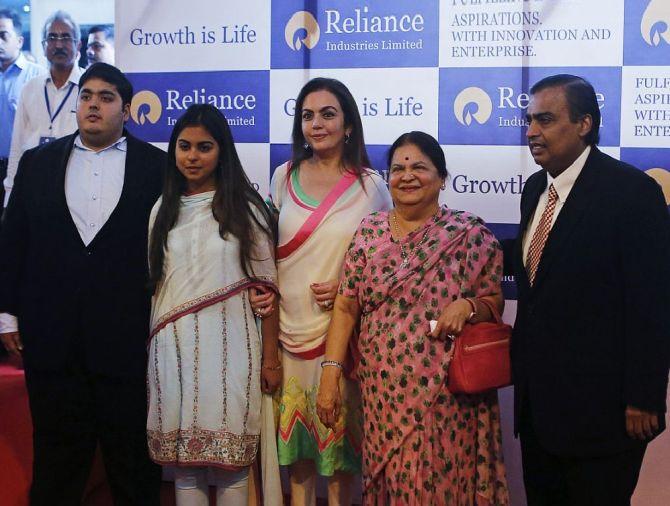 Mukesh Ambani (R), chairman of Reliance Industries Limited, poses with his son Akash, daughter Isha (2nd L), wife Nita (C) and mother Kokilaben, before addressing the annual shareholders meeting in Mumbai. Photograph: Danish Siddiqui/Reuters
As record stock market rally continues, the value of shares directly owned by next-generation business leaders at 20 major corporate houses has soared over 18 per cent to Rs 17,000 crore (Rs 170 billion) so far this year.
This includes value of shares owned by the children of top executives and promoters of the listed blue-chips such as Infosys, Cipla, Sun Pharma and the Reliance groups, while excluding the family holdings and equity owned through other entities such as trusts.
Collectively, the value of their holdings has risen by Rs 2,600 crore (Rs 26 billion) (18.2 per cent), from about Rs 14,000 crore (Rs 140 billion) at the end of 2013.
Topping the charts, the children of Infosys founders saw the value of their combined shareholding soar by 14 per cent to Rs 12,200 crore (Rs 122 billion) in the first 10 months this year. The total value of their combined shareholding had soared by over 50 per cent to Rs 10,720 crore (Rs 107.20 billion) during 2013.
Among them, Akshata Murthy and Rohan Murty saw the value of their shares top the Rs 6,500 crore-mark (Rs 65 billion). Similarly, the value of shares allotted to former Infosys CEO Nandan Nilekani's children Nihar and Jahnavi rose to nearly Rs 1,350 crore (Rs 13.50 billion), as an analysis of data available on the BSE.
The next-generation of other Infosys co-promoters like Meghana (Kris Gopalakrishnan), Divya & Deeksha (K Dinesh), Shruti and Shreyas (S D Shibulal) saw their holdings rise to Rs 245 crore (Rs 2.45 billion), Rs 1,115 crore (Rs 11.15 billion) and Rs 2,978 crore (Rs 29.78 billion) respectively.
Value of holdings of Wipro Chairman Azim Premji's sons Rishad and Tariq, however, at Rs 53.6 crore (Rs 536 million) saw marginal rise as shares of the IT major were flat from last year-end.
Among other notable winners, Aalok Shanghvi, son of Sun Pharma founder Dilip Shanghvi, and his sister Vidhi's combined kitty rode on the back of over 46 per cent uptick in the drug maker's stock price to touch about Rs 485 crore (Rs 4.85 billion). Aalok is senior general manager of international business at the firm.
There has also been robust rise in wealth of children of Cipla's M K Hameid, Kamil and Samina as value of holdings soared by Rs 550 crore (Rs 5.50 billion). In 2013, gains were marginal. Siblings Kamil, who is chief strategy officer of Cipla, and Samina hold shares worth about Rs 1,390 crore (Rs 13.90 billion).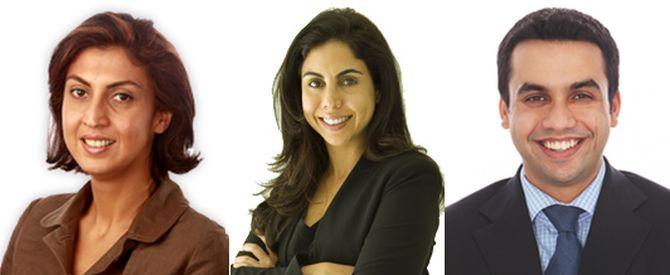 From L - R: Tanya Dubash, Nisaba Godrej, and Pirojsha Godrej. Photograph: Kind Courtesy, Godrej Industries.
Sons of Wockhardt promoter Habil Khorakiwala - Murtaza (Managing Director) and Huzaifa (Executive Director) - saw 75 per cent rise in holdings at Rs 34 crore (Rs 340 million).
Country's richest man Mukesh Ambani's children saw a moderate rise in their portfolio. RIL stock rose about 14 per cent in 2014 after inching up 6 per cent in 2013.
The combined value of RIL shares held by Isha, Akash and Anant Ambani topped Rs 680 crore (Rs 6.80 billion) mark at October-end. The 22 year-old US educated Isha and Akash were recently appointed directors on board of Reliance Industries' telecom and retail ventures.
The market performance of Anil Ambani-led group firms was a mixed bag. Consequently, holdings of his children - Jaianmol and Jaianshul - stood at over Rs 30 crore (Rs 300 million). In a reversal of trends seen in 2013, value of shares of group's telecom arm Reliance Communications fell while financial services unit Reliance Cap and infrastructure firm R-Infra gained in 2014.
Godrej scions - Tanya, Pirojsha, Nisaba and Firoze - saw value of holdings rise to Rs 1,045 crore (Rs 10.45 billion) compared to about Rs 960 crore (Rs 9.6 billion) via shares held in Godrej Industries and Godrej Consumer. Shares rose by 10-14 per cent in 10 months of 2014.
O P Jindal group's next-gen leaders Tarini, Tanvi and Parth's holdings in JSPL, JSW Steel and JSW Energy saw total kitty rise to Rs 776 crore (Rs 7.76 billion), compared to Rs 560 crore (Rs 5.60 billion) in 2013.